Haridevpur resident Ayan Mondal's murder was a plot well executed by his friend's family, police officers probing the crime said on Sunday.
The body of Ayan, 21, was recovered from a place in Mograhat in South 24-Parganas, about 32km from Haridevpur, early on Friday. He had been missing since Wednesday night. His relatives lodged a murder case against his friend and her family.
Seven persons, including the friend and her parents and brother, have been arrested. The accused have been remanded in police custody till October 12.
"Ayan was killed in a room on the first floor of the friend's house. The room was cleaned up in a way that forensic experts had to struggle to collect blood stains," said an police officer.
"Ayan's body was wrapped in a tarpaulin sheet that was taken from a pandal nearby and covered in a way so that no one could make out it was a dead body. His mobile phone was thrown away and that remains untraced even till now."
Officers said they had reasons to believe that the mother of Ayan's friend had plotted to murder him after he turned up at their house in an inebriated state. The friend's father had planned the disposal of the body.
"When Ayan was attacked with a stick and a brick, he was not in a state to resist," the officer said.
ST XAVIER'S ALUMNI MEET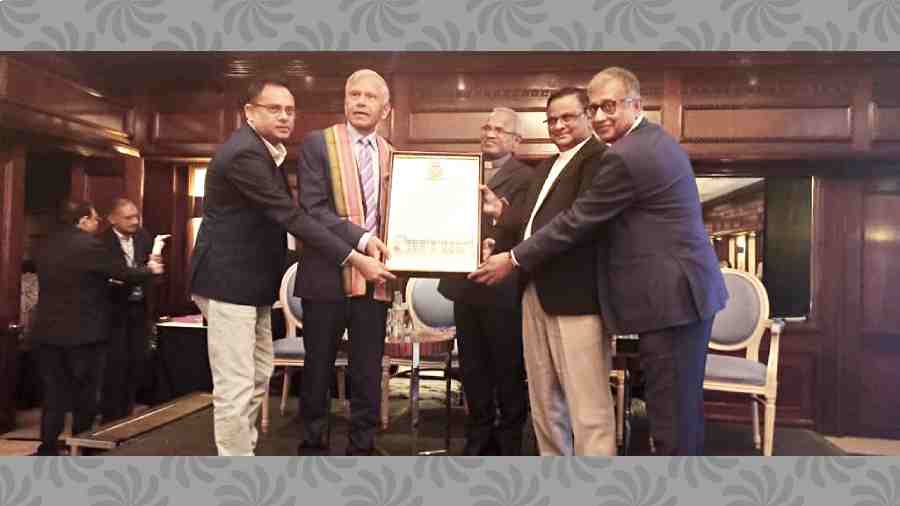 Beyond Boundaries, the international meet of St Xavier's alumni members from chapters all over the world, hosted their seventh edition this year in London, from October 7 to 9. The inauguration ceremony was held at St James Court on October 7. The ceremony began with the traditional lighting of the lamp. An awards ceremony followed. The Xaverian Award of Eminence (Sports) was conferred on former Indian Test cricketer Dilip Doshi (second from left in picture). The Global Xaverian Award was conferred on Suborno Bose, founder and chief mentor at IIHM, and Kamal Kumar Mittal, chairman and managing director of the PCM Group of Industries. The event was attended by 150-plus Xaverians from across the globe. The awards were conferred by Father Dominic Savio, principal of St Xavier's College and the president of the alumni association; Father Jayaraj Veluswamy, rector of the college; Firdausul Hasan, secretary of the former students' association; and Manik Dey, head of the London Chapter of the association.