And once again it was time for Uniworld City's biggest annual sports fiesta— the Uniworld Premiere League or UPL — now in its seventh edition. Organised by Uniworld Sports Association, in association with The Telegraph Salt Lake, the tournament was divided into categories for several age groups with the finals slated for March 13.
In the junior category (10 to 15 years), Chargers and Jr. Ninjas made it out of the seven participating teams. Chargers won the toss, chose to bat and what an aggressive batting display they showcased! Opener Yug Kaul thrashed the Ninja bowlers mercilessly on his way to a rapid half-century — 51 runs in 26 balls.
Another exemplary performance came from Aadit Das, who missed his half century by a whisker, with 48 runs in 18 balls.  Ritvik Hyanki maintained the momentum and continued with the sixers and boundaries even as wickets started falling. Aadit finished the innings with a magnificent six off the last ball to set a target of 160 runs for the Ninjas to chase in 10 overs.
Jr. Ninjas started with an equally aggressive mindset and kept knocking the balls out of the park. Aryan Mohan didn't seem to care for singles and aimed only for boundaries and beyond. Abhimanyu Das displayed some excellent cover drives to score 38 runs in 18 balls. But the bowling strength of the Chargers overpowered them and the wickets kept falling. They were bowled out for 95 runs with five balls to go.
"We had been practising for a couple of months and that's why our performance was satisfying today. It's a great feeling to score a half century in the finals," Player of the Match Yug said afterwards.
Aadit received the Best Batsman award for his wonderful showing in the tournament which included an innings of 89 runs. "I played a few dot balls, else I could have surely hit a 50 today. It's a shame as I had scored 48 in the semifinals too. But I have no regrets as our team achieved what we came for," he said.
Fifteen-year-old Ritvik, captain of Chargers, won the Best Bowler award with eight wickets to his name in four matches and an economy rate of 7.18. "Not all our players were in top form because of their exams but I'm glad I was able to motivate them to give their best."
Despite ending up on the losing side, the Jr. Ninjas captain Jayatra Chaudhuri won the Player of the Series award, bagging seven wickets in four matches and scoring 190 runs. His best in the tournament was against Golden Fellas in the semifinals where he scored the maiden century of his UPL career, scoring 118 runs in 42 balls, with 16 sixes.
"We enjoyed the tournament and next year we plan to practise harder to win the title," said the 14-year-old.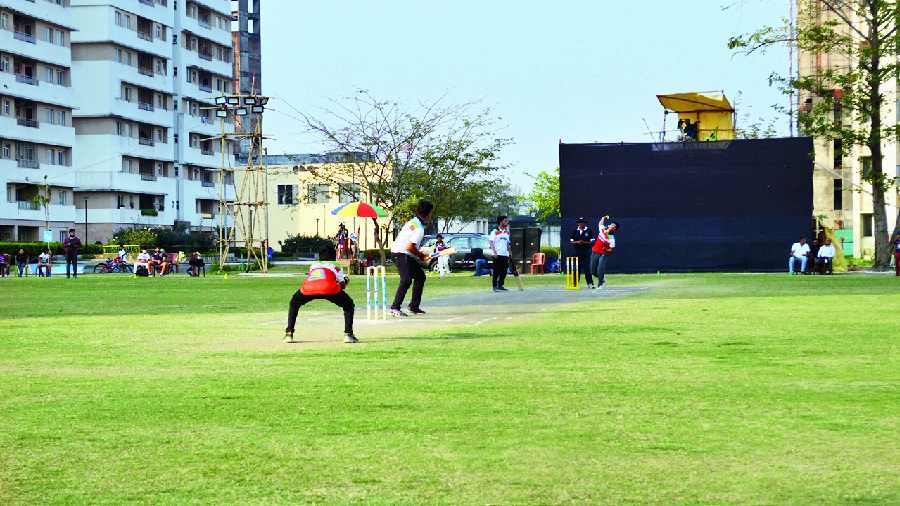 A moment from the Chargers versus Jr Ninjas game.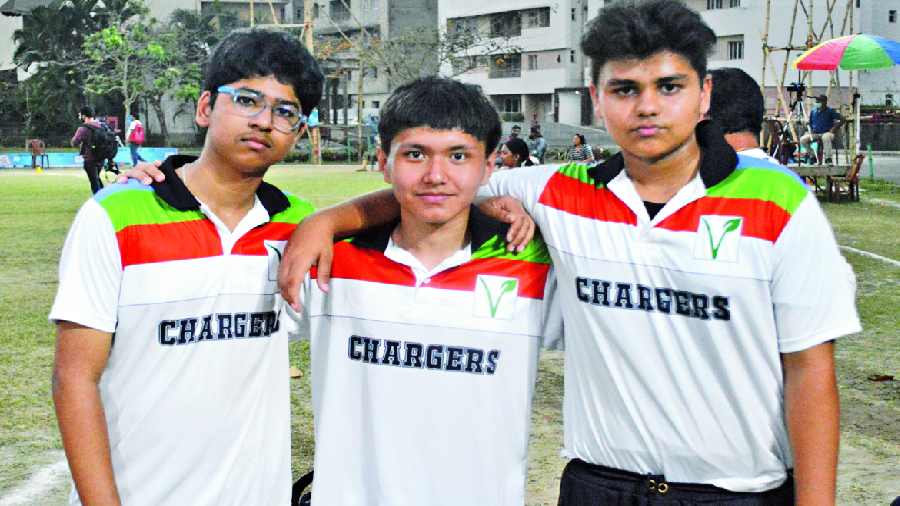 Aadit Das (best batsman of the series), Yug Kaul (player of the finals) and Ritvik Hyanri (best bowler of the series) strike a pose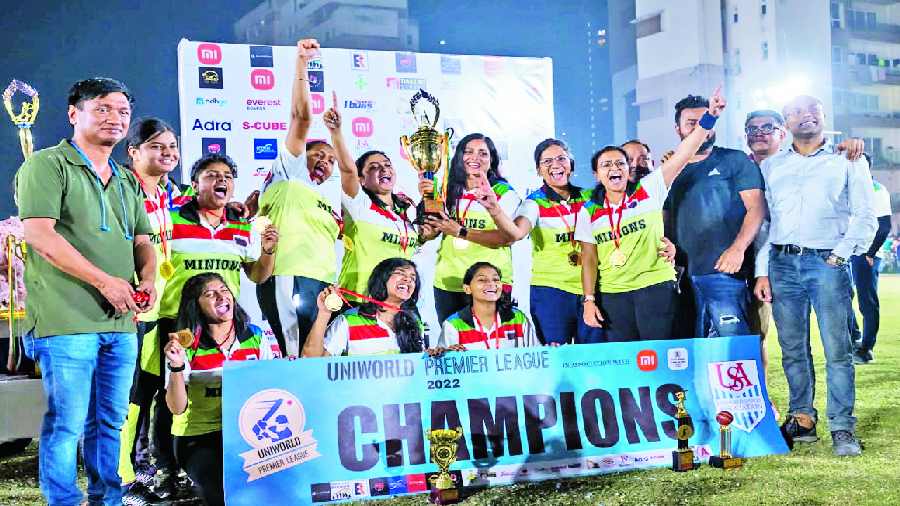 UPL women's category champions Minions pose with their medals
Women on top
The women's final was a clash of Minions and Mystic Maya for the second year in a row. Last time, the latter had lifted the trophy but this year, Minions were much stronger, what with several formidable players returning from their hometowns after the ebbing of the pandemic.
Minions won the toss and elected to bat and opener Poonam Yadav started dealing in fours and sixes. The all-rounder has been an asset to every team she has been part of since the inception of UPL and has won several Best Batter and Player of the Tournament titles. But this year she did not open all through the tournament before the finals and had even handed captaincy to Anushree Singha Roy.
"I'm shifting to Delhi and won't be playing next year. I had to ensure the team would manage without me so I was trying to make them independent," said the software engineer. They wrapped up their innings at 120 for 1, with Poonam alone scoring an unbeaten 66 runs from 34 balls. 
Mystic Mayans confessed they were not at their peak. Their team had inexperienced players and were bogged down by injuries. "Batter Richa Gupta broke her toe, batter Mouna Dechakka tore her ligament and all-rounder Riya Khan nearly broke a finger attempting a catch," said Mamta Sarda who, however, went on to bag the best wicket-keeper award.
Riya, despite a paining finger, was a force to reckon with. Earlier in the tournament, she had bowled out Poonam once and the latter admitted she was wary of her bowling in the final. "I grew up in a village in Bongaon and had never played any sport till I started giving my kids company here in Uniworld. I attended the UPL try-outs for a lark but after seeing me bowl, the teams vied with each other in trying to rope me in," laughed the Jasprit Bumrah fan.
Riya and captain Sowmya Sengupta were the two batters the Mayans were banking on and with them walking back to the pavilion with little on the scoreboard, the fate of the game was sealed. After the last ball, their scorecard read 46/4 and immediately the Minions and their supporters raided the field. They hugged, huddled, sprayed water on one another and picked up wickets as souvenirs. "Our team was nowhere near its full potential this year but making it to the finals despite that was an achievement," said Sowmya.
While Poonam was adjudged Player of the Match, Minion's Drishti Tyagi was the Player of the Tournament. "Next year, Poonam won't be with us but I'm sure we shall be seeking her guidance over phone," said captain Anushree.
The sports body president Soumyajyoti Basu said they wanted to empower the community to participate in a variety of sporting events, especially in the most celebrated game of cricket. "That is how the UPL came about," he said.
Write to us at saltlake@abp.in