Over 15,000 people will be at the starting block on Red Road around sunrise on Sunday when a major running spectacle in eastern India makes a comeback after a two-year Covid-induced break.
Police have announced a detailed traffic advisory on Sunday morning for the seventh edition of Tata Steel Kolkata 25K, partnered by The Telegraph. Several roads in the Maidan area and the rest of the city will either be shut for traffic or have restricted movement of cars.
The Open10K run will start at 5.40am, followed by the 25K, Champions With Disability (2.3km), Senior Citizens' Run (2.3km) and Ananda Run (4.5km). The Police Cup and Vijay Diwas Trophy will see cops and military personnel sweat it out.
Participants who haven't already collected their bibs should do so at Khudiram Anushilan Kendra from 9am to 7pm on Saturday, the organisers said.
TSK 25K will be telecast live on Sony Sports1 and Sony Sports1 HD from 6am to 10am. The event will be streamed live on SonyLIV, the organisers had said at a news conference on Wednesday.
Shooter Abhinav Bindra, India's first individual Olympic gold medallist, will flag off the race on Sunday.
"Whenever people start running and become serious about it, they start a very individual and personal journey. Running will teach them a lot about patience, resilience and achieving goals. On a personal level, it will imbibe a lot of values. An event like this brings people together," Bindra said standing on Red Road on Friday.
A Telegraph dossier on the race.
Route
The only World Athletics Elite Label road race in the 25km-category, the TSK 25K's course spans some of the city's majestic sights. The participants will run past the Raj Bhavan, Eden Gardens, Fort Williams and the Victoria Memorial before returning to the Red Road finish line.
The course covers Kidderpore Road, Mayo Road, Park Street, Gariahat, Golpark, Southern Avenue, Kalighat, Alipore and Hastings.
Traffic curbs
Red Road will be closed to traffic from 10pm on Saturday to "1pm or the completion of the marathon" on Sunday, police said. Several roads in the Maidan area and the rest of south Kolkata will be closed to traffic in phases between 4.30am and 1pm on Sunday.
Mayo Road, JL Nehru Road, Park Street, Syed Amir Ali Avenue, Hazra Road and Belvedere Road are among them. There will be traffic restrictions on many other roads.
A detailed traffic advisory is available on the social media handles of traffic police.
Weather
The Celsius dipped to 14.5 degrees on Friday, making it the coldest day of the season so far. The Met office has predicted a further slide. The participants will feel the bite of winter on Sunday morning. The mercury is tipped to dip to around 13 degrees in the next two days, said a Met official.
Race timings
The Open 10K run starts at 5.40am, followed by the 25K at 6.26am, Champions With Disability at 8.05am, Senior Citizens' Run at 8.10am and Ananda Run at 8.40am.
Top runners
A bunch of top international long-distance runners will compete on Sunday.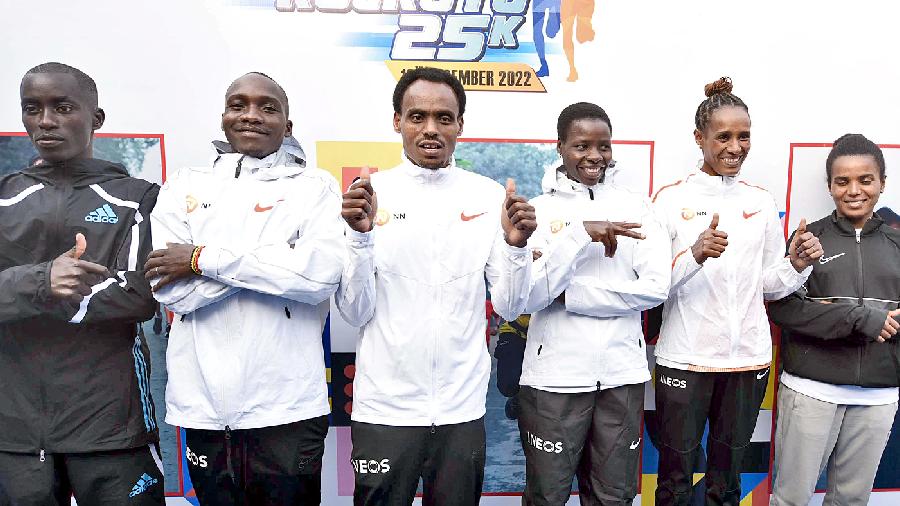 (From left) International runners Leonard Barsoton, Victor Kiplangat, Birhanu Legese, Mercyline Chelangat, Ashete Bekere and Anchalem Haymanot, who will compete in the 25K category on Sunday
Ugandan runner Victor Kiplangat, who won the gold in the 2022 Commonwealth Games in Birmingham in July, and defending TSK 25K (2019) champion and course record holder Leonard Barsoton of Kenya will be among the contenders.
Ashete Bekere of Ethiopia, who won the Berlin Marathon in 2019, will lead the women's charge.