The 1-km stretch between the Gariahat crossing and Modern High School for Girls has turned into homes for scores of people. 
Kolkatans are familiar with traders encroaching on footpaths, but pavements turning into dwelling units is new and it has raised the hackles of the Kolkata Municipal Corporation (KMC).
The city's mayor, Firhad Hakim, on Friday expressed concern at the "rapid" gobbling up of footpaths by "ragpickers". 
The Telegraph walked a kilometre along Syed Amir Ali Avenue, between the Gariahat crossing and Modern High School for Girls, on Saturday, and what it came across was worrying.
There were scores of people living in unhygienic conditions, bathing and defecating along the road, and stacking objects they had collected on the eastern pavement.
The footpath was also being used to sort the collected items before selling them to recyclers.
Pedestrians, hapless in this city, were being forced to walk through the carriageway. Some bus shelters have also been occupied by ragpickers, and commuters were seen waiting for a bus standing dangerously on the road.
Residents of houses along the stretch said clashes among squatters were frequent and a worry for residents and shopkeepers. 
Besides the pavements, at least 100 people live under the Gariahat flyover, within 50 metres of Gariahat police station.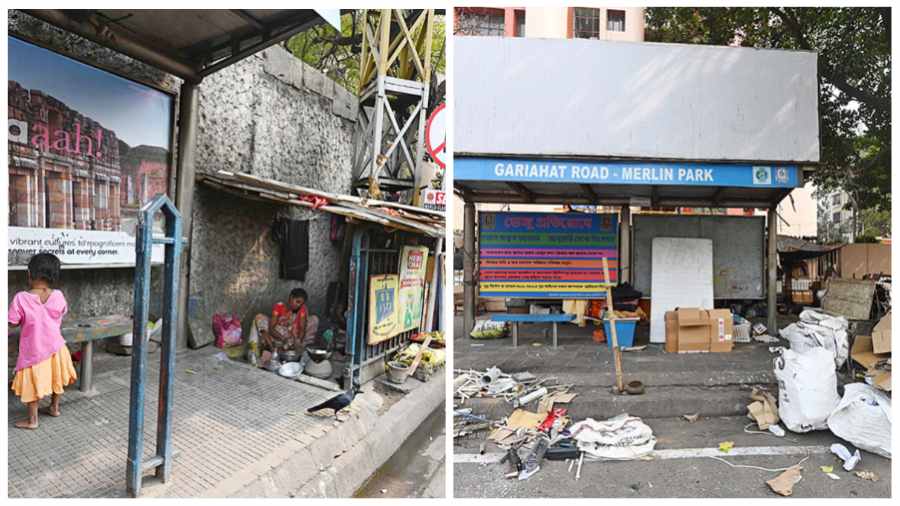 Pavement-dwellers at Ballyguange Phari and (right) items stacked by ragpickers in front a bus stand near Kwality restaurant on Saturday.
Pictures by Gautam Bose
A Gariahat resident said these stretches were "scary" to cross even during the day, and after sundown, hardly anyone ventures under the flyover. Substance abuse is allegedly rampant.
On Friday, mayor Hakim had said he would write to the police commissioner to get the "ragpickers" shifted from pavements to shelters for the homeless. "If some unidentified people live in the city, it could lead to law and order problems any day. Besides, they are also making the city ugly by stacking bottles and other items on footpaths. They cannot keep these things on footpaths," the mayor had said.
"The police have to find out who these people are. The police should check their Aadhaar and voter cards, verify whether they are citizens of India or not. After identifying them, the police should shift these people to the shelters for the urban homeless."
Almost all pavement-dwellers this newspaper spoke to on Saturday said they earned a living by picking discarded paper and plastic bottles from streets and selling them to shops that buy discarded items for recycling.
At Ballygunge Phari, the eastern footpath was filled with tens of sacks packed much beyond capacity with plastic bottles and other plastic items, and objects made of cardboard and paper.
Cooking utensils and the sacks left only a small portion in the middle of the southern footpath near Kwality restaurant unoccupied.
A little ahead, about 20 people lived in clusters on the footpath opposite Modern High School for Girls. A woman who lives there said the police had earlier visited the spot and noted down their names. "We were promised that we will be taken to shelters but nothing happened," she said.
The owner of a store close to where the pavement-dwellers live said frequent clashes occurred among the dwellers.
Under the Gariahat flyover, too, there were wooden bed frames covered with quiltsand blankets, and half-brokentables and chairs. "All thesehave been donated by peopleliving in houses along theroad," said a man who livesunder the flyover.
An officer of Gariahat police station said they were not yet aware of any order to move pavement-dwellers to shelters for the homeless. "No action has been taken against pavement-dwellers in three years," he said.
Swastik Harish, a consultant on urban development and housing, said people living on pavements have been failed by successive governments.
"The government should look at their condition from a socio-economic point of view, instead of considering it as a law and order issue. It is always good to give them space in shelters but the government should ensure that their employment is not snatched away," he said.