Teaching Afghan students English and helping them realise their dreams — that's what five friends from the city have been doing since 2021.
Umika Panda of Class XI and Anya Ghosh of Class XII, Loreto House, Mrinalika Basu of Class XII, La Martiniere for Girls, and Aritra Mookherjee and Hitansh Agarwal of Class XII, St Xavier's Collegiate School, had met through common friends. Their connection was instantaneous. All of them wanted to give back to society. So, when the Taliban took over Afghanistan last year, they immediately wanted to reach out to the student community in that country.
"We started looking out for contacts in the turmoil-torn country. Finally, we got introduced to a computer science student from Khurasan University in Jalalabad, Shabir Ghafari, through a contact. He told us how students are frustrated with the disruption in their education since the Taliban takeover and how many of them want to go abroad but cannot because of poor knowledge in English," said Umika. The five, though still in high school, immediately set to work preparing for the International English Language Testing System (IETTS) and making a teaching module. "We took a few months to prepare before deciding to train these Afghan students in English and help them reach their goals," said Aritra.
It was Shabir who spread the word around among the student community in Afghanistan. "The students out there are eager learners. Many of them, who signed up for the sessions, were college and university students. But it was never an issue that we were still in high school and from a different country," chipped in Mrinalika.
The five began the first batch of tuitions on November 14, last year under their flagship organisation, Flyp. "By then we had around 250 students signing up for our classes. They were divided into five batches (three for boys and two for girls) and trained on Zoom for around five weeks. The classes would stretch over an hour," said Hitansh. The five would teach in the evening, when they were done with their school and assignments themselves. The classes were also followed by mock tests.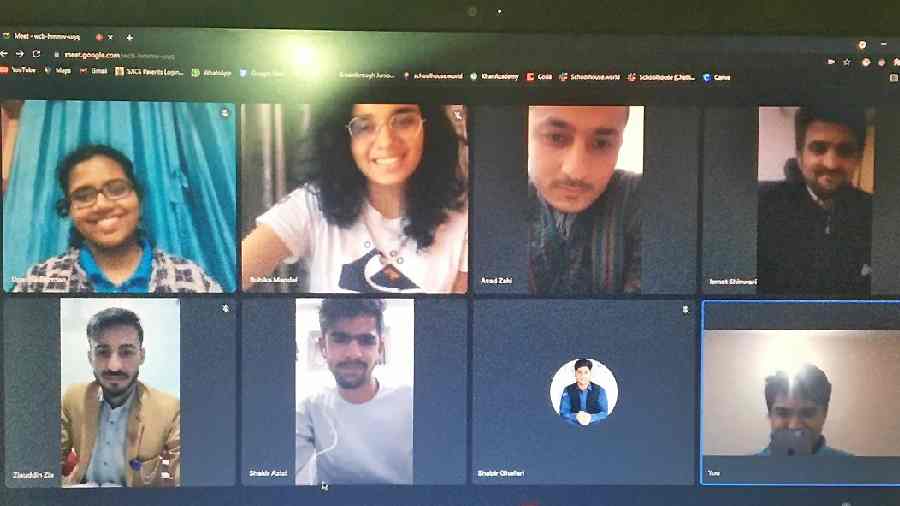 An English lesson in progress for the Afghan students.
"It was an enriching experience for all of us. The students would share how the disruption in education since the Taliban takeover had left them demoralised and scared. "The girls would also share recipes and culture notes as they learnt English. "We focused mostly on the syllabus at hand but sometimes personal anecdotes were also shared. The classes became a safe space for expression. The best part about these students was their eagerness to learn despite the power outage and all the political and family hurdles," said Anya.
The first batch ended this February. The five have already got calls from a few of their Afghan students on how the latter managed to clear the IELTS following the coaching.
"The success stories left us thrilled. By now we also had many more student volunteers joining us. We began a second batch with over 100 students in March this year. Now we are mainly overseeing the project while two Class XII students of St Xavier's Collegiate School — Ayan Acharya and Ishan Garg — and others are in charge. This way we have taken the project forward," said Umika. The five are also mulling new ways of helping their counterparts from such turmoil-torn areas.