An English-medium school has been set up in a remote village in the Sunderbans, around four hours from the city, to bridge the learning gap children have suffered in the last two years.
Udita, the primary school in Pashchim Khejurberia, will cater to around 400 children in shifts for now.
The children are in the 3-10 age group. Most of their parents are fisherfolk, farmers and migrant labourers who lost their jobs in the pandemic.
In the last two years, these students have been away from their studies because schools were forced to close and hold online classes. Children in cities had access to devices but many in rural areas neither had devices nor support at home to help them study, said NGO workers.
The school is an initiative of the women's wing of Credai Bengal (Confederation of Real Estate Developers' Association of India), which has collaborated with an NGO in the area to teach the children.
The NGO, Swapnapuran Welfare Society, has been working in the area over the last two years after Covid and Cyclone Amphan struck in succession in 2020.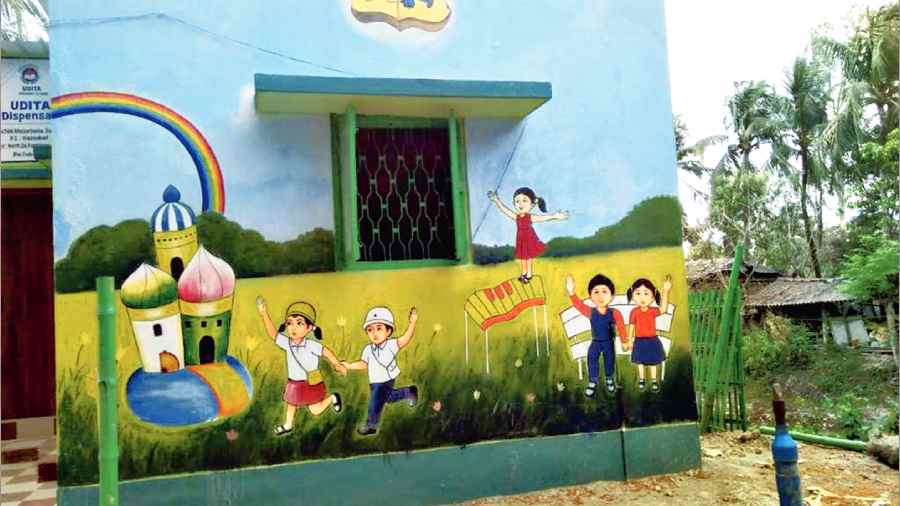 The primary school in Pashchim Khejurberia in the Sunderbans
The NGO has been teaching literacy and numeracy skills to the children.
"An English-medium school is our USP. We saw that not only the students but also the parents were keen to send their children to an English medium school," said Kavita Kajaria, convener of the women's wing of Credai Bengal.
"This kind of initiative raises hopes among the people in the area. We, who build homes, have ventured into building a school for the first time," she said.
The school with five rooms, a dispensary and an office will also serve as a shelter during calamities, much needed in the Sunderbans that faces the brunt of storms in Bengal.
The NGO used to work in other areas in the Sunderbans. It started work in Pashchim Khejurberia after the devastation brought by Amphan.
"We will provide livelihood training to the mothers from the premises of the school, too. This is something we started over a year back. The mothers need to be independent and earn a livelihood because many of the fathers have lost their jobs," said Satarupa Majumder of Swapnapuran.
The school has been funded fully by members of Credai Bengal.
"This is the first time we are establishing a school, which is a gift of education from all of us here to the children of the village in the Sunderbans. We are happy that many of the members have contributed to this cause," said Nandu Belani, president, Credai Bengal.