Officers of the Enforcement Branch (EB) of Kolkata police visited several retail markets across the city to find out the prices of vegetables and essential food items.
Separate teams of officers visited Gariahat, Maniktala and a few other markets and spoke to retailers as well as to the customers.
The Telegraph reported on Friday how prices of different items have been shooting through the roof in an aftermath of spiralling price of diesel and petrol. Lemons sold at Rs 50 for three pieces while cucumber sold at Rs 60 a kg and so did bitter gourd. 
EB officers said they did not want to seize any item instead they wanted to make retailers realise that the government was trying to put checks and balances in place and any arbitrary pricing could invite actions under the provisions of the law.
"We will continue such visits over the next few days," said a senior EB official. "We will soon start checking stocks to see if any effort is on to hoard items unnecessarily."
Chief minister Mamata Banerjee on Thursday had instructed senior police officers to ensure that teams of EB officials begin visiting different markets to check if attempts were made to abnormally hike prices of different items under the garb of rise in diesel and petrol prices.
The prices of diesel and petrol remained unchanged on Friday, selling at Rs 98.83 and Rs 115.12 a litre as on Thursday.
Horse and owner travel on local train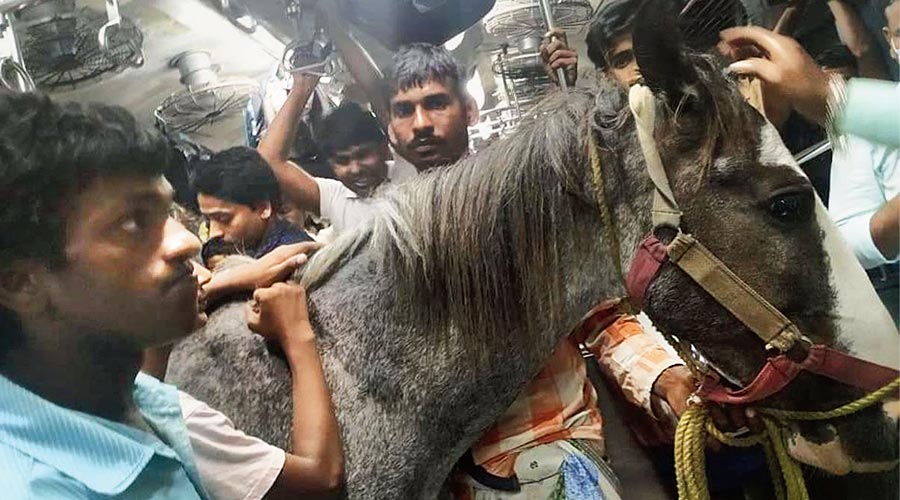 A horse and his owner travelled on a local train on the Sealdah South suburban route on Thursday evening. The man was arrested by the Railway Protection Force on Friday after his pictures with the horse in a vendors' compartment became viral on social media.
A spokesperson for Eastern Railway said: "There are provisions for travelling with pets on long-distance trains but there are several conditions."
The man has apparently said he had taken his horse for a race, common in suburbs after the harvest of rice, said RPF sources.
"The man, along with his horse, had boarded the Diamond Harbour-bound local train from Dakshin Durgapur station around 6.45pm on Thursday. They got off at Netra, seven stations later," said an official of the Sealdah division.
Many co-passengers objected and some of them took pictures as well, he added.