An elderly woman's right leg got trapped between two slabs covering a drain on a waterlogged road in New Town on Tuesday morning and that was how she remained for over three hours while several futile efforts were launched to pull her out.
Septuagenarian Jayasree Roychoudhary, who lives alone and does her chores herself, was wading through ankle-deep water on her way home from a local market when her leg went through the slabs outside the gate of her complex — DLF New Town Heights — around 11.10am. 
The incident happened on a day Salt Lake and neighbouring Dum Dum were pounded by over 100mm of rain in 24 hours.
Residents called the fire brigade, ambulance, police and the New Town Kolkata Development Authority (NKDA) but it took over three hours to free Roychoudhary.
A fire brigade officer said the rescue operation was delayed because of rain.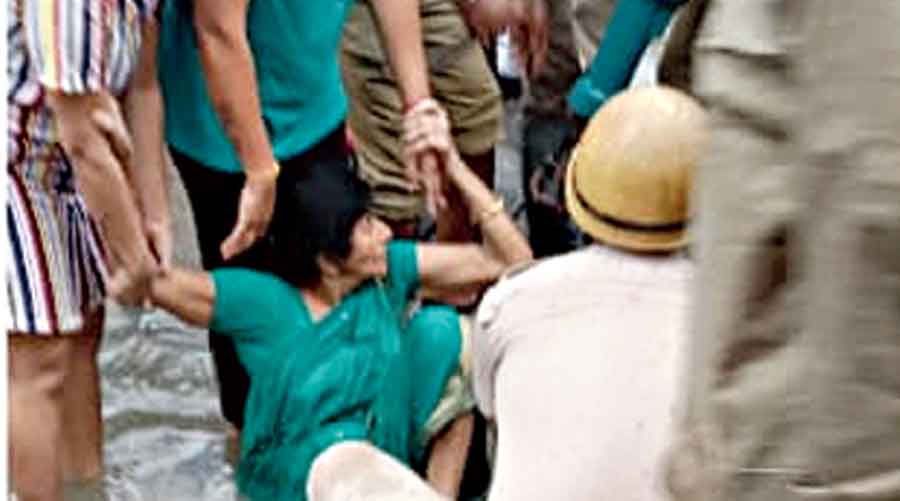 Roychoudhary being rescued by fire-fighters.
The Telegraph
"The street was inundated and we couldn't even see the slabs between which the leg got trapped. Pumps failed to suck all the water out," he said.
The fire officers did not break the slabs because that could cause more injury to Roychoudhary's leg.
"Instead, we used our instruments to demolish one of the nearby slabs to loosen the rest of them," an officer said.
All the while the shivering woman was comforted by guards, who held a garden umbrella over her head, and neighbours, who arranged for tea and biscuits even as she sat on the road.
The fire fighters constantly asked her to be brave. "But she was frightened and kept asking me if she'll survive this accident," said Bachchu Dutta, her complex's security in-charge.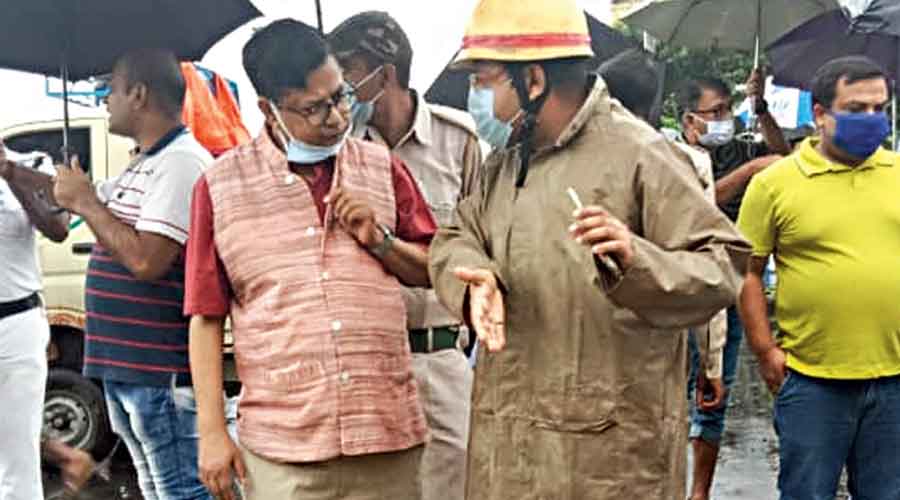 NKDA chairman Debashis Sen speaks to a fire brigade officer at the site.
The Telegraph
After she was pulled free, she was taken to Bidhannagar Sub-divisional Hospital, where doctors discharged her after a check-up.
"She's traumatised and is in pain but didn't suffer any fractures," said a neighbour who escorted her.
Her neighbours alleged they had long been complaining about the broken drain covers.
"The slabs are poorly aligned and have had gaping holes for a while now. One can't spot them when the street is inundated," said the secretary of the complex, Sameer Sharma.
"We have been tirelessly complaining to the NKDA but no action has yet been taken to fix them."
About 20 days ago, a domestic help had got trapped at the same spot but security guards of the complex had managed to wriggle her free.
"Even today our guards rushed to help the lady but she would have cried out in pain if we tried to pull her out, so we decided to wait for experts," said security in-charge Dutta.
"This accident was waiting to happen. It's a pity that our complaints are taken seriously only after such an accident happens," said Nilanjana Dutta, a resident of DLF New Town Heights.
NKDA chairman Debashis Sen, who was present at the site, assured residents that their engineers were working on a solution to align the slabs.
"We shall look into all such issues immediately," he said.
Neighbours said Roychoudhary was very independent. "She does all her shopping and chores by herself and was returning from the market today when the accident took place," said a neighbour.
Like many elderly people in the city she has two sons, who live away for work.