An elderly factory owner who wants to develop real estate on his property allegedly took out a gun to scare a hawker who had set up a stall outside the boundary wall of his premises and was refusing to vacate.
The incident happened at Parnasree Pally, a residential pocket in Behala in southwest Kolkata, on Thursday.
Police said they started two cases — one against the elderly man and the other against the hawker. Police said the elderly man had a licensed gun but he committed an offence by using it  to threaten people without any apparent threat to his life.
The entire episode was apparently video recorded by some eyewitnesses. The purported footage showed an elderly man brandishing his gun within a few minutes of a heated discussion with the hawker.
The police identified the man as Debasish Chakraborty, 74, a resident of the neighbourhood, and the hawker as Bittu Das.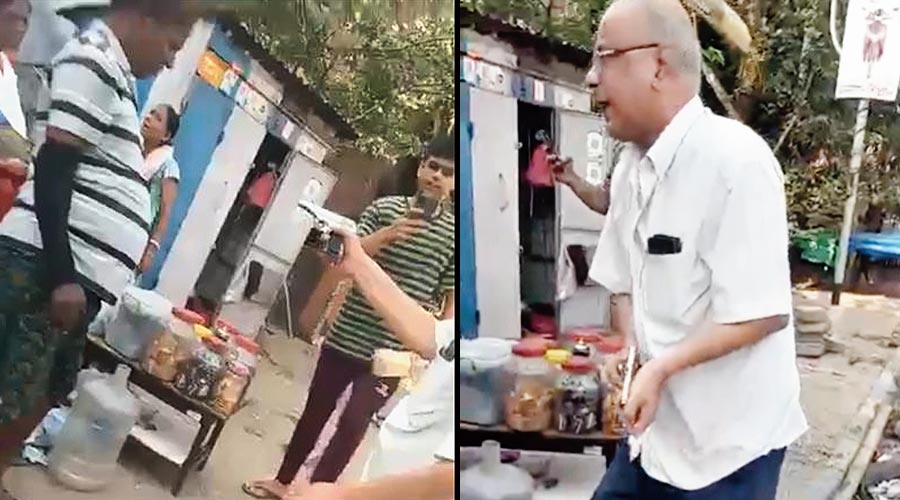 The elderly man seen pointing the gun at the hawker (left); The elderly man seen with the gun
The Telegraph could not contact Chakraborty to seek his reaction to the allegations against him.
The purported video, whose veracity was confirmed by the police, showed Chakraborty and a young man having a heated discussion. Das is seen standing in front of a stall selling cigarettes.
A few minutes into the altercation, Chakraborty is seen taking out a pistol from the right pocket of his trousers and pointing it at Das.
Das and Chakraborty both have lodged complaints against each other, based on which officers of Parnasree police station have lodged two cases.
A senior police officer involved in the probe said they had started a case against Chakraborty under the Indian Penal Code sections related to criminal intimidation and causing assault.
A case of criminal intimidation, causing assault and unauthorised occupation of footpath has been initiated against Das.
A senior police officer monitoring the probe said they had decided to write to the licence sanctioning authority to impound Chakraborty's arms licence.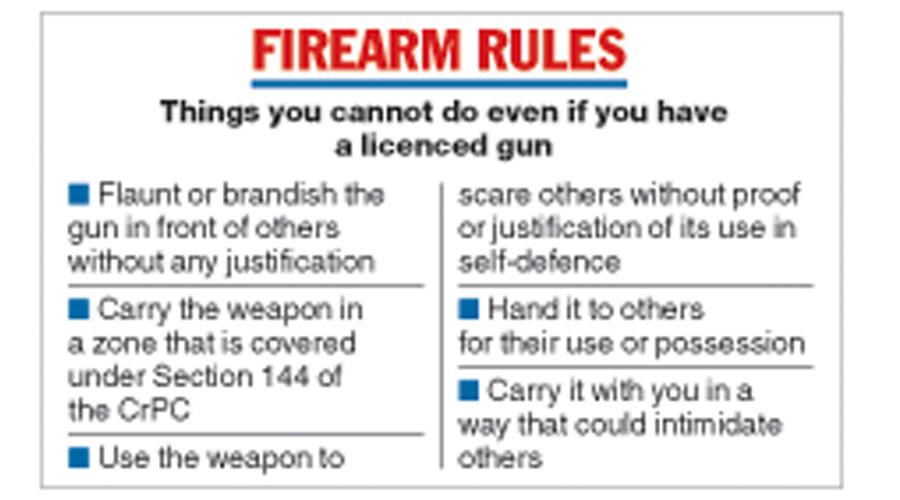 According to the rulebook, no one has the right to flaunt or brandish his or her licensed gun before others without justifying the extent of threat or insecurity he or she had felt to do so.
"Even when a police officer uses his gun, there is a detailed procedure that he or she has to follow. The gun is seized and he or she has to justify its use before the competent authorities. Else, proceedings are initiated against that officer," said a senior police officer at Lalbazar, who is not involved in the case.
Another officer who has earlier worked in the arms act section at Lalbazar said the use of a gun had to be justified with proof that it was used only for self-defence.
Kolkata has witnessed instances of people using their licensed gun apparently for "self-defence" being charged with murder.
In 2013, a 36-year-old school principal, Mamta Agarwal, was charged with murder for allegedly shooting down two men who had scaled her building compound at 9A Short Street. Despite pleas of "self-defence", the police had chargesheeted her under IPC section related to murder.