De Sovrani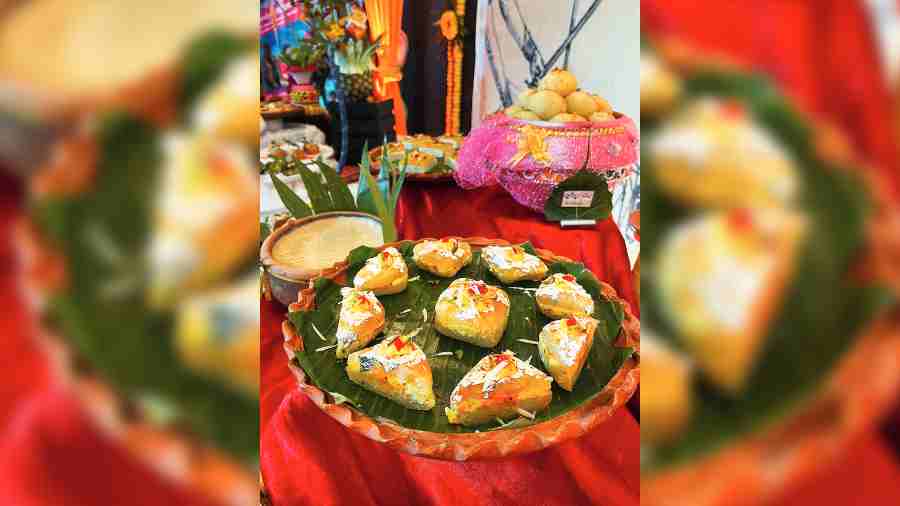 Hotel De Sovrani will celebrate nostalgia by reviving everyday household dishes of Bengal in their puja food festival.
"With the inclusion of Durga puja in the Unesco's list of intangible cultural heritage of humanity, we decided to take a step back from being the innovators and just cherish what Kolkata has been all about," said Kamalini Paul, managing director of Hotel De Sovrani. So the theme of their food festival is "Sarodiyay sheyi Kolkata", to be celebrated at various restaurants on their property.
At Sand, their multicuisine restaurant, they will be hosting two buffets. The premium spread of 45 items will cost Rs 1,199 inclusive of taxes, and the economic spread of 24 items will cost Rs 699. Both will be available from noon to 4pm and 7pm to 11pm from Sashthi (October 1) to Navami (October 4). "A lot of the dishes we have planned to serve this year will be unique. Those who join us will not be disappointed," said manager Dhrubo Ghosh.
There will also be a late night buffet from 12.30am to 2am. "A lot of us retire after an evening of pandal-hopping only to find most of our favourite restaurants shut or on the verge of shutting down. For them, we have planned this buffet. There will be an a la carte selection too," said Paul.
At Library, their bar, there will be innovative cocktails and fusion appetisers such as Mallickpara'r Margharita, which is a sweet and sour twist on the margarita. Deals are available on combos of sheesha, cocktails and starters for six people starting at Rs 1,199. 
Sky View Café, the open-air café on the terrace, shall have live music every evening, and will be open till 1am during the festival.
Manoj Kumar Sahu, the head chef of the hotel, seemed quite excited. "My personal favourites are the Mochar Chop and the Jangal Mahal er Mutton Curry. We have also tried to fuse cheesecake with the flavour of barfi and payesh with orange. I'm optimistic that our patrons with love these," he said.
 Shreya Chatterjee
Ibis Kolkata Rajarhat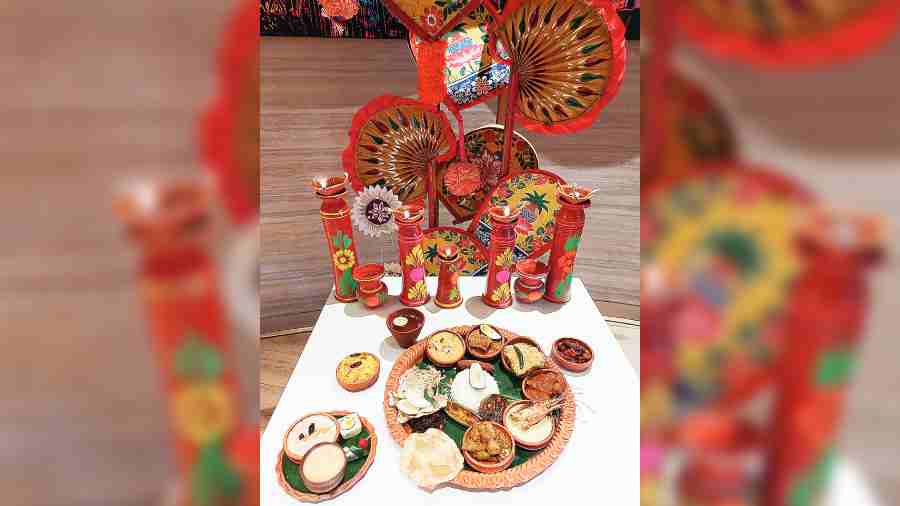 The Bengali thali that will be on offer for lunch at Ibis in New Town
Ibis Kolkata Rajarhat, the three-star address in New Town, has tied up as the hospitality partner of the township's newest community puja, New Town Sarbojanin, which is taking place close by. So it is hosting a Durga puja food festival with greater gusto this year as well as setting up a food stall at the puja ground. "This is the first time a big community puja is happening in New Town and we wanted to contribute to the community," said Ajit Jose, the hotel's general manager.Spiceit, the 24-hour cofee shop, will roll out a Mahabhoj thali for lunch from September 28 to October 5. "We will serve four menus cyclically so that it does not become monotonous for our in-house guests," Jose added. The Bengali thali will be priced Rs 1259, all-inclusive. "It will have four non-vegetarian items — fish, chicken, mutton and prawn," said head chef Avisek Chand.For dinner on the Puja nights, one can sample the multi-cuisine buffet from 7.30 pm to 10.30 pm. Priced Rs 1049, all-inclusive, it will have some Bengali options added on the Puja nights. That pandal-hopping till late from October 1 to 5 can walk in from 11 am till 3 am and be served a limited version of the dinner buffet, priced Rs 629. Chand also listed some of the snacks items the hotel would serve at its stall at the puja ground, the City Square — rolls, pav bhaji, desserts and soft drinks. The hotel is also offering staycation packages to let people relax without leaving town. 
Sudeshna Banerjee