What has started as a debate, could possibly end as friendship across the border.
The Calcutta Debating Circle has brought together students from the University of Dhaka and five institutions from Bengal as part of a series of debates — Mukhomukhi Dui Bangla — that started on Monday.
The students from across the border conversed and shared ideas through debate.
The event will continue till Saturday.
The five institutions from Bengal are St Xavier's College, Jadavpur University, Calcutta University, Techno India University, Adamas University and Visva-Bharati University.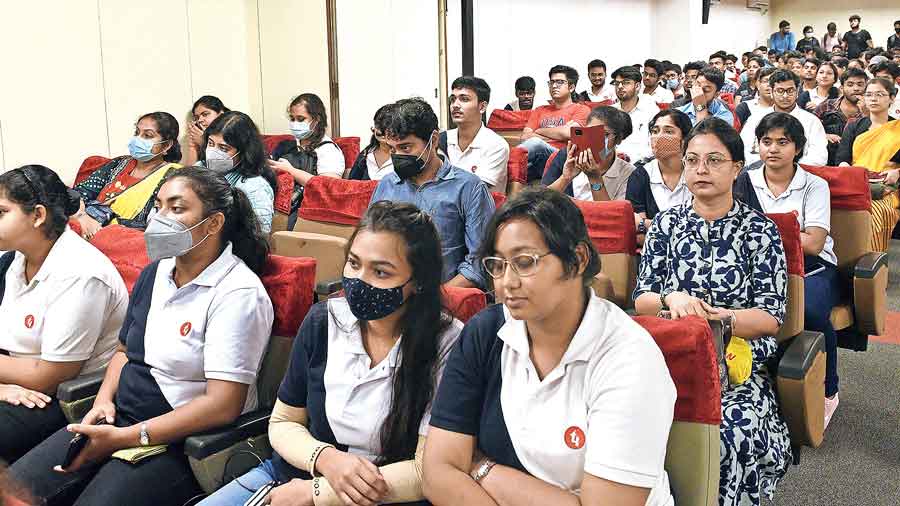 Students and invitees listen to the debate at Techno India University.
"We speak the same language but there is not enough communication between the youths as should have been. Any conversation in the past is usually limited to Dhakai and illish. But there are issues and concerns of real life and the debate is an effort to stimulate the conversations among this age group," said Kunal Sarkar, cardiothoracic surgeon and trustee, Calcutta Debating Circle.
On Monday, the first debate was held at Techno India University in Salt Lake on Bangla Bhaber Bhasha, Kajer Bhasha Noy (Bangla is a language of emotion not of work).
"In today's debate, the teams were formed with students from both countries. They were participating together as teams. The idea is also to build fraternity and friendship," said Pradeep Gooptu, trustee, Calcutta Debating Circle.