The road in the port area where a lorry toppled on a car and killed a man on Saturday evening has been in a broken and battered condition for months, residents and others who use the thoroughfare said on Sunday.
An official of Kolkata Port Trust (KoPT), the custodian of Dock East Boundary Road, said the road underwent a thorough repair in 2018 but was dug up for laying a water pipeline about a year back. "It has not been repaired since," he said.
Ram Kinkar Ram, 35, son of the councillor of Ward 79, Ram Pyare Ram, was driving home on Saturday evening when the truck laden with fertilisers fell on his car. He was taken to SSKM Hospital, where doctors declared him dead. Residents said the accident might have happened because the driver was navigating through a road dotted with craters.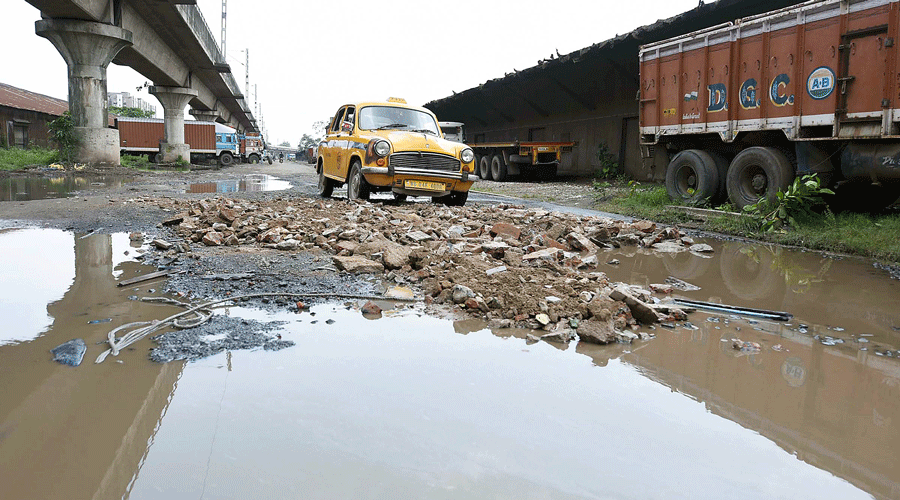 The spot on Dock East Boundary Road where the truck fell on the car, killing the man at the wheel, on Saturday night.
Gautam Bose
The spot where the lorry overturned on Saturday evening has a crater about a foot deep at least.
The aggregate used to pave the road has worn off and stone chips have come off the bituminous surface. Construction debris and large stones have been dumped into the crater to fill it but have hardly been effective.
Shaikh Sohail, a resident of Kidderpore, said the road had been in this condition for several months. Most people avoid Dock East Boundary Road and a few other roads in the port area because of potholes.
"We avoid these roads because of their poor condition. Another menace we have to face is rampant plying of overloaded trucks," Sohail said.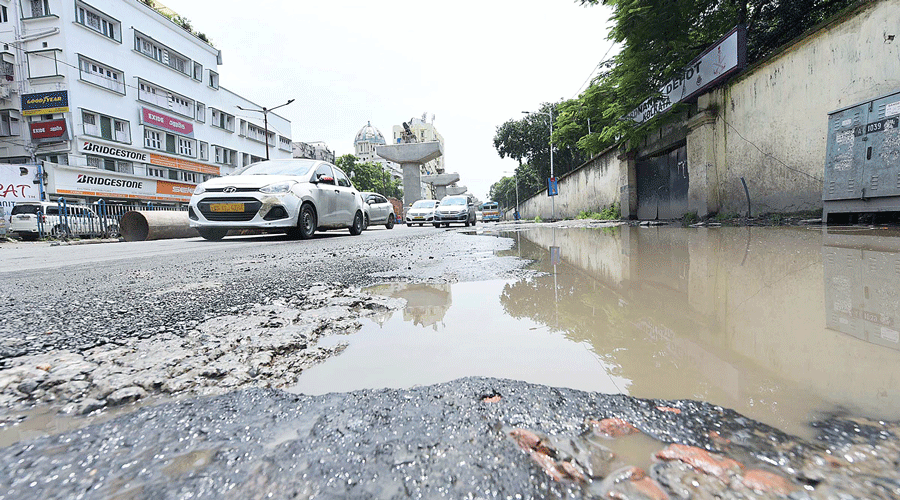 A battered stretch of Diamond Harbour Road near Mominpore.
Gautam Bose
A man who regularly commutes through Kidderpore said people avoid traveling alongside a large truck as there is always the risk of the vehicle overturning and they getting crushed under the load of goods. Police officers involved in managing traffic in the area said only a few residents take Dock East Boundary Road, through which mostly large containers and trucks ply.
"The road has been lying in a poor condition for at least a year," said an officer of the south-west traffic guard.
The port trust official said the road was not repaired after the water pipelines were laid by the Kolkata Municipal Corporation (KMC) about a year ago. A senior KMC official, however, said: "After we lay pipelines, we inform the custodian of a road that our work has ended. The custodian undertakes repairs."
The port authorities have formed an inquiry committee to find out why the road was in such a poor state. "The committee, led by our deputy chairperson, visited the road on Sunday. It will find out why the road was in such a state. The committee will also suggest measures to improve the condition of the road," said the KoPT official.