A stretch of the road near Rabindra Sarobar in south Kolkata, from where defunct overhead cables were supposedly removed, still has a number of cables dangling close to the ground, tied around trees and guardrails.
The Telegraph recently spotted several cables on Sarat Bose Road in south Kolkata that had not been removed or pulled upward and tied in an orderly way. This raised the question whether it was at all possible to create order out of the overhead cable chaos. The cable operators who are removing defunct cables admitted that the task ahead was challenging given the number of cables that have gathered over the decades.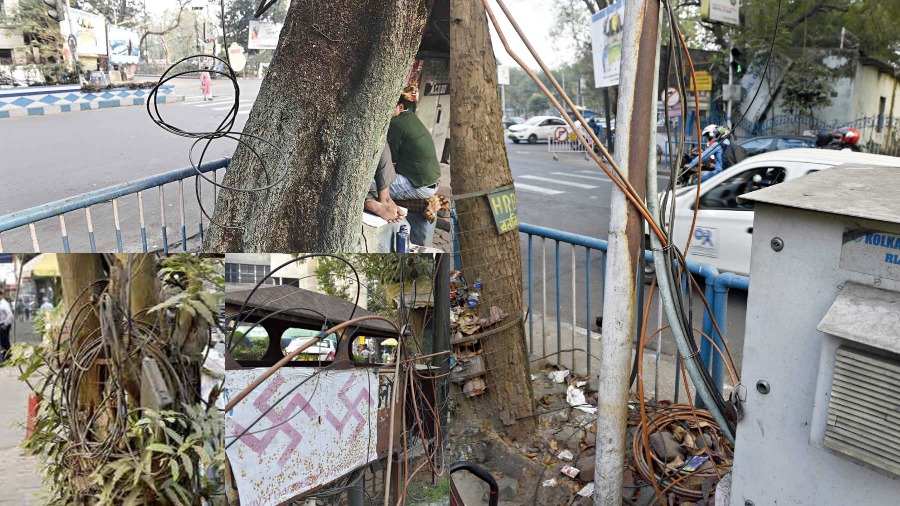 Cables on Sarat Bose Road on Friday that were supposed to have been removed or pulled up.
Pictures by Bishwarup Dutta
Tapash Das, a cable operator and a member of the All Bengal Cable and Broadband Operators United Forum, said the cables that were still hanging close to the ground along the road near Rabindra Sarobar carried Internet signals.
"There are some internet cables that have gone up from the ground. These are live cables and cannot be snipped. Besides, some telecom providers have installed boxes from where cables have gone to individual homes. These cables cannot be tied with others," Das said.
The operators had said they would remove all defunct overhead cables in the city within a month but have since realised that it might take years.
Hardly one kilometre of road is being cleared of defunct cables every day. At the current pace, many suspect, it might take a decade to remove all defunct, overhead cables.
The drive is facing unanticipated challenges. Work had to be suspended on Sarat Bose Road, Hazra Road, Sambhunath Pandit Street and Elgin Road, all in south Kolkata, after a few cables of traffic signals and CCTV cameras installed by the police were accidentally snipped, Das said.
"Earlier, the cables for traffic lights were green. But they are now all black. Our team failed to distinguish traffic cables from defunct TV or Internet cables and cut them by mistake. Police then asked us to stop work for a few days, till they mark the traffic signal cables," Das said.
Thick bunches of cables have been blamed for toppling of trees and poles during Cyclone Amphan. KMC engineers had said the cables put pressure on trees and poles, making them unstable during a storm.
Many cable operators blame thicker cables of telecom companies for the problem. The cables of local operators are thinner and lighter, they said. The jumble of overhead cables makes the city look ugly and pose a threat to pedestrians and motorists.