Police managed to keep traffic in Gariahat in south Kolkata running smoothly on the first day of the week with the Gariahat flyover closed on the third consecutive day for load testing on Monday.
The flyover will reopen on Tuesday.
The police deployed extra forces and created awareness among motorists so they could weigh their options before approaching Gariahat. These steps led the police to be able to manage one of the busiest crossings in the city without any diversions on Monday, when all schools and colleges were open and vehicular pressure on the roads was high.
"We deployed around 40 traffic cops from the other traffic guards who were spread across all the major crossings near Gariahat to manage any kind of traffic pressure before it could affect the Gariahat crossing," said a senior officer in Lalbazar.
Only the traffic signal at the Gariahat crossing was turned into manual mode. It was operated manually depending on the volume of traffic on the north-south corridor compared to the east-west corridor.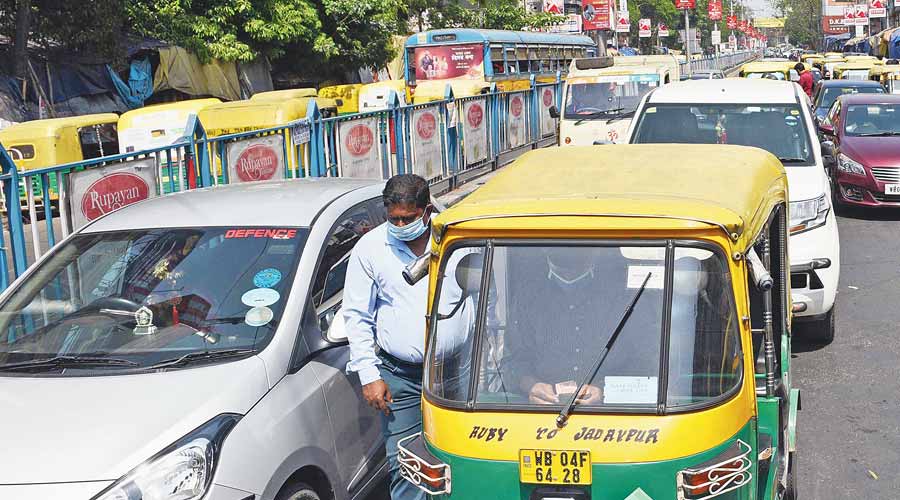 Vehicles move towards Gariahat from Kasba on Monday
On Saturday, cops had turned the traffic signals at Golpark, Panchanantala and the Rashbehari Avenue crossing into manual mode to control the number of vehicles queuing up on Gariahat Road and the other roads leading to the Gariahat crossing.
"We were expecting traffic snarls on Monday since all schools, colleges and offices were open today. But the number of vehicles passing through the Gariahat crossing today was significantly less compared to the last three days. It appeared that most of the people have come to know that the flyover is closed and it could lead to a longer waiting time if they tried to go through the Gariahat crossing," said the officer.
The flyover was closed from Friday night for a load test to check the structure's durability.
The flyover that connects Golpark to Ballygunge Phari, bypassing the congested Gariahat crossing underneath, will be opened to vehicles again from Tuesday morning.
In a city that is rich with old structures, there have been multiple instances of flyovers being closed for load testing across the city — be it Tala bridge or Park Street flyover — that have inconvenienced many.
"With every load testing exercise, we are learning to manage the traffic better so that minimum people are affected," said an officer.