If you could breathe easy the day after Kali Puja, you must acknowledge the efforts of several clubs (to an extent) who worked hard to convince one and all to celebrate a green Diwali.
While the untimely rain played its part, for the clubs it was a matter of reputation for their respective establishments and they just could not let the smoke 'smear' it. The clubs, on their part, ensured that Diwali revellers, in their respective localities, could not spoil the party with illegal firecrackers.
"It is not just the question of only polluting the environment but we could not afford to tarnish the reputation of our pujas. Kolkata Police had instructed us on several issues to ensure a safe and peaceful Kali Puja and we tried our best to maintain it," said Gaurab Sengupta of Barisha Shanti Sangha Club.
No illegal firecrackers
Barisha Shanti Sangha Club had put up several hoardings and banners in their areas to request people to stay away from illegal firecrackers. Sapta Sathi Young People's Association, a Kali Puja at Baranagar, went a step ahead and asked people to celebrate with diyas only. "We believe that all types of firecrackers pollute the environment and it is best to avoid it entirely," said Sujay Panigrahi, the club president.
Creating awareness
Several clubs trekked that extra mile to ensure a pollution-free Diwali. "For the last two weeks, organisers have been convincing people of the locality to stay away from the polluting firecrackers. We conducted door-to-door request campaigns. It is always easier and better to convince people by talking to them instead of pasting the entire town with banners," said Soumya Sanyal from Tollygunge Sabuj Sangha.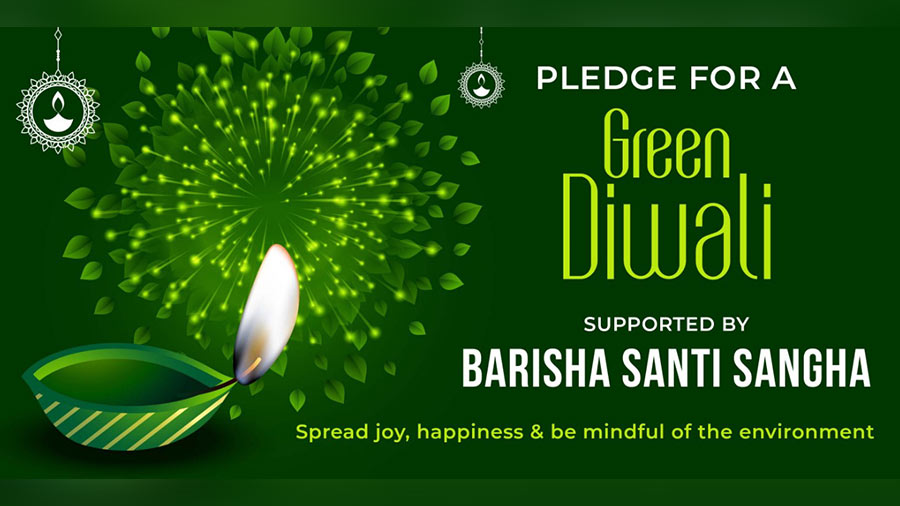 Working with the police
South Dum Dum Avenue Sporting Club members made repeated announcements from their pandal. "Most people have actually listened to us and stayed away from illegal firecrackers," said a puja organizer.
Hawk-eye vigil
Members of Kestopur Shakti Sangha Club were on the alert and talked to local residents. "Several people had set up kiosks in the area and were selling firecrackers. We requested them not to stock illegal firecrackers and also made sure that these stalls did not have such stuff," said Amiya Saha, an organisers.