The Indian Botanic Garden authorities are cleaning up the 273-acre garden one-and-a-half years after Cyclone Amphan had dealt a body blow to the trees.
"Over 1,400 trees in the garden had been affected by Amphan, including the 272-year-old banyan tree. We did not have the necessary manpower to remove the fallen trees during the pandemic. We are slowly trying to do that now," A.A. Mao, director of Botanical Survey of India (BSI), said while touring the garden.
A lot of hue and cry was raised while the garden authorities tried to clear the fallen trees. There have been allegations of indiscriminate felling of trees, including rare trees like Swietenia humilis.
"Swietenia humilis is a mahogany species. It had been felled during Amphan. It was a dead tree and we have an entire colony of mahogany trees in the garden. Besides, we have also planted saplings of Swietenia humilis," said Mao.
Asked why attempts have not been made to replant the fallen trees, the director said: "It is not feasible to replant every fallen tree."
The ancient baobab tree that had been felled by Amphan was replanted after a lot of effort.
"We spent about Rs 1 lakh to get a crane that could lift the baobab tree. We cannot afford to do that for all trees that were uprooted. There is no need to do that because we have plants of the same species thriving in the garden," said Mao.
Answering allegations of indiscriminate felling and use of JCB machines in the garden, Mao said: "We have to use machinery to clear these tall dead trees. Unless we clean up the garden, how can we replant? A botanical garden is supposed to be a repository of various species. We are planting a variety of plants collected from all regional centres of BSI."
The 24 interconnected lakes in the garden are being cleared of overgrowth of water hyacinths. "We are planting water lilies," said the director.
As for a rare giant water lily, or Victoria amazonia, Mao said: "It is a shallow water plant, our lakes here are deep. We have created a special pond for the Victoria amazonia and will plant it there."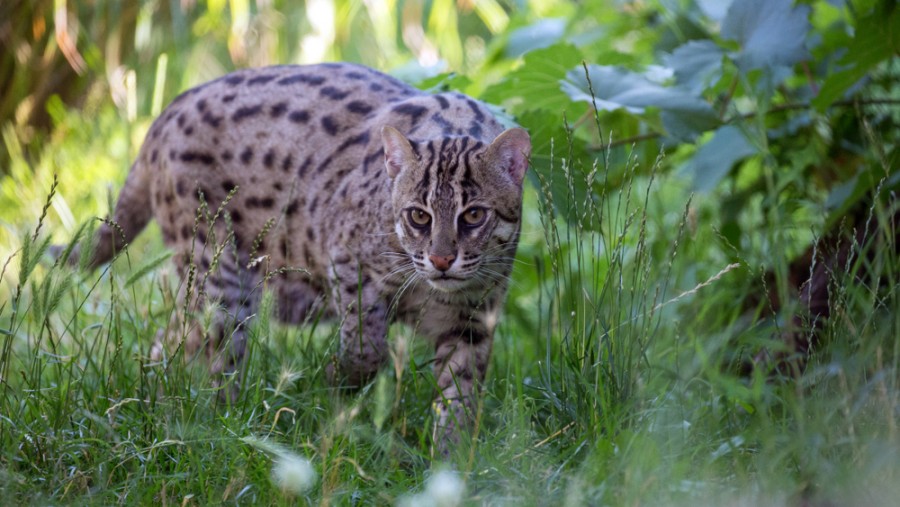 Bengal's state animal: Fishing cat
File picture
Three Bengal fishing cat carcasses found
The carcasses of three fishing cats, allegedly poisoned to death, were found at a village in Bagnan, Howrah district, on Thursday afternoon.
The carcasses were found dumped in an open area off a road in Kalikapur village, around 5km from Bagnan railway station. "There were no external injury marks. Prima facie, it seems the cats were poisoned. But they did not die together," said a forest official.
Sources in the forest department said two key suspects in the case, two brothers, were "absconding".
Fishing cat, Bengal's state animal, is included in Schedule I of the Indian Wildlife (Protection) Act, 1972. Killing a fishing cat can invite a jail term of three to seven years and/or a fine up to Rs 30,000.
(By Debraj Mitra)