The revised home isolation guidelines issued by the health  ministry on Wednesday brought relief across the service sector.
Thousands of Calcuttans working in several sectors are infected with Covid and are in home isolation now. 
Some of them, if not many, may now end their isolation after seven days instead of the state government-mandated 17 days.
The health ministry on Wednesday issued new guidelines that say a Covid patient with mild symptoms should stay in home isolation for a minimum period of seven days.
The person must be at least three days without fever to end isolation.
In Bengal, the present guideline suggested that a person affected by Covid should be in home isolation for 17 days. However, officials of the state government said the health ministry guideline was overriding.
Administrators in several sectors, particularly healthcare, said the new guidelines would avert a severe manpower crisis. Most of them said if the high rate of infection continued and people were forced to stay in home isolation for 17 days, then it could lead to a workforce crisis.  
The Narayana Health group had 160 healthcare workers, including doctors treating Covid patients, testing positive. They are now either in hospital or in home isolation.
"We have spoken to all of them and 50 per cent are either mild or asymptomatic. They are ready to come back after seven days, which would be by the end of this week or beginning of next week. So, if 50 per cent of the workforce is able to come back then it will help us provide service normally. Otherwise it would have led to  a crisis," said R. Venkatesh, regional director, east, of Narayana Health of which the RN Tagore hospital is a flagship unit.
AMRI Hospitals has 47 healthcare workers infected by Covid.  An official of the hospital said many of those affected would be able to join work by the beginning of next week, according to the revised guidelines. 
Calcutta police are also facing the same manpower crisis. As on Wednesday evening, the number of active cases in Calcutta police was 166, including senior officers of the rank of additional commissioner, joint commissioners, several deputy commissioners and many officers in charge of police stations.
The Calcutta police commissioner, who came in contact with several officers who later tested positive, is in isolation, sources said.
Bhowanipore police station, located on Shyama Prasad Mukherjee Road, has reported maximum number of cases  among all city police stations and has restricted the entry of visitors.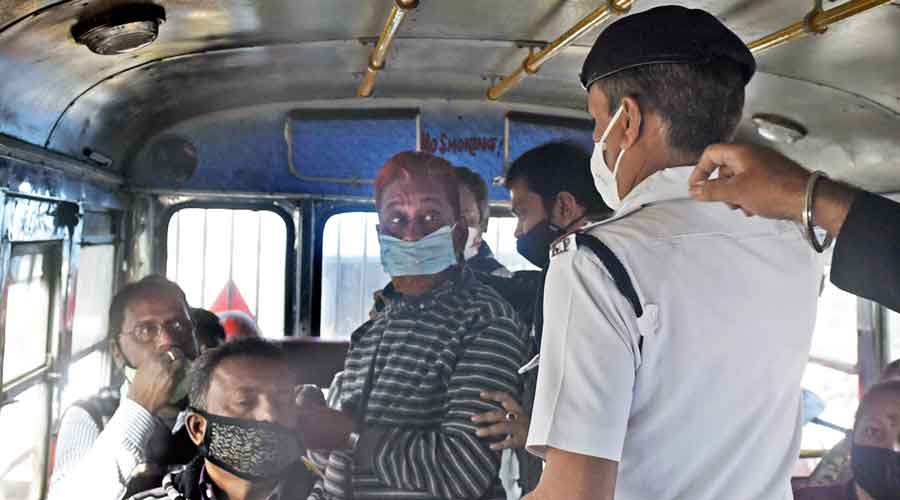 Policemen board buses in Burrabazar to check whether passengers have their masks on.
Telegraph photo
With at least 26 police personnel affected by Covid in Bhowanipore police station, the station is being run by skeletal staff and has been barricaded.
Anyone who went to report a crime or for seeking help, was attended outside the police station across the barricade.
A number of senior officers in CID are also affected by the virus including multiple deputy inspector generals, inspector generals and superintendents.
In Bidhannagar commissionerate, seven police personnel tested positive for Covid on Wednesday, including the commissioner. On Wednesday, the number of CBI officers posted at Nizam palace who have tested positive, rose to 14. The problem was same in aviation, banking, railways and other sectors.