Shanti Prasad Sinha, former chairman of the school service commission's advisory committee, and Ashok Saha, former secretary of the commission, were remanded in CBI custody on Thursday in a case related to allegedly illegal appointment of Group C staff for government-aided schools.
The central agency arrested the two yesterday for their alleged involvement in the controversial appointments.
Counsel for the CBI submitted in the court that there was a need to interrogate the accused to find out about the probable involvement of others in the case.
"There is a larger conspiracy. Multiple rules of the school service commission were violated at various levels. Deserving candidates have been deprived. We need the custody of the accused to find out who else was involved," said a CBI officer.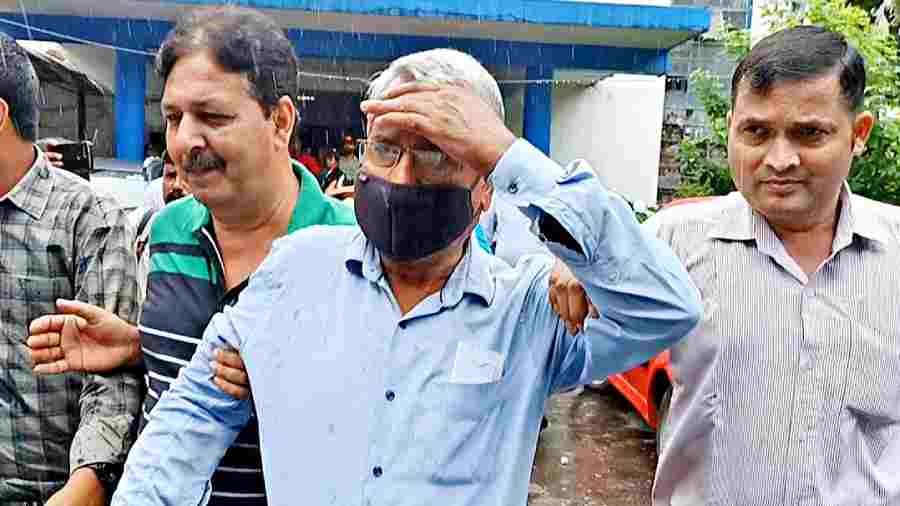 Ashok Saha, former secretary of the commission, being produced at Alipore Judges Court on Thursday. Both Sinha and Saha are in masks.
Pictures by Gautam Bose
An investigator said old records had been "deliberately wiped off" to remove the trail of crime.
Sinha and Saha have been charged with issuing fake recommendation letters to undeserving candidates, based on which appointment letters were issued bypassing the chain of hierarchy. The duo have been booked under IPC sections on cheating, forgery and criminal conspiracy.
Sinha's lawyer moved a bail petition mentioning that his client would "cooperate" with the probe and be available to the central agency whenever required. The lawyer submitted that his client was "only an office-bearer who has got trapped in this matter."
The court after listening to submissions from both sides remanded Sinha and Saha in CBI custody till August 17. Sinha and Saha were questioned several times by the CBI since April. Both were summoned to the Nizam Palace office of the CBI on Wednesday, where they were arrested.