When one thinks of the Salt Lake of yesteryears, one expects tales of jackals howling in the wild or kashbon extending into the horizon across open fields. But did you know that helicopters flew over the township's barren lands to release seeds from the air? Or that the space around Tank 9 used to be a refugee camp for those escaping the Bangladesh Liberation War?
One will now have access to such interesting information at an archive on the history of our township. Collecting anecdotal history are researchers from the Institute of Development Studies Kolkata (IDSK), near Dishari Bhavan in DD Block, and this is where the archive will be open for public viewing from August 16, Monday to Friday 10.30am to 5.30pm.
"Besides gathering information from published sources like newspapers, our research relies heavily on first-hand accounts of residents who have been living here since, say the 1970s or 80s. They have personal memories that may not have made it to print anywhere but which add colour and enrich the history of the township," says Supurna Banerjee, an HA Block resident and one of the principal investigators of the project, along with Anwesha Sengupta and their librarian Sanjoy Kar.
Choppers and corpses
For Anwesha, one of the most striking revelations was about how the Tank 9 area was a massive refugee camp during the Bangladesh war of 1971. "We found a woman who had been put up there as a refugee and interviewed her. This lady — Basanti Chetri — went on to marry a security guard of the camp," says Anwesha, herself a resident of the nearby DL Block.
The refugee camp was massive and infrastructure lacking. "When people at the camp died there was no way to cremate so many of them and Chetri recalled the bodies being dumped in EE Block where Matri Sadan has come up now," she continues. "Of course there's no way of cross-checking the veracity of such information with any published record but these are her personal memories."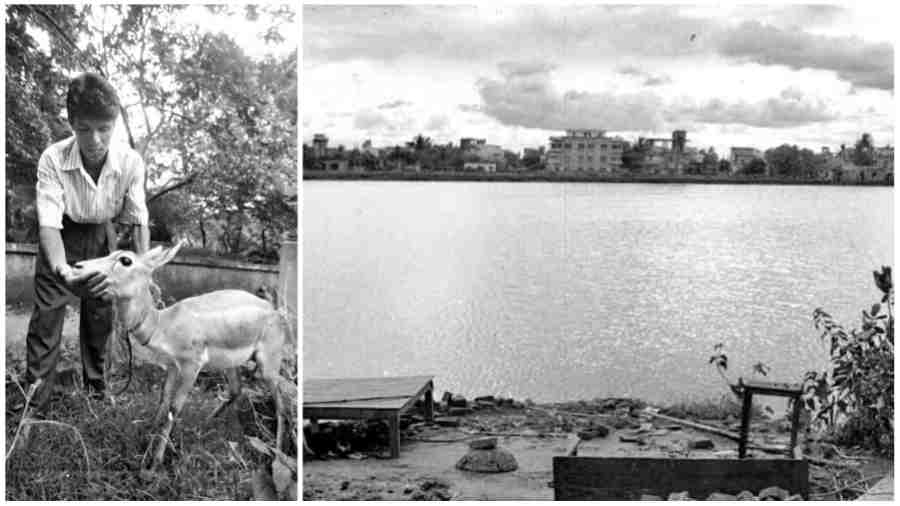 A 1998 picture of the deer park along Kestopur Canal, that residents would frequent. (Right) A glimpse of the waterbodies behind Sector V, clicked in 1991, where residents would go to watch birds
Supurna is fascinated by how Aparesh Chowdhury had leased land in AA Block but then got cold feet. "The were rumours that the land here would sink into the lake it was built upon. So before the bheet puja, he conducted what would become the first civilian soil test in Salt Lake," she says.
The same resident has also recalled how Salt Lake of the '60s was barren and sandy, bereft of greenery. "Chowdhury told us about helicopters that were flown in to sprinkle mulo ghash seeds here. This was sometime between 1967 and 1969, as he remembers Dharma Vira was governor then," says Anwesha.
In a few years the land was full of the grass that grew out of the aerially flown-in seeds, but it had a downside. "It seems termites devour this grass and soon they infested the land. To date, homes built here need thorough pest control before starting work," she adds.
The team also found one of the few people who got displaced because of the landfill in Salt Lake. "The Labony Estate area was an island in the lake then and the inhabitants were fishermen. Monorama Mondal was one such former resident, born there in the 1950s. Her family had to shift into Duttabad later and she remembers walking miles to the Bengal Chemical (Bengal Chemicals & Pharmaceuticals) area to collect water from corporation taps," says Anwesha.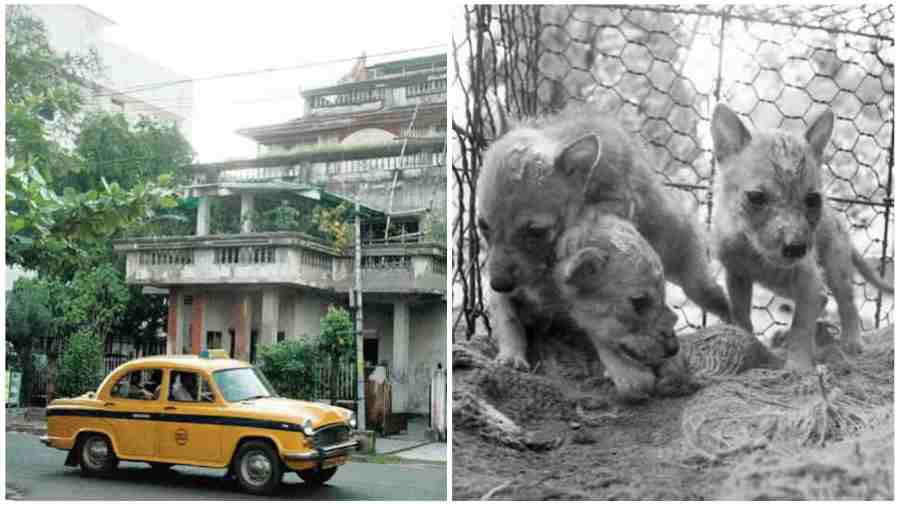 In the early years, taxis and rickshaws would refuse to come to Salt Lake. (Right) Howls of jackals (seen here in a 1994 picture after a rescue operation) were common at nights
Residents have also recalled electricity being provided by the irrigation department in the early days along with long and frequent power cuts. "They remember BD being the first market and Vidyasagar Abasan being the first housing complex to come up among them. Nandini Ghosh, who lived in BD Block, was part of the first batch of one of the earliest schools here — CA Block's Salt Lake School — and the school, in fact, would get a new class as her batch got promoted by a year," smiles Supurna.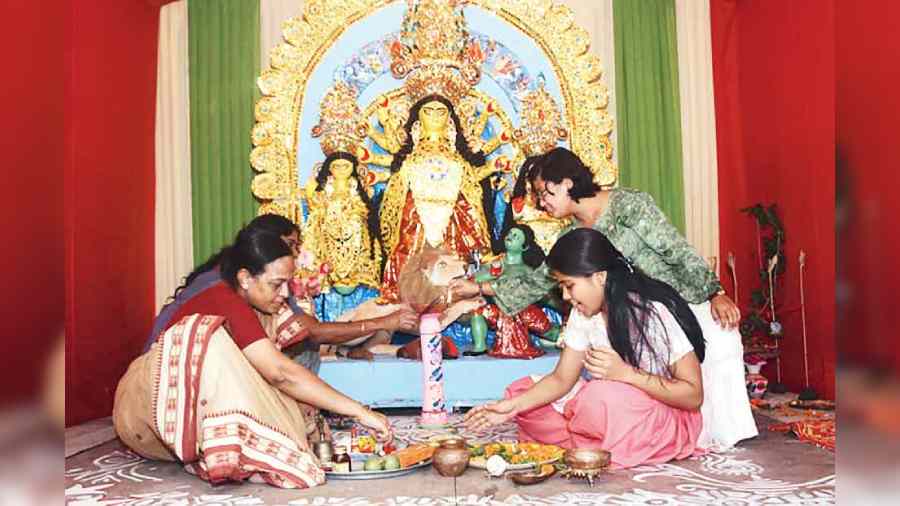 A 2004 Durga puja at Sourav Abasan. Residents treasured the simplicity of homely pujas of yesteryears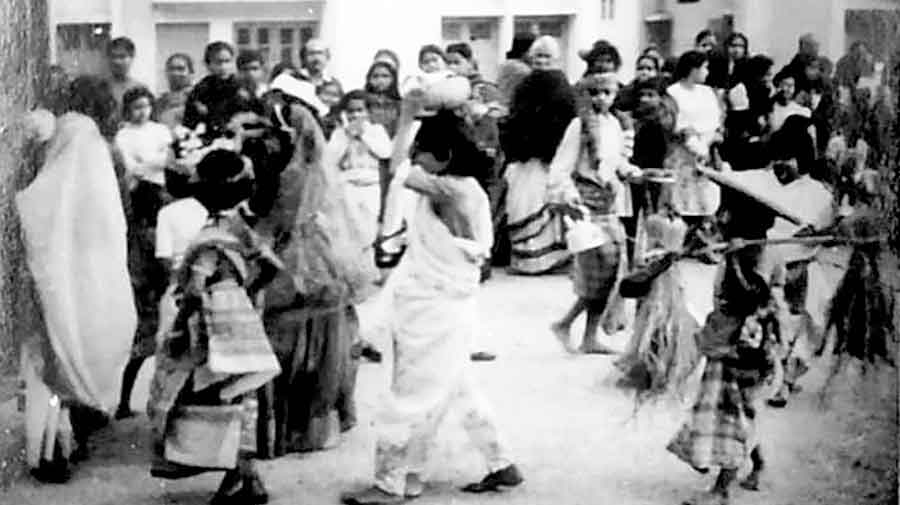 A go-as-you-like competition at a Falguni Abasan sports day.
Picture courtsey Sumitra Basu
Connectivity nightmare
Every old timer's nightmare was public transport. Taxis and rickshaws would refuse to enter the township as they knew they would have to ride back empty.
"Many mentioned the bus route L14A as the lifeline of early Salt Lake," says Supurna. It would set off from Labony and cross PNB Island, VIP Road, Kankurgachhi, Maniktala, College Street, SN Banerjee Road and finally reach Esplanade. "A DA Block resident, Sukanta Chaudhuri, recalled how bus conductors would become familiar with passengers and even wait for them in case they ran a little late," she says.
Culture and entertainment
Today, residents may not know their next-door neighbours but the early folk were close knit. They would excitedly keep track of new people moving in so they could go over, make friends and ask how they could help. Their evenings would be spent at community halls rehearsing for plays and music shows, they would join block-level sports activities.
Residents had to trek far out of Salt Lake in search of cinema halls, although they did have the swimming pool area to meet one another. Many also remember frequenting the deer park along Kestopur Canal and the Sector V bheris to watch birds.
FD Block puja & City Centre
While there is no consensus on any one turning point for the township, elderly residents single out the opening of the mall and the success of FD Block's Durga puja for getting Salt Lake swamped by "outsiders".
"This is a wide-spread observation. Early residents can neither imagine traffic jams nor noise and cacophony in their quaint township. While a young lady we spoke to thanked the mall's lights and footfall for making the township safer for women, old timers do not welcome it," says Anwesha. "They remember the mall space as one where cows would graze."
Such residents also do not appreciate how pujas have now become about grandeur, awards and sponsorship. "One man recalled in horror how a new neighbour had tried to gift gold jewellery to their block's Durga idol. He was relieved when the others managed to stave it off. People liked the simplicity of old times, where women cooked community bhog and there was a homely atmosphere at the para puja. The more the pujas draw crowds these days, the more such residents lose their sense of community," she notes.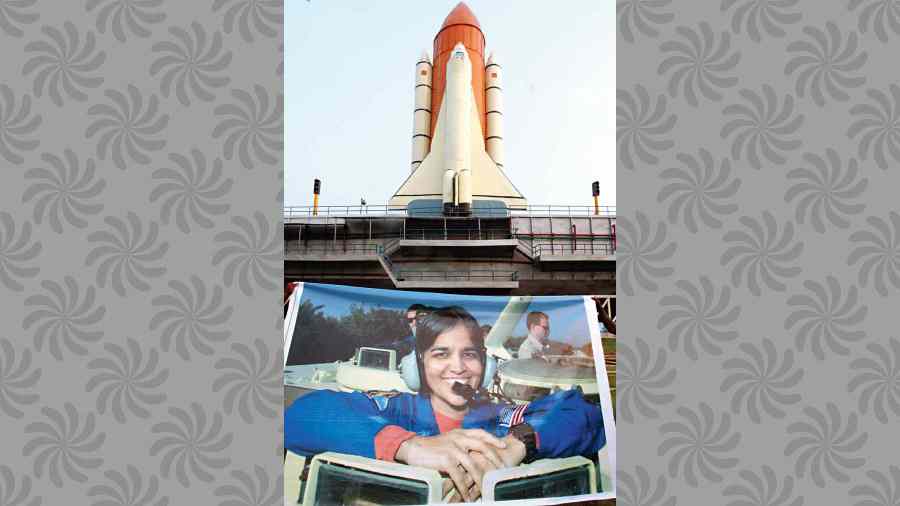 A 2005 picture of the Kalpana Chawla-themed Durga puja at FD Block. Early residents feel big ticket theme pujas bring unwanted outsiders into the township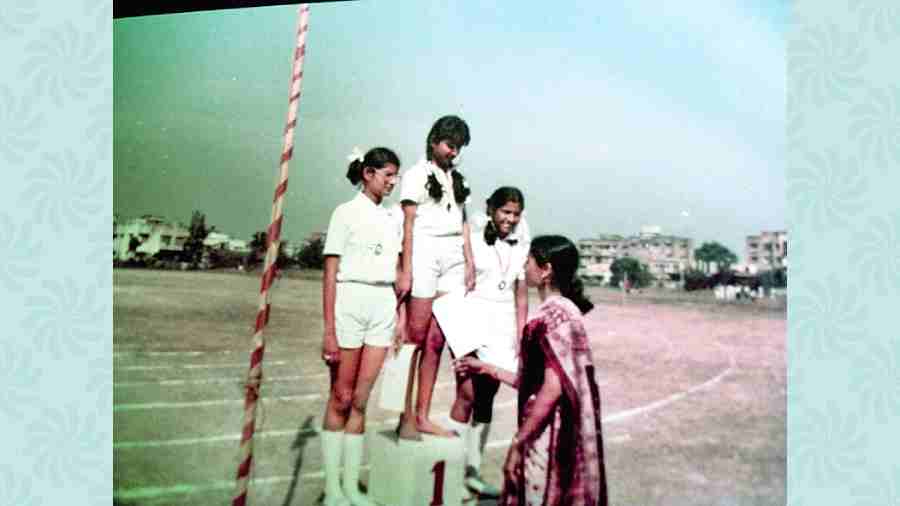 Salt Lake school's sports day of 1990, at BA-CA ground.
Picture courtsey Nandini Ghosh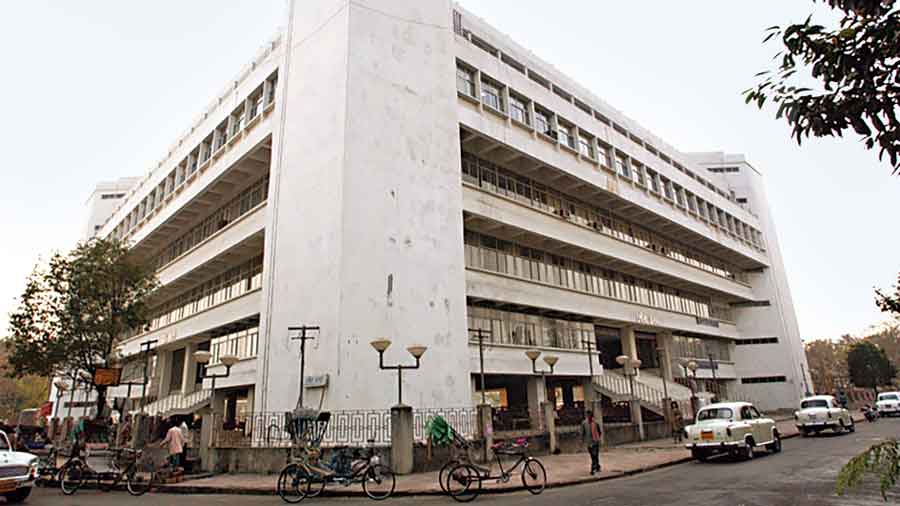 A 2004 picture of Poura Bhavan, that made the civic body accessible to residents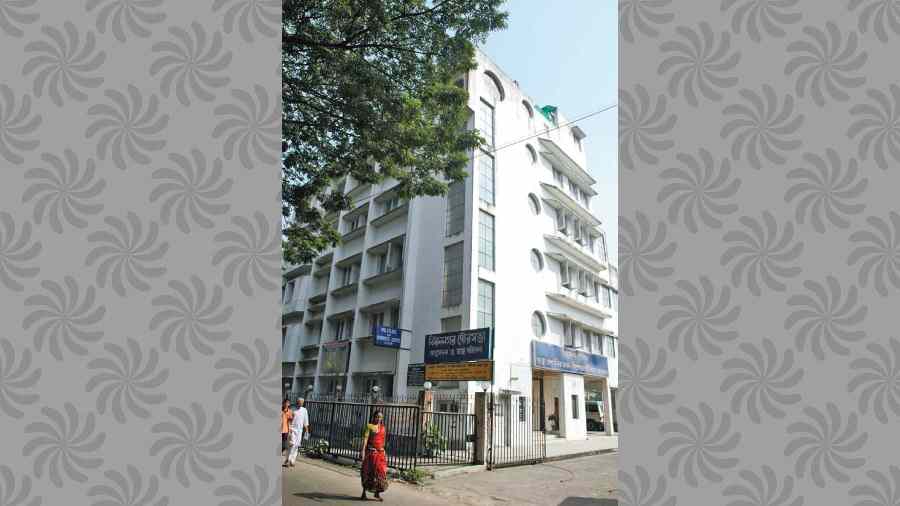 A 2005 picture of Matri Sadan. Those put up at a refugee camp nearby during the Bangladesh War claim bodies would be dumped here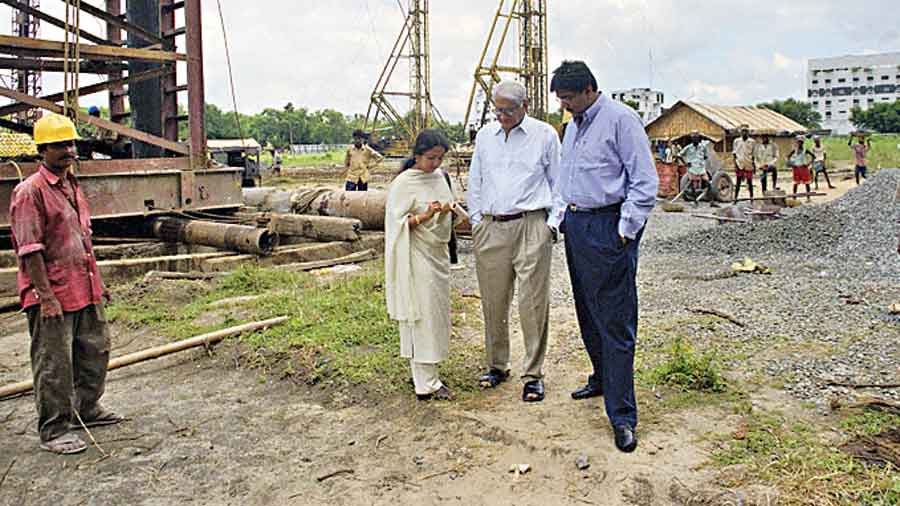 A 2002 picture of architect Charles Correa and Harsh Neotia, chairman of the Ambuja Neotia Group, surveying the City Centre construction site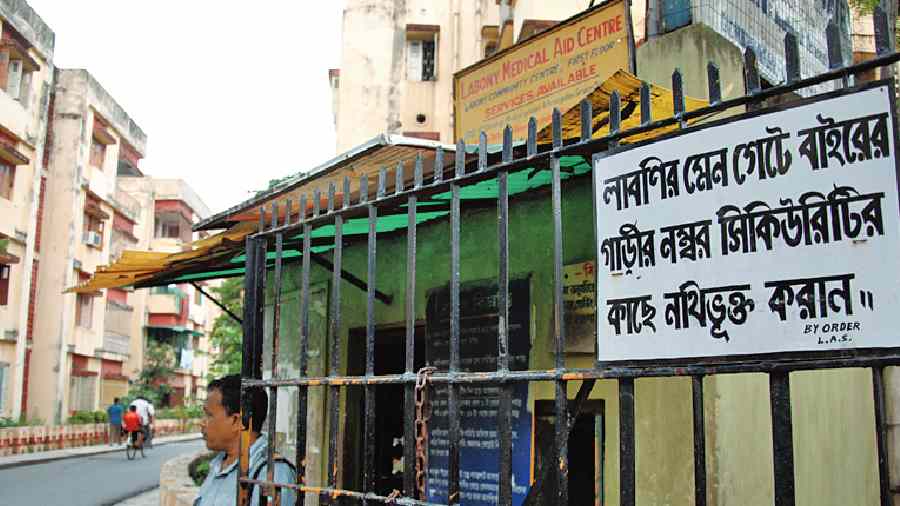 A 2011 picture of Labony Estate. The area used to be an island inhabited by fisherman once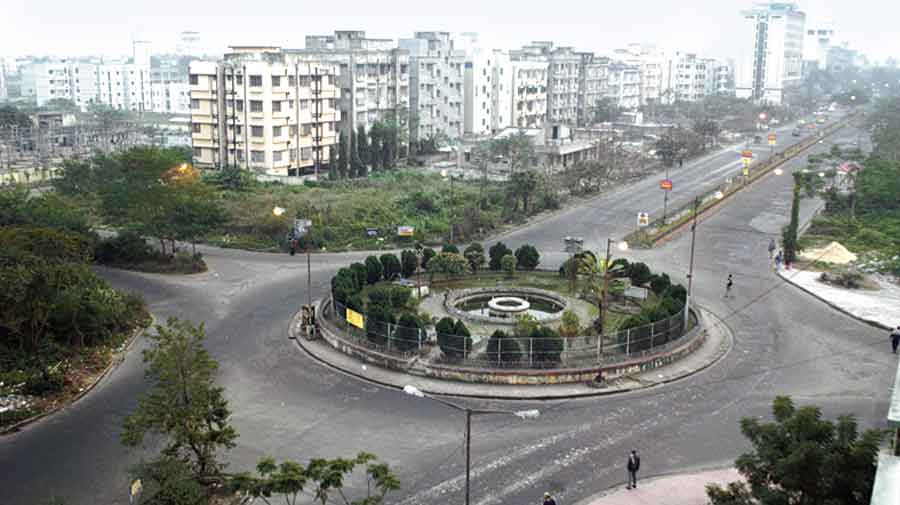 Early residents recall empty streets without traffic jams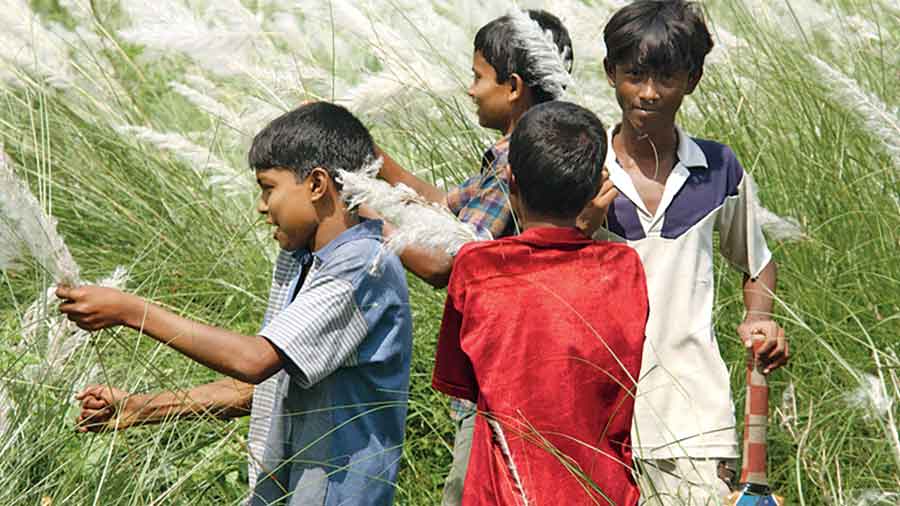 A 2004 picture of kids playing with kash phool in the township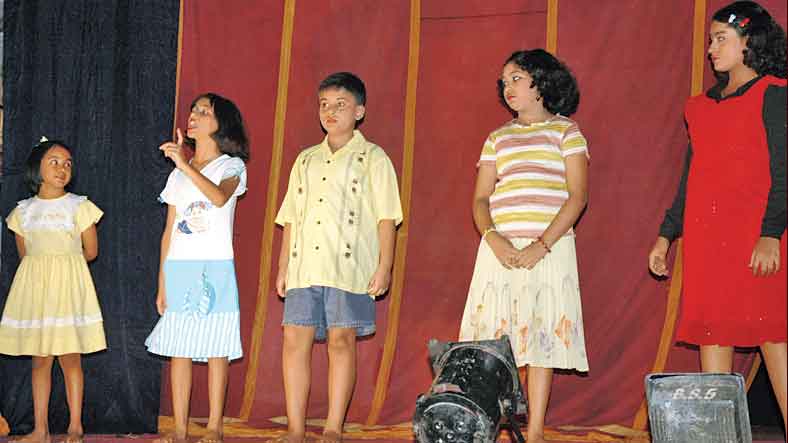 A drama at EC Block's 2005 puja. Music and theatre were a passtime for early residents
Changing demography
Thus far, the research has not found Salt Lake to be religiously inclusive. "The housing complexes have had Muslim residents. For instance, Sharmi Basu of Falguni Abasan remembers Hindus and Muslims celebrating Durga puja and Iftar parties together," says Supurna. "But there are few Muslims living in standalone houses."
One reason for this, Anwesha feels, could be because back in the 70s, preference for leases was given to high ranking government officials, doctors and professors and that post-Partition, Muslim presence in white collar jobs was low. "We have members of the community squatting in township slums but even today educated Muslims find it tough to buy or rent space here. Salt Lake is not a Muslim-friendly area," she says.
The demography started changing in the 90s when business class "non-Bengalis" started making an entry. "But even they were Hindus, overwhelmingly Marwaris," she says.
With this has come great anxiety among middle class Bengalis who see themselves as the original inhabitants of the township. "They are anxious that they will get outnumbered and that their culture will die out. The children of most first generation residents have, as it is, moved out of the city for work so they feel threatened as a community," says Anwesha. Now they sadly make note of every old house that gets razed to the ground, with a sense of losing the Salt Lake they knew. "They themselves are ageing and so is their township. And they feel that the new residents coming in 'are not like them'."
Apolitical township 
Residents had cheered when the civic body got it's own administrative building Poura Bhavan in FD Block in the early 2000s. "It meant easy accessibility. Before this, they would have to travel far and wide to lodge their complaints but now the authorities sat under one roof within their own township," says Supurna.
Old timers maintain that Salt Lake largely used to be peaceful and apolitical. "Perhaps this is why the most frequently mentioned political incident by residents has been the unprecedented poll violence of 2017," she continues.
Outsiders' point of view
The archives also look at Salt Lake from the point of view of those servicing it — domestic helps, car and auto drivers — who may not live here but who are central to how the township sustains itself. 
"Our research will be an ongoing one and we hope to interview people living in places like Duttabad and Sukantanagar," says Anwesha. "For instance, people living on the fringes of the planned area, such as in DA Block, have a love-hate relationship with the residents there. It is because of their illegal encroachment that the block failed to expand as per plan. In case of any theft or political hooliganism, Duttabad is where fingers point first. But then, in times of trouble, there's no denying Duttabad residents run over to help selflessly."
The researchers have also spoken to irate teachers demonstrating around Bikash Bhavan and found them to have a rather negative view of Salt Lake. "These groups had sought permission to protest around Red Road, Kalighat and Bikash Bhavan, out of which only the last one was allowed. But it turned out that Salt Lake is planned so well that their protests never disrupted traffic and they went unnoticed. Salt Lake wasn't conducive to protests and so they found it backward!" says Anwesha.
Why the research
The study began in 2021 — the year the township turned 50 considering that the first residents moved here in 1970 — and the researchers would ideally like to make it an ongoing one. But it needs funding," says Supurna. "Our institute director Prof Achin Chakraborty arranged for an initial sum of Rs 1 lakh for us to get started but we shall apply for private grants or even approach the corporation and urban development department for aid."
Supurna and Anwesha also teach PhD course work at the institute on subjects like urban studies in Indian cities and hence have a soft corner for researching the township they themselves live in. "There is so much literature on smart cities these days but hardly any academic work on Salt Lake, despite it being a classic Nehruvian city like Chandigarh, Kalyani and Durgapur. We need to generate the interest of both policy makers and the public," says Anwesha.
The researchers are sure the archive will be a hit with the elderly generation. "You should have seen the excitement with which they shared their memories, photographs, house deeds… Some of them have even come out with self-published books on the history of the township. We are archiving it all," she says.
As for the youth and children, she hopes to arouse curiosity. "I know this isn't Harry Potter but there should be a basic curiosity about the place you live in. Kids don't expect Salt Lake to have an interesting past but it does. It has story-telling potential," she smiles.