A surprise is awaiting you inside the Open Air Theatre of Jadavpur University. Step inside and you will find a massive graffiti artwork based on the popular anime Death Note on one side of the wall.
Conceived during Sanskriti 2022, the varsity's annual fest, the graffiti has been a collaborative effort by five students — Adhyetri Joddar, batch of 2025, Metallurgical and Material Engineering; Riddhi Sinha, batch of 2025, Electrical Engineering; Sirsha Ganguly, batch of 2024, Chemical Engineering; Hardik Roy, batch of 2025, Civil Engineering and Adityaanshu Nag, batch of 2025, Printing Engineering.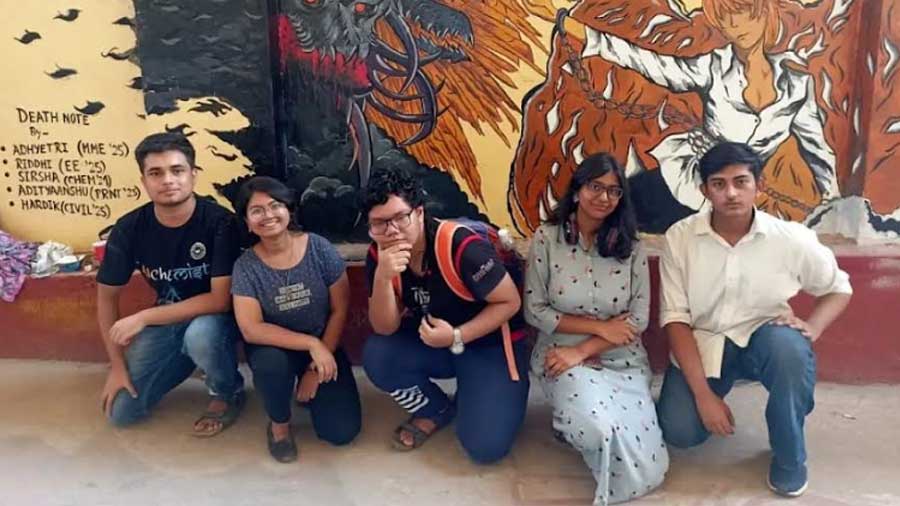 (L-R) Sirsha Ganguly , Riddhi Sinha, Hardik Roy, Adhyetri Joddar, Adityaanshu Nag
Students
"Anime has become an integral part of our lives. Being creative teens of this era, we thought about presenting human complexity through this artwork to celebrate the global anime culture," said Adhyetri.
The artwork has been a fruit of long online discussions. It took more than 50 hours of working to recreate the anime on the wall. 
"We brainstormed for a few days to come up with the theme. But once the theme was set, we started making the sketch through a google meet. We prepared a final sketch which was tweaked in parts during the actual painting process," said Adityaanshu.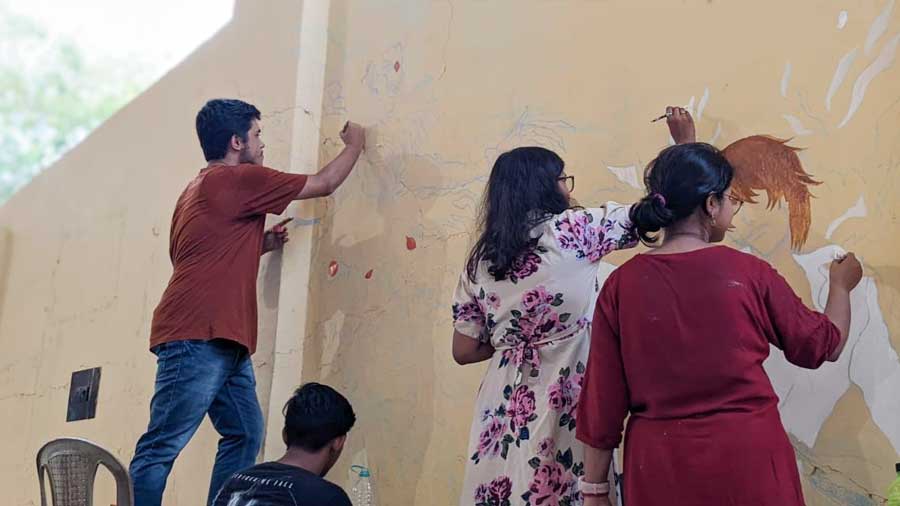 Jadavpur University students working on the graffiti
Students
"We couldn't initially get a proper estimation of the amount of paint colours that were necessary to create an artwork of this scale. We had to buy the colours more than once," said Shirsha, recalling the challenges faced by the team. 
"We received positive responses throughout the project. Anime lovers from different parts of the city came to see the artwork and clicked pictures with us," he added.