About 500 Kali idols were immersed from 17 ghats along the Hooghly till 9pm on Tuesday, the first of the four day window for immersions, said a senior official of the Kolkata Municipal Corporation (KMC).
There are several other water bodies, especially in the south and southeast parts of Kolkata, where immersion is allowed. The official could not say the number of idols immersed in those water bodies.
About 100 idols were immersed from the Baje Kadamtala ghat alone. Two other ghats where a large number of idols went for immersion were Nimtala Ghat and Judges Ghat. About 10,000 Kali pujas are held in the Kolkata municipal area, said the official.
"We did not expect that a large number of idols would come for immersion on Tuesday. Amabasya continued till late on Tuesday afternoon. Besides there was the solar eclipse. Also many people do not want to immerse idols on a Tuesday," said the official.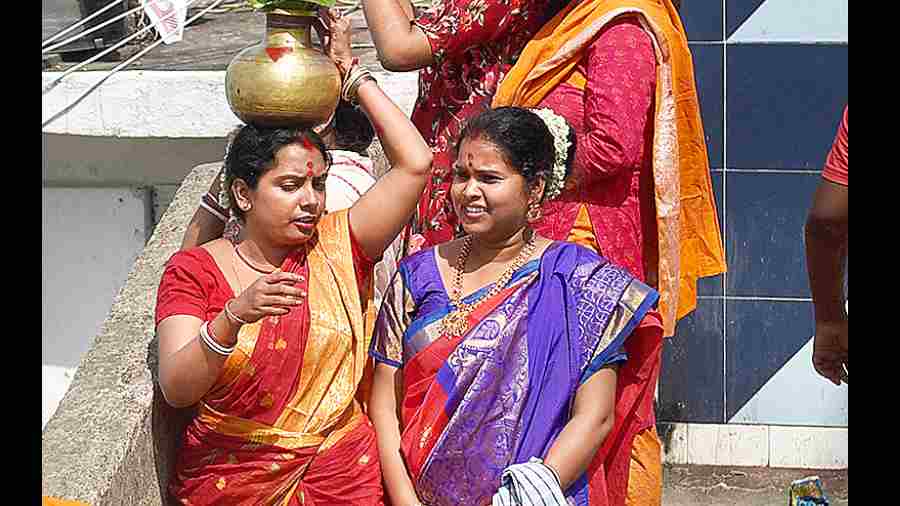 "The general trend has been that most idols are immersed on the first two days. We are expecting a rush in the ghats on Wednesday. Most of the bigger pujas could be coming to the ghats for immersion around midnight on Wednesday," said the official.
The route for going to the immersion ghats along the Hooghly from south Kolkata includes Sarat Bose Road and Shyama Prasad Mukherjee Road.
"From the Exide crossing, the vehicles carrying idols have to move via JL Nehru Road and Mayo Road," said a police officer. Puja committees coming to the ghats from north Kolkata have to take Beadon Street and Nimtala Ghat Street. "Wherever they come from, they have to take these two roads to reach ghats like Nimtala Ghat, Ahiritola Ghat and PK Tagore Ghat," said another police officer.
Immersions will be allowed till Friday. Playing loud music in the immersion processions are not allowed. No crackers can be burst.