The fashion industry in India has undergone a sea of changes that demand designers and other subsidiaries of the industry to be more cognisant of the entrepreneurial aspects today than they were two decades ago. A recent YFLO session that was aptly titled 'The Business of Fashion' — that saw chairperson Soni Jain in conversation with designer Payal Singhal and celebrity stylist Mohit Rai— touched upon this.
The discussion began with how Payal and Mohit started off their journey, and moved on to the evolution of fashion over time, the advent of the styling industry, entrepreneurship in the fashion business, to how fashion and styling have become more about being comfortable than following trends blindly, all the way to the dos and don'ts of the fashion industry, and about collaborations in the fashion business to grow big.
"We have a lot of women members running their own fashion labels, so we focused a lot on getting insight into the business and entrepreneurial part of fashion. That, coupled with all the styling advice, made it an all-encompassing event. The shopping that followed was perfect to make it a complete fashion event," said Soni Jain (below). Excerpts: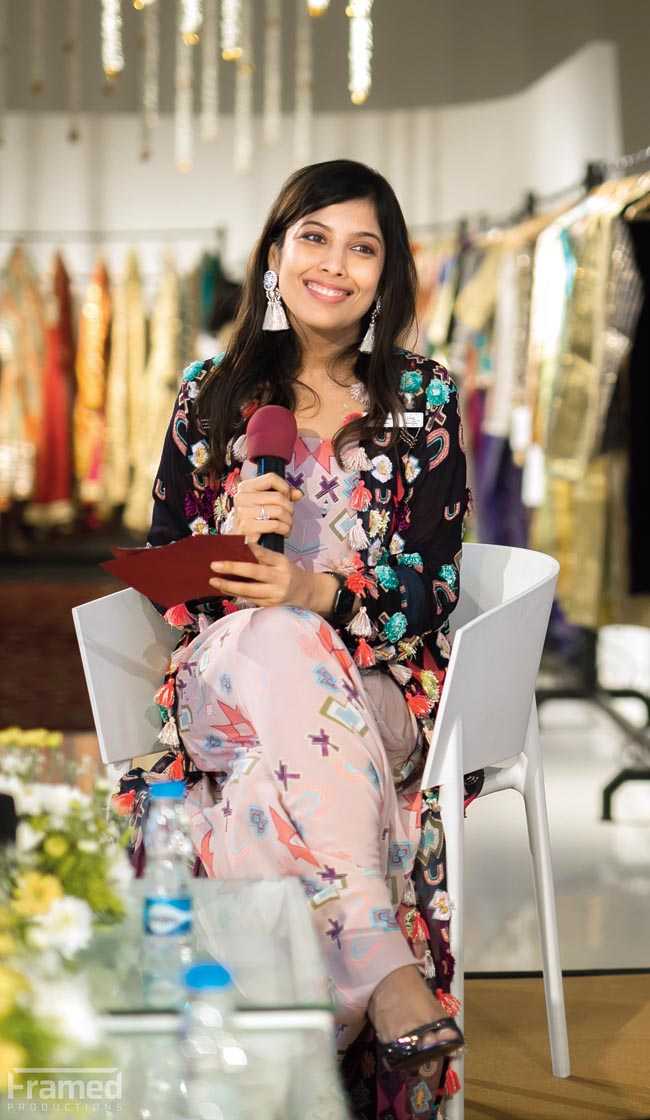 Journey in fashion
Payal Singhal: My father had a retail brand called London Fashions where we used to import denim wear from London and assemble it in Mumbai. He actually started the first retail chain of ready-to-wear clothes in India. I grew up in fashion but I was clear that I would not be forced into it so my story is the reverse of most people. There was this national-level contest at Shoppers Stop where anyone could design and anyone could take part, and I participated in it when I was 15, and won the contest. So that was it for me and I had to go to a fashion school.
So I'm kind of an accidental/hesitant entrepreneur. Initially, it was aptitude-led and talent-led. But when I started my label when I was 22, you yourself don't know how passionate you probably are about it, and I think that realisation happened for me after I was married, when I felt that I really enjoy designing and the entrepreneurship part of business. It's been a long journey but it's been hard work, perseverance and tunnel-vision focus on where I want to be.
I started as a stylist at MTV and the first step was to get a movie, but I didn't enjoy the styling gig in it, and I knew that I wanted to work with the craft side of it. You have to recognise your core strength and mine were business and design.
Mohit Rai: I'm still a stylist and that is at the core of what I do. I've known Ridhi (Bansal), who is the talent behind (House of) Itrh. There are so many designers who are super talented but they don't have the sense of entrepreneurship or branding or just the overall sense of creating a brand and identity, which can then transcend into business and a house rather than being a design label. I was always more inclined towards the editing, the presentation aspect of it rather than the creation aspect, and I have spent the past 12 years honing it in different ways, across films, runways, working with tonnes of other designers for their campaigns, runway shows, lookbooks. I have a design consultancy as well where I work with young designers to help them own their vision and bring the branding aspect together.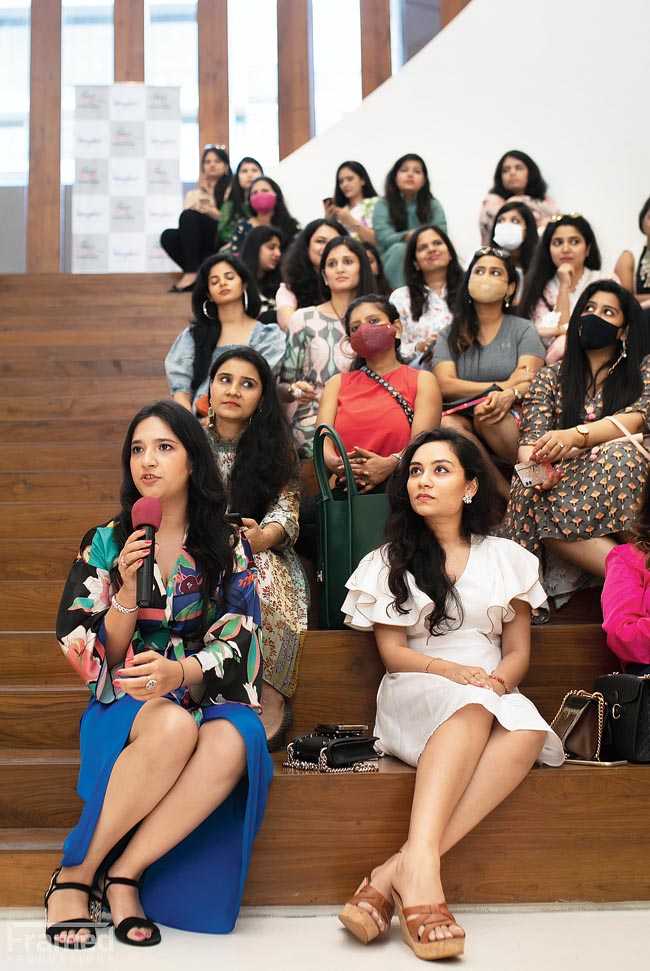 YFLO members in the audience as they enjoyed their first physical session with guest speakers
Changes in the fashion landscape of India
Payal: I started my label to create modern Indian clothes. When I started, there were just designers like Ritu Kumar and Suneet Varma who were catering to our moms, so everything was big and with sleeves, beautiful craftsmanship but if I had to buy Indian outfits, I had to custom-make it with the tailor or I had to pick those outfits and tweak them. So, when we started Payal Singhal in November 1999, my first collection had stretched churidars, backless kurtas, cheap tops, which we now call Indo-western very commonly, but back then it was like are these Indian clothes? I remember having my first pop-up in New York. My first trunk show, 20 years back, in which we had pants, crop tops, backless cholis, cheap tops, and all the girls living there were super confused. They wanted churidars and salwar. So it was intriguing for me to see how Indian fashion was not at all being viewed in a western context.
Indian clothing and western wear have seen an avalanche of change from what used to be considered traditional Indian wear. We've come a long way. And even in the business of fashion, when we started, I remember there used to be just two magazines and now over the years, so many international magazines have come in, social media, the entire styling industry happened. Back then when we started and would give our clothes to celebrities, they would come in and actually buy our clothes at full price. Then the entire international format of loaning the clothes and being very conscious about the credits came in, a very mutually beneficial business for the designer and the celebrity. On Instagram or e-commerce sites, we have seen the business of fashion change and evolve as much as it would in a decade, so that's how much the Indian fashion has changed over the last 20 years though our industry is very young.
Balancing contemporary and the traditional
Mohit: I think it has a lot to do with our personal sensibilities. We all sort of grow up in India with fineries being a part of our life every day — like our moms wearing these exquisite real-gold zari Benarasi saris which they may pull out once in 10 or 20 years. They have heirloom jewellery from their great, great-grandmother, so it's part of our everyday life. Maximal Indian fashion — everyone has it in their wardrobe, no one really thinks about it because we have grown up with it. You walk into a wedding, no one is understated, everyone is wearing every possible colour in every possible texture with as much jewellery as they own. We grew up with that so it has to sort of reflect pretty much as a stylist, that has been my sensibilities which is why I was more drawn to the bridal aspect of it, to the Indian fine couture part of it.
I love what Payal is doing, a younger, cooler aesthetic, very wearable but I also feel there is a certain styling with Indian maximalism. You can take the heavy lehngas and pair them with cooler pieces, you can wear them to someone else's occasions, which is why I think they are investment pieces because you can sort of take one, for example, full gotapatti odhni and pair it with something super heavy or super light, depending on the occasion. So I like that Indian heritage is so style-able.
Planning collaborations
Payal: I think it's about how you plan your business. For example, the guys who have started out two years back and they have created a signature product, now the next step will be to expand the product line. So if they are doing some Indian or fusion pieces, the natural progression is to get into more product lines like kidswear. After that, it's the international format — you'll get into perfume, accessories and shoes.
For us, it was very clear to me that I like to collaborate for two reasons — my core strength is garment manufacturing, so I didn't want to move from my core strength in terms of a new product line, so we stuck to garment manufacturing, and everything else we wanted to expand in, we have collaborated. So, I'm just designing. Somebody else is manufacturing it and retailing it. We actually collaborate to a really deep level with every single brand that we work with, whether it's Joey & Pooh for our hairbands or Fizzy Goblet for our shoes. Or we have a wallpaper line, or we have a technology, accessory line, we actually help them with their network, their campaigns and aesthetic because in collaborations, you actually get two for the price of one and feed off each other's design ideas. So, collaborations are great.
Pictures: YFLO