KOYTOY by Kyhaan by Kunaal Kyhaan Seolekar, HIRO by Hiral Jajal, KoAi by Anugrah Chandra and Rudraksh Dwivedi by Rudraksh Dwivedi are the winners of this year's INIFD presents GenNext at Lakmé Fashion Week in partnership with FDCI. Strikingly different from one another, each brings a distinct vibe to the table. While KOYTOY by Khyaan is a fun melange of art and colours, HIRO is all about denim drama. KoAi embraces the relaxed charm and Rudraksh Dwivedi is just right for a glam night-out. The Telegraph chatted with the designers ahead of their show on March 9, in Mumbai.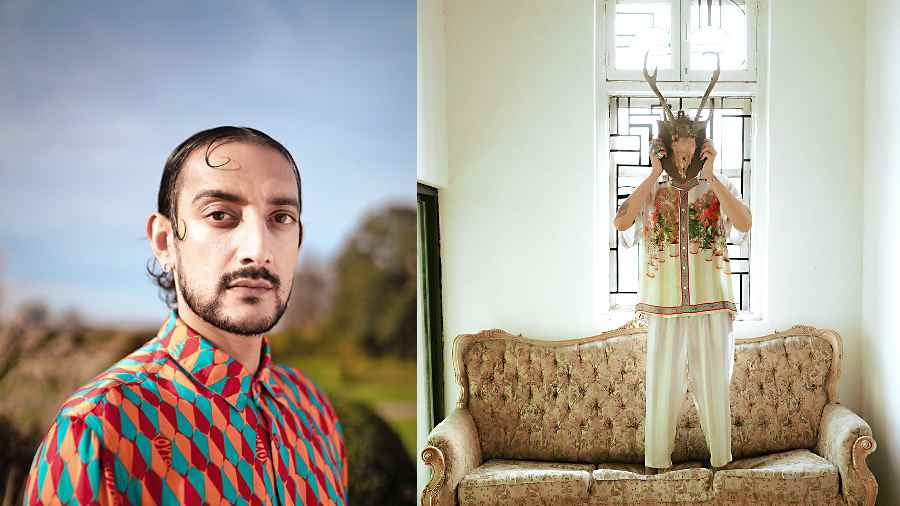 (L-R)I think creativity and selfexpression are very closely linked and fashion design allows me this freedom -- Kunaal, KOYTOY by Kyhaan by Kunaal Kyhaan Seolekar
What about fashion designing did you fall in love with?
Kunaal Kyhaan Seolekar: I think creativity and self-expression are very closely linked and fashion design allows me this freedom. My journey into fashion began with the idea of transforming some of my creations and designs into tangible apparel and products that I could enjoy. As a practising architect and product designer, I come from the world of structured design and scale. I began working with prints and patterns distilled over the course of my journey which led to a new beginning. In a way, I strive to create a unified lifestyle aesthetic with my design that explores various avenues of design.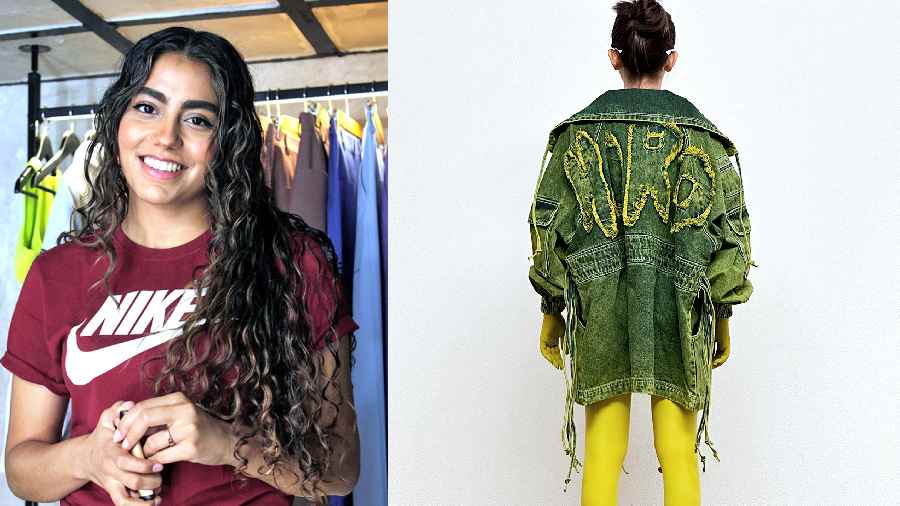 (L-R)My clothes are my way of communicating with the world and help me with expressing my identity as that's something I always wanted to do, being an introvert-- Hiral, HIRO by Hiral Jaja
Hiral Jajal: I have always loved making my own dresses, looking back whenever our family would be going for a vacation, I would always be stitching my own clothes. The whole process of fashion designing is nothing less than a magical journey. You start with an idea and after countless toiling around with research and development we finally are able to make the exact fragment of our imagination come true. This ignites the artist inside my heart and I am always striving to bring my imagination into reality.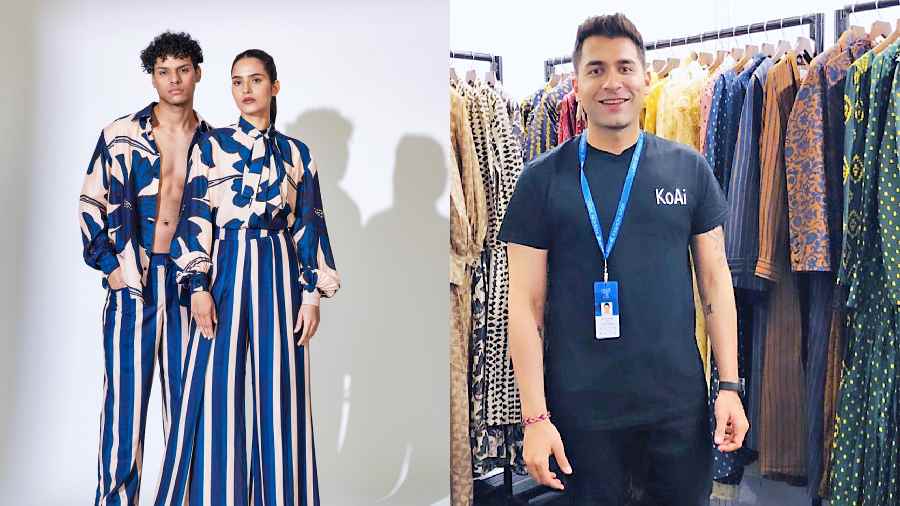 (L-R)KoAi by Anugrah Chandra, My muse is confident, fearless and unapologetically themselves.--- Anugrah
Anugrah Chandra: I have always been inclined towards a creative narrative. The fact that we can create, innovate and reinvent a necessity such as clothing was one of the factors that I loved about fashion. It's like an organic entity that evolves with time, much like we do. Fashion designing allows me to showcase my individuality and express myself in unique ways. It is an art form that inspires me to be creative, and take risks and is also a great way to connect with others who value self-expression.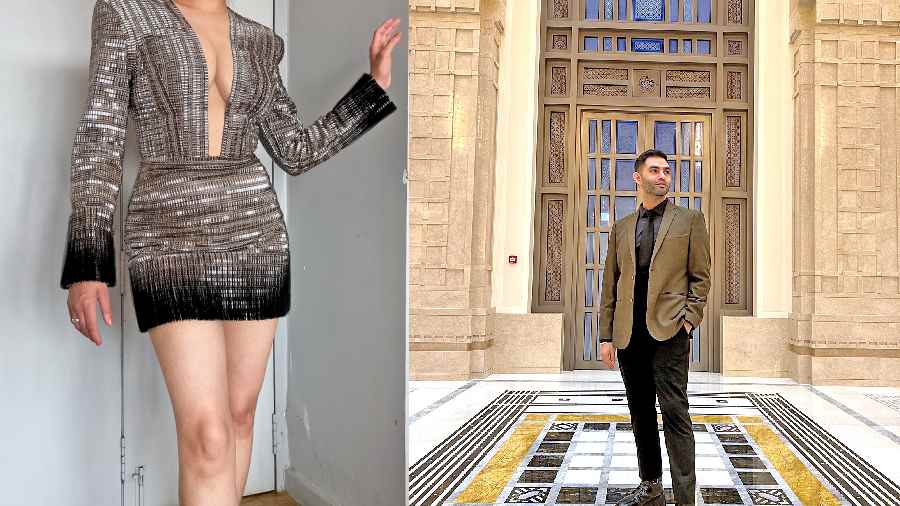 (L-R)Rudraksh Dwivedi by Rudraksh Dwivedi, I love experimenting with unconventional materials, and computing how they can work in harmony on a functional garment — Rudraksh
Rudraksh Dwivedi: Growing up, I was very intrigued by fashion illustrations, so I started sketching and visualising outfits at a very young age. That last page of every child's notebook at school that they scribble in? I used to make illustrations in mine. The anticipation of waiting to see a fashion illustration take its physical form is what drives me, creatively.
Your heroes...
Kunaal: My upbringing was heavily influenced by two extraordinary women, who are both creatively charged and aweinspiring in their own style. My mother is an alumnus of Sir J.J. School of Art and an interior designer. My first apprenticeship was under her guidance at the age of 14, where she groomed me to the nuances of design that one only learns on the job. Secondly, my grandmother, from my early childhood days would rope me into creative activities during my vacations like glass painting, weaving rugs or storytelling. I call them my heroes and still seek their ideas when it comes to referencing ancient Indian art or craft forms, as their cumulative knowledge in the matter is beyond any virtual library.
Hiral: I wouldn't say I have heroes per se but movies are something that plays a key role in giving me inspiration. When I see the characters, I can connect with them and form a storyline in my mind and from there I derive my inspiration. Growing up in a house filled with great creatives also has had a huge impact on my designs and I have always felt challenged to break my boundaries and experiment more, thanks to them.
Anugrah: The tangible and intangible aspects of our environment constantly inspire me. The flora and fauna, food, architecture, art, and music all inspire me too, they are my heroes!
Rudraksh: Personally, my mom has been the biggest inspiration and pillar in my life. I was taught to always follow my passion and never to shy away from a challenge. She is my hero; she has made me the person I am today and motivates me to grow daily.
Design philosophy...
Kunaal: My fashion philosophy has always been to express individual tastes. I am one to mix and match objects that I desire in layers and am never shy of colours. At KOYTOY, the rainbow is our colour palette. My comfort wear for an evening is typically layers in a colourway, my playing field is my accessory. Unique jewellery, shoes, bags, or accents are selectively collected. They can be roadside braided chokers or from a luxury brand as long as it sparks my curiosity at first glance. Fashion is how you style a look and make it your own means of expression.
Hiral: My clothes are my way of communicating with the world and help me with expressing my identity as that's something I always wanted to do, being an introvert. Whoever wears my clothes, I want them to feel the power of confidence that the right fashion provides them with, without having to compromise on personal comfort. The clothes will make you want to be the "Hiro" of your own world!
Anugrah: Creating aesthetically ready-to-wear garments that reflect the story of inspiration in each collection, keeping in mind sustainability and the environment is the core design philosophy.
We are very clear on our core values and a lot of research goes into creating each collection for us to create a distinctive look and feel for every silhouette. Our goal is to create a product that will stand out from the rest, and we think outside the box to make a product that is unique and memorable.
Rudraksh: As Vera Wang said, 'I want people to see the dress, but focus on the woman' and I couldn't agree more. I aspire to build a brand that is known for how our designs make people feel. Our brand is most known for its amalgamation of a fresh perspective to classic silhouette and unique play of textures, keeping in symphony with the quintessential neo client. Nothing makes me smile more than when I see someone feel special and truly being themselves in one of my creations.
Favourite things to work with...
Kunaal: I love drawing and creating prints, I think the signature of our brand is this visual imagery. From early on, I have maintained a habit of curating a library of motifs, patterns, photographs, textures and techniques, and often this library is the source of my inspiration. KOYTOY as a brand has an aesthetic that resonates playfulness and flirtatiousness, thus making it approachable and relatable. We revere in the mix and match of colours and jewels as a practice of self-adornment.
Hiral: Two years into the brand and I have realised that denim as a fabric is something I love working with. Whether it be pants, jackets, corsets or dresses, I have done it all. The reason why I personally love working with denim is its versatility and how so many techniques can be used to create different looks from this fabric.
Anugrah: I have a few favourite things to work with that always bring me joy and one of my favourite materials to work with is silk. The way it drapes and flows creates a luxurious feel that is unmatched by any other fabric. I have also recently started working with unique and interesting embellishments, such as appliqué work and handembroidery, which can elevate a garment to a work of art. I tend to gravitate towards timeless and classic pieces with a modern twist and like to incorporate bold colour combinations to give my designs a unique flair. In-house designed prints inspired by nature and ancient printing techniques combined with unique colours are KoAi's signature.
Rudraksh: I love experimenting with unconventional materials, and computing how they can work in harmony on a functional garment. I feel a play of paradoxical elements is my signature — a structural refined component integrated with flowy or raw segments.
Your muse...
Kunaal: My work allows me the incredible freedom to travel, and I am privileged to explore the rural, remote parts of the country. My muse is this eclectic, urban fabric of India with its constant vibrant stimulation and melting pot of rich cultures. I often get exposed to art and crafts from different parts of our country. In the small town of Molela in Rajasthan, the craft of terracotta slates to West Bengal's rural region, the terracotta horse sculptures called Bankura horses have influenced me. From Madhya Pradesh, the tribal Gond artists and Madurai's colourful Meenakshi Temple, stimulate a spark of creativity. I enjoy this visual stimulation the most. Above all, the varied personalities and their ways of self-expression amongst this chaos are the most beautiful part.
Hiral: For me, it would be all those women who in spite of toiling endlessly return to everyone with nothing but pure love and kindness.
Anugrah: I draw inspiration from a wide range of sources, but when it comes to my muse, it is someone who embodies a certain spirit and style that resonates with me on a deeper level. My muse is confident, fearless and unapologetically themselves. It could be anyone from a celebrity or a fashion icon to someone I see on the street who exudes a certain energy and charisma. They are not defined by trends or societal expectations, but rather they create their own path. They embody the essence of fashion as a form of self-expression and creativity.
Rudraksh: I don't think I have a "who" but a "what". And, it varies. For me, it's all things that inspire a wide range of emotions.