The in-ear headphone segment has had some great releases this year and two brands have done a brilliant job — Apple and Samsung. Their approach to sound tech implementation is different but their goal appears similar — offer an excellent sound profile and some extra features.
Samsung's latest offering is the Galaxy Buds2 Pro, which has a far better fit than its predecessor and weighs lighter. Plus, there is a soft-to-touch matte finish both on the buds and the case, making it easier to grip, ensuring the case doesn't slip out of your hand and the buds remain in your ears more securely. In the way of design, there is nothing that we haven't seen before but when it comes to sound, the changes are drastic and for the better. Perhaps the biggest feature on the Buds2 Pro is that no matter the device you use, the sound cans sparkle.
The 'extras' that matter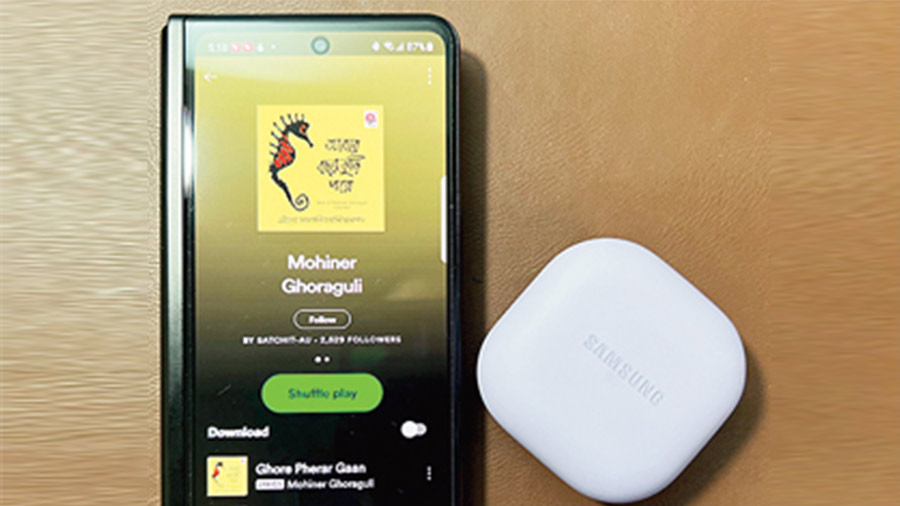 The case and the buds have a matte finish, making it easier to grip
Samsung is focussing a lot of its effort on audio resolution. There is support for 24-bit high-resolution audio, which means a lot more sound data gets retained, bringing alive every track. The only catch is that you need a Galaxy device equipped with Samsung's OneUI 4.0 and a music streaming service that offers high-res audio tracks. Otherwise, what you will get is AAC audio codec. Agreed that the feature is for audiophiles but it's great to have it.
The list of interesting features include Samsung's 360 audio virtual surround sound with head tracking. It adjusts the sound direction when you turn your head, so it always feels like it's coming from the video you are watching. In other words, it can enhance your video watching experience. It also works with any music or audio you are listening to.
There is a sensor detect feature, which is a practical tech chop. When you take the buds out of your ears, the music is paused automatically. You can also use a single bud, leaving the other in the case. There is an option to activate a "voice detect" mode in the companion app; it automatically turns off noise cancelling and switches to ambient mode when you speak. It's something you would like to use around the office. It allows you to engage in conversations. Sony offers a similar feature with the WF-1000XM4 and the implementation on both devices is good.
There is IPX7 water resistance or the buds can fight sweat, rain and even puddles. I had no problem walking for long hours with these buds plugged in.
Battery is rated at five hours with noise cancelling on and eight hours with the feature turned off. You get three additional charges in the case and it charges via USB-C and wirelessly. Five hours is a long time and rarely does one keep sound buds on such long stretches. There is also a quick charge feature that gets you one hour of usage when you put the buds in the case for five minutes or two hours with a 10 minute charge.
There is a Find My Earbuds feature; it just tells you the location where the Buds connected last to your device. I hope Samsung expands on the feature in future iterations because it will be helpful to have a precise location.
In 2022, auto switching is important because we constantly switch between devices. Here you can do that between Samsung devices that are logged into your Samsung account. You can easily switch between the phone and the tablet you are using to start a call or play media. There are a lot of options when it comes to touch controls, allowing you to toggle double, triple tap options, or for that matter Touch & Hold.
Not a pain in the neck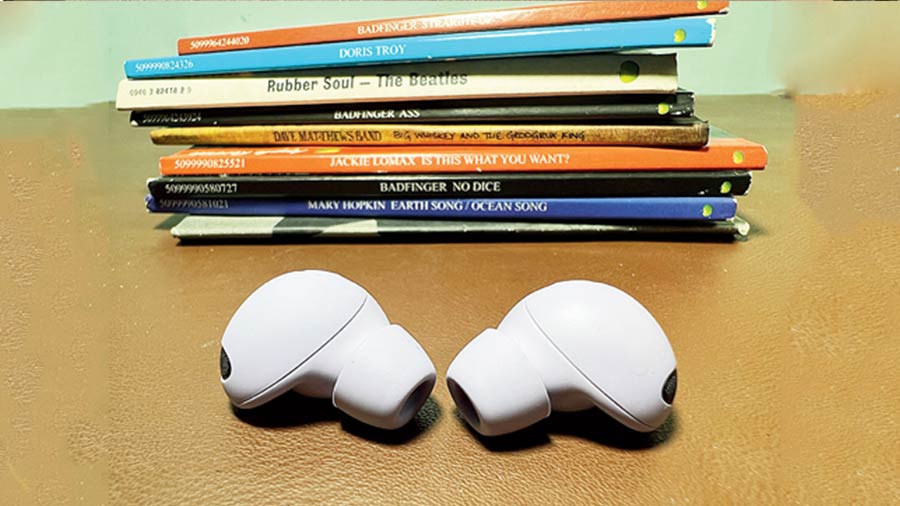 The sound buds are very light and can be worn for hours
A new feature worth mentioning is neck stretch reminders. You can toggle on the feature and it will detect your head position. This is particularly helpful for those who constantly look at mobile phone screens. The earbuds help detect if you are looking down for several minutes and if that's detected, you are advised to straighten your back, keep your elbow bent, raise your hands to just above your shoulders. Stretch your shoulders back and toward each other so that your chest muscles are lengthened. Tilt your head slowly and hold for about 10 seconds.
Sound mix
Noise cancellation has been improved by 40 per cent, meaning a great set of sound cans just got better. It's now called Intelligent ANC. There is definitely an improvement but it depends on how tight a seal you get via the ear tips. I tried it on crowded streets and the subway; the results were amazing. Or you can turn the feature off and move into ambient sound, which lets outside noises in. Maybe Samsung can add a feature where the user can choose the degree of noise cancellation, instead of automatically adapting to the environment.
Helping the sound profile while listening to music is the combination of two-way speakers for wide frequency response, 10mm woofer for deep bass and 5.3mm tweeter for crisp treble. I paired it with a Galaxy Z Fold4 and the sound is top-notch. If anything can be improved, it would be allowing the user to know the bitrate at which music is streaming. The bass is punchy and there is enough clarity in the voice. I didn't notice any distortion. Drake or Norah Jones, the earbuds can handle a range of sounds.
It's also a good system for making/taking calls. There is good voice pick up and background noises are cancelled very well; wind noise also gets taken care of.
Should you buy it?
There are features that work well with Samsung phones and laptops but the company has also ensured that sound quality is not compromised when paired with phones from other brands. Samsung has taken a meaningful step towards offering high-quality sound and also extra features like neck strain reduction. In fact, Samsung Galaxy Buds2 Pro is about meaningful improvements and features that make music enjoyable.
At a glance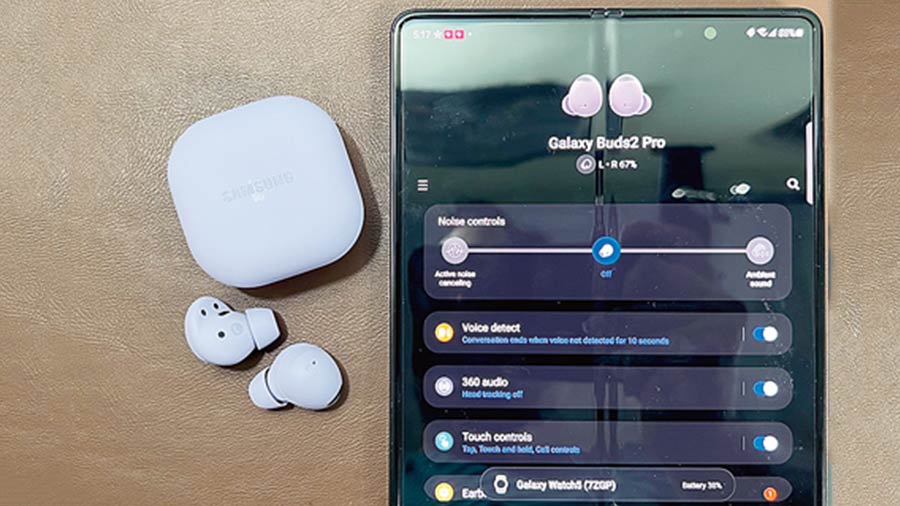 Connect the Buds2 Pro to a Samsung device to enjoy all the features, especially the excellent degree of noise cancellation
Device: Samsung Galaxy Buds2 Pro
Price: Rs 17,999
High notes
24-bit audio support
Microphone clarity
Neck tracking feature
Excellent sound quality
Good noise cancellation
Muffled note
It will be helpful if users know the bit rate at which music is streaming