As the entire country was celebrating Raksha Bandhan, which symbolises the eternal sister-brother bond, on Wednesday and Thursday, Kolkata pet parents rose to the opportunity to tie rakhis on their beloved pets. Pampering them with gifts, treats and pet-friendly sweets, their celebration was nothing less than that of their human counterparts.
Rajlakshmi Sen, an IT professional residing in Behala Thakurpukur, took her first dog home a few months ago. Since then seven-month-old Beagle Gohan has become the apple of the eye of all the family members. "So I decided to celebrate rakhi with Gohan. I call him my son, my mother's aunt tied him rakhi and he enjoyed every bit of the celebration," Sen added.
Uttarpara-based professor Debanjan Banerjee, rescued four-year-old Happy when he was just two months from the streets. The Banerjee family has been celebrating every occasion with their beloved Indie and Raksha Bandhan was no different. "We live in a gated community and there are about 14 dogs here. Happy, among them, is the most gentle and intelligent one. Not only had my wife and mother but several people from the community came to our apartment to tie rakhis on Happy," said Banerjee.
Replete with rituals
According to the pet owners, the celebration took place with all the rituals — right from incense sticks, rakhi, paddy and doob grass. "Initially, Scooby, the five-year-old German Shepherd didn't like the concept and tore the rakhi apart from his front paws. But as soon as he got the food, he forgot about the rakhi. He even ate up all the paddy we had brought for the ashirvaad," said Shoma Halder, a resident of Dum Dum.
Meanwhile, Gohan did the same and so the Sen family tied the rakhi around his neck like a bow. Gohan had nothing to do other than conceding defeat.
"Happy did no such thing. He allowed everyone to approach and tie rakhi on him. During the entire ceremony, he kept his head down as if in mark of respect for his sisters," said Banerjee.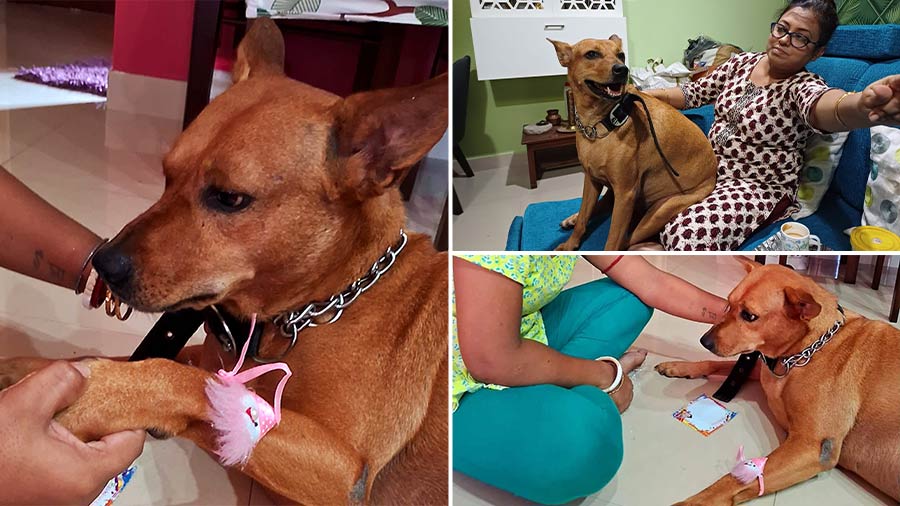 Photographs courtesy: It was a day of extra pampering for Happy at the Banerjee family residence in Uttarpara
Photographs courtesy: Debanjan Banerjee
Food and gifts
The pet parents bought special gifts and treats for their beloved pets. "We brought Happy specially-made cupcakes from a home baker. With chicken and dog-friendly ingredients, he relished those absolutely," said Halder. Gohan received a specially curated dress, which he refused to wear, a special treat with all his favourite dishes. "Curd, boiled chicken, egg and cucumber are his favourites and he was treated with those. That was the most enjoyable part for him," Sen added. Meanwhile, Happy became happier with a meal of fish and meat.