Rhea Kapoor's collaborative line of ice creams for artisanal label Papacream quietly snuck into Kolkata's gourmet circuit right before Puja. If you still haven't come across the pop coloured tubs, it's probably because they are only available on selective platforms.
The RheaXPapacream line is available at Nature's Basket's retail stores (Park Stret and Forum Mall) and on their official website. Flavours from the collaborative line are also available on Swiggy's new swift grocery delivery service Instamart.
Founded by Kolkata-based entrepreneur and gourmet connoisseur Tanvi Chowdhri, Papacream won PETA's 2019 award for best dairy-free ice cream. But the label first gained prominence for its quick-freeze technique. Chowdhri (a mechanical engineering alum from Carnegie Mellon) uses liquid nitrogen to make ice creams which makes instant freezing possible for a smoother texture. This gave way to Papacream's live ice cream stations at the label's Mumbai store in Churchgate where buyers could witness their ice creams being made in real-time.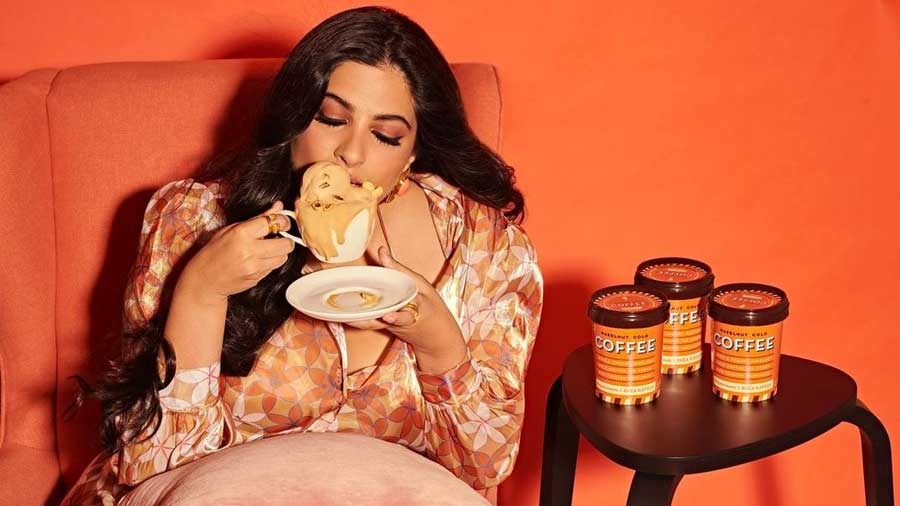 PapacreamXRhea Kapoor's Hazelnut Cold Coffee features rich, toasted hazelnuts
@rheakapoor/Instagram
In June this year, Rhea Kapoor announced four flavours from her collaboration with the label - the After School Sundae (featuring almond brittle), Brown Butter 'Biskut', the Chocolate Influencer (with malted cereal clusters) and Hazelnut Cold Coffee.
"I randomly ordered a couple of tubs from ice cream newcomer 'Papacream' and fell immediately in love. Created by feisty Kolkata raised Wall Street I-banker turned ice cream empress Tanvi, the brand blended everything I loved. Quality, luxury, nostalgia, fun and comfort. It made me happy. The ice cream was damn near perfect," Rhea shared.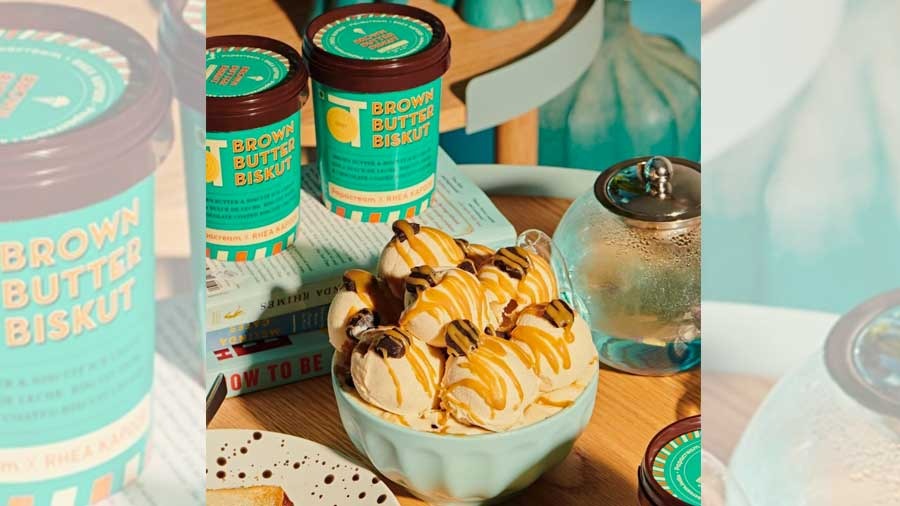 The RheaXPapacream line is made in small batches and has been designed like an in-tub experience
@rheakapoor/Instagram
The RheaXPapacream line is made in small batches and has been designed like an in-tub experience; all the four flavours curated by the producer and celebrity stylist are anchored by nostalgia and have a focus on classic flavours. "If your childhood was full of drives to Nirulas and asking for extra hot fudge from the McDonald's machine you're gonna be as emo about this one as me," she wrote on Instagram about the After School Sundae. Needless to say, the collection also boasts a seal of approval from Kapoor's A-lister friends such as Bhumi Pednekar, Jacqueline Fernandez, and of course Sonam Kapoor.
Papacream's official website only accepts delivery orders for Mumbai and Bengaluru, although their signatures and vegan ice cream range is available via online and offline routes in various cities such as Hyderabad, Chennai, Goa, Dehradun, and Kolkata.
In Kolkata, while the RheaXPapacream line is available at Nature's Basket, the vegan range is more widely available at places like The Vegan World in Kalighat, Krishna supermarket in Alipore, Nick 'N' Nack off Elgin Road, Speedmart in Ballygunge Road, Wedding Bells on Gurusaday Road and www.freshaisle.in.