Heritage den Kanishka's is hosting 'One of a Kind', a showcase of gorgeous Benarasis and Kanjeevarams. The Telegraph chatted with Nandita Raja (inset) of the decades old connoisseur's paradise to know more.
What is this year's collection like?
'One of a Kind' is known for its traditional collection of Benarasi and Kanjeevaram saris, handwoven by master craftsmen. This year too we have saris which are rich in design, colours that range from black to very bright pinks and oranges, mauve and purples. In addition to these we have a few modern designs such that our weavers have especially made for our younger customers, like a plain Benarasi sari with a zari border and a heavy zari pallu and blouse, or a plain Kanjeevaram with checked pallu and blouse.We have been curating this exhibition for almost 15 years now and every year it just keeps getting bigger. More and more people come in, new customers, also the younger generation that is now interested in heritage and understands the value of an heirloom piece.
What is one thing you absolutely love about Benarasis and Kanjeevarams?
The speciality of a Benarasi sari or a Kanjeevaram sari is that it's deep rooted in history. It's traditional and through all the ups and downs and transitions and changes in people's outlook and style they have still managed to hold on to their roots. It's heritage at its best.
Would you say this is the ideal time to flaunt them?
This in fact is the best time to flaunt them. The weather is perfect, the festive season is here, people living abroad come home, there are so many occasions to celebrate, and what can be better than Benarasi or Kanjeevaram sari to make a style statement.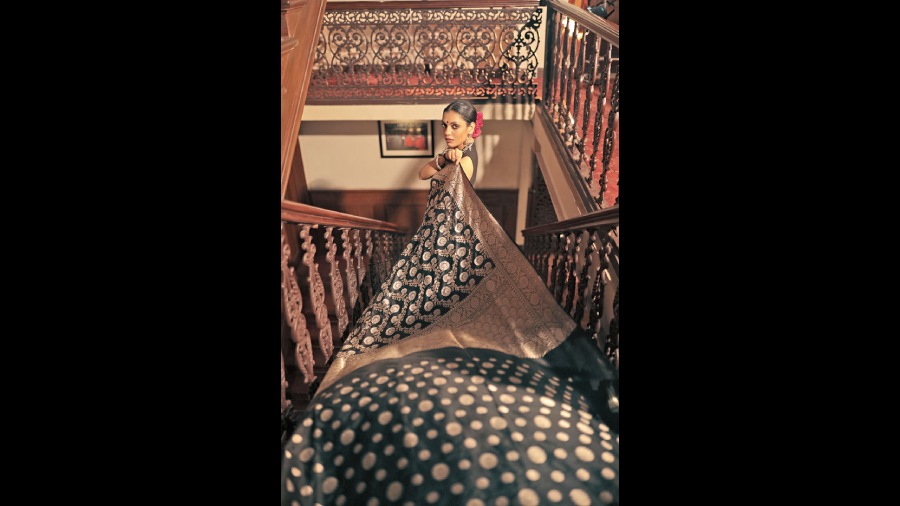 You always style your saris differently. How best to style a Benarasi or a Kanjeevaram with a twist?
I mostly style my saris differently but when it comes to a Benarasi sari, I prefer traditional blouses. I play around with my blouses by adding old zari borders to them. For Kanjeevaram saris again I prefer the traditional approach.
What: One of a Kind
Where: Kanishka's 2/1 Hindustan Road
When: January 12, 13, 14; 10.30am to 8pm
Contact: +91 98360 28484