What makes a journey special? Is it the destination or is it the journey itself? Or is it the companions you are travelling with and the way they make you feel? Time for Friends Communication to hit the pause key momentarily and ponder, as in 2023, we stand at the end of a decade and also begin another decade dedicated to producing 'good' films.No matter how cliched it sounds, we, who are into the business of making films know that Bengal is the cultural capital of the country. The average audience here is well-read, aware of good films, has high expectations and is difficult to dupe. So the 10 long years of making only a certain kind of film, and not giving into the temptation of creating only content to feed episodes, has not been a cakewalk. There have been disappointments but that did not make us switch paths because I know that there is an audience with an appetite for the kind of films that Friends Communication makes.
Had it not been so, how did three films by Friends Communication, released in a span of 365 days, (Aparajito by Anik Dutta, Mahananda by Arindam Sil and Shesh Pata by Atanu Ghosh), all get nominated by the prestigious FIPRESCI-India, the India Chapter of the International Federation of Film Critics, among the top 50 films from India! The three films, ambitious and daring in the selection of topic, would not have won such acclaim and awards had they not been loved by the audience. And what is a film without an audience? Which means, the audience is there, we have to level up our game, and hold out against the pitfalls if we want to create good films which we will feel proud to call 'our work'.
As a producer, we make films for a global audience and it is heartening to note that the market for 'good' Indian films in the Bengali language has expanded so much that our films now have a huge pan-India audience as well as a tremendous world market. Given that Bengali is the sixth most spoken language globally, that does not surprise us much! Our house gets numerous mails and queries requesting for release and for longer spells of run, not only from Delhi, Mumbai, Bangalore and Chennai but also from Ranchi, Rourkela, Pune and Pondicherry.
We never wanted Friends Communication to operate like a hard-nosed corporate house or a hit-churning 'factory'. I make films out of passion and I feel the need to bring back the culture of making 'going for movies' a 'together' and community activity. With the swift growth of AI and technology, especially post-pandemic, I find the growing habit of sitting side by side but watching 'my own thing' a little concerning. It is important to connect in 'real' time, do things together and 'feel' emotions together.
With a middle-class Bengali upbringing, I have grown up playing carrom, cricket and football in the 'gully' with friends, have hardly watched any football match alone and I still bank emotionally on my friends and relatives. Maybe that is why, most of the directors, artists, and technicians we have worked with in the past 10 years, for our films, the television serials, our events company, are all like our stakeholders.
We have trusted Atanu Ghosh and he has given us four fabulous films, beginning with our very first film, Roopkatha Noy in 2013, Abby Sen, Mayurakhshi, and in 2023, as we are ready to move into another decade, we again have the stupendously successful film Shesh Pata, from Atanu Ghosh. His film Mayurakshi had the legendary Soumitra Chattopadhyay and Prosenjit and went on to win the National Award. Shesh Pata once again has the superstar and excellent actor Prosenjit in it.
The legendary artist, Soumitra Chattopadhyay was a well-wisher of Friends Communication and expressed his appreciation for the kind of films that we were essaying to create. Maybe because we have the clarity of purpose that superstars like Prosenjit Chatterjee continue to guide us and take almost as much interest in the film as the production house itself. I have worked with Bumbada closely and his ability to break out of each stereotype, his student-like sincerity, his discipline and work ethic never fail to inspire awe.
I am no film critic, but the character of Balmiki, which he has portrayed in Shesh Pata is certainly career-defining and his best yet. Atanuda's storytelling is usually based on images which arouse empathy and discomfort as they dissolve only to linger in our senses and Shesh Pata definitely sees the director at one of his bests. Gargee Roy Chowdhury, a refined and method actress, has done five films with Friends Communication, and I must also mention her stellar solo performance in Rangini, the drama we produced. Like I said, maybe because of the honesty with which we work, we are able to forge a certain relationship with everyone who works with us.
Gargee Roy Chowdhury, for her contribution to the success of our films as an actor, is almost a part of Friends Communication, by now. Her restrained yet nuanced portrayal of Medha, in Shesh Pata deserves all the accolades it is receiving and is a complete foil to the character of Mahananda that she portrayed in the film, directed by Arindam Sil. Mahananda was inspired by the ideals and work of the notable social activist Mahasweta Devi. Gargee is a powerful actress and we are delighted to have her with us in our journey. Vikram Chatterjee, as Shounak in Shesh Pata lends clarity and credibility to the character. I am not surprised that Vikram is receiving such a huge amount of praise from across the globe for his performance in Shesh Pata. Our relationship with the young and talented Vikram Chatterjee goes back a long way. He played the popular character of Zico, in our blockbuster, Saheb Bibi Golam, directed by the very talented, Pratim D. Gupta and he has always been a favourite with Friends Communication.
The layered and threaded narrative of Shesh Pata, built around the theme of debts that life expects us to pay off and often we want life to pay off, is taken forward with the help of music by none other than, the renowned musician, Debojyoti Mishra. Once again, I have to say that Debojyoti Mishra has given the music for six out of the 15 films that we have made in the last 10 years. In fact, Debuda was instrumental in my decision to become a producer of films in the Bengali language. He is very much a part of our decade-long journey.
Right around the corner is the release of our thriller Hubba, directed by Bratya Basu, inspired by true incidents. Friends Communication will pay tribute to Mrinal Sen on his 100th birth anniversary, this year with the release of our film, Padatik, based on Mrinal Sen's life and directed by Srijit Mukherji. We are also working with Anik Dutta for a film, Joto Kando Kolkatay and another untitled film by Pratim D. Gupta.
With 15 meaningful films in our rich repository, multiple awards, National and international awards, and immense love from the audience, who we are delighted to say are asking for more from Friends Communication, yes, the journey has been fulfilling! I always believed that we make Indian films for the world cine lover, in the Bengali language which brings back the audience to the theatres and I have been proven correct from the huge demand for our films spanning India and from across the globe.
I produce films out of a certain faith and passion and the journey has been uphill but worthwhile not only for the process, nor the milestone destination we have reached this year, but because of the empathetic companionship of each and everyone who has contributed to our success and learning process, in the last decade. Finally, it is our audience, who is our best companion in this journey and as we end a decade we extend our gratitude to them. We will try to live up to their expectations for another dazzling decade as we begin our journey afresh with Shesh Pata, which reiterates, 'Shesh bole kichu ache ki? Ashole shesh bole kichu hoe na…'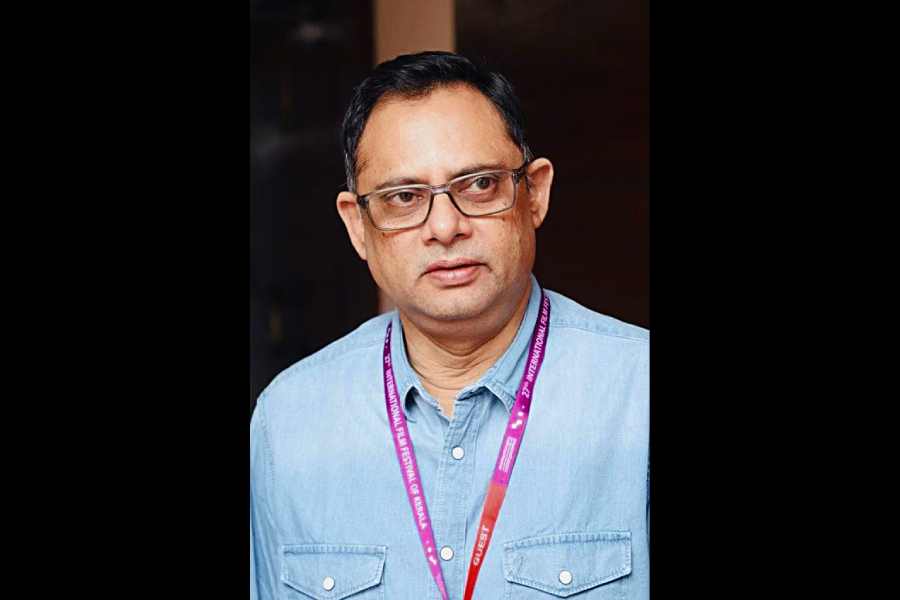 Firdausul Hasan is a film producer from Kolkata