Her lips are sealed on matters political, even as the party she joined in 2020, Shiv Sena, is in the midst of a turmoil. But the Rangeela girl waxes eloquent when it comes to looking back at her own career in films and her return on TV as a dance show judge, as DID Super Moms goes on air on Zee TV (weekends, 9pm).
You have judged a reality show before (Jhalak Dikhla Jaa in 2007). Is this your first show on Zee?
I have an old connection with Zee as I have done shows on Zee Marathi. One was a dance-related show (Dance Maharashtra Dance), in which I was in the same position as Mithunda (Chakraborty) was in for the Hindi channel (Grandmaster). Another was somewhat like Maharashtra's Got Talent. I am excited to be on the Hindi channel, Zee TV, as it has got the highest reach worldwide.
Remo (D'Souza, fellow judge on the show) was mentioning about his old connection (as a background dancer) with you in Rangeela.
Yes. We didn't interact on the set at that time but later on we did get a chance to work together in a movie called Tehzeeb, in which Remo choreographed a song of mine. Another song he did was in a Marathi film, in which I did a guest appearance. It's amazing the way he has gone forward in his life.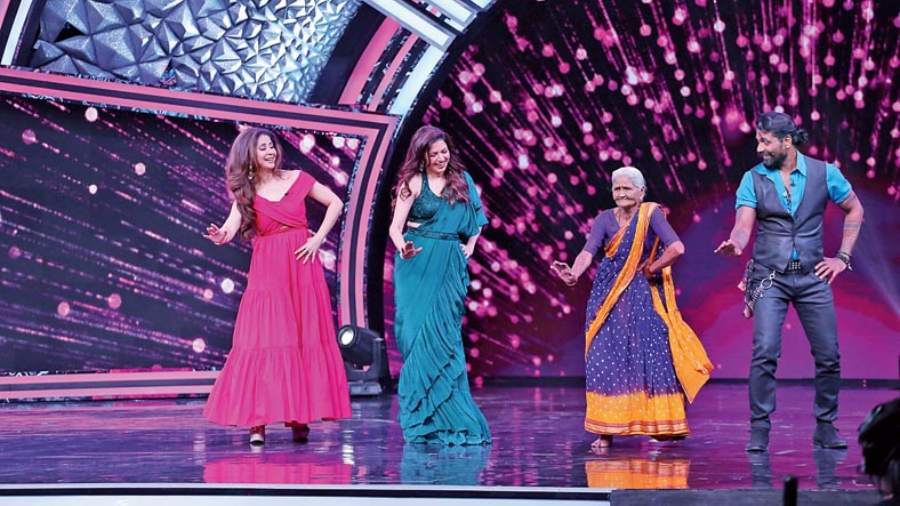 The judges — Urmila Matondkar, Bhagyashree and Remo D'Souza — shake a leg with a 76-year-old contestant on DID Super Moms
You have already chosen the 12 participants for DID Super Moms. What is the field looking like?
Each one comes with a story of her own. They are from different social and financial backgrounds. Some have support from families, some have not, some are single moms… But what binds them is a passion to do something with their lives. That is very interesting for me. There's this girl who has a baby of eight months while another woman is 76 years old. It's an amazing variety of women.
Another participant seems to be a big eater.
(Laughs) She created quite a stir… Bodyshaming is a sad part of our society. She has put bodyshamers to shame. She is on the healthy side and she loves her food. She said she wanted to show them all who gave her that look: "Yeh kya nachegi!" Her philosophy is "Don't put me down just because I am not lean." And she danced so well that we were forced to pick her for the next round. All these women are breaking the norms of what should be done and should not be done.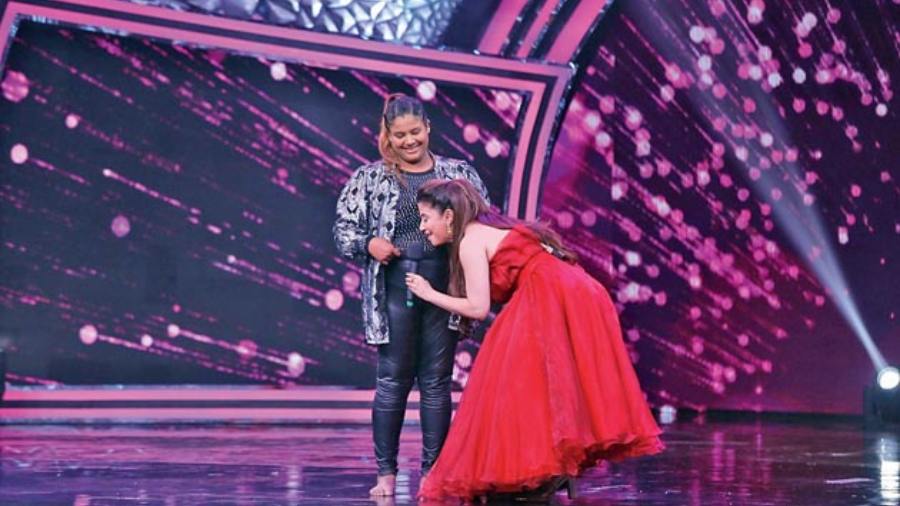 Urmila Matondkar tries to listen to foetal heartbeat in a pregnant contestant's belly
There is also a pregnant woman.
Yes. When she walked in, we didn"t notice as we were not paying attention. But when she kept saying 'we', I asked her where the second person was. She said "in my tummy" and we almost fell off our chairs. Of course, if you knew you could make out from her frame. Her thought process is also interesting. She said she wants to break the myth that women can't do half the things when they are pregnant. This is her second child. She said she had danced through her first pregnancy as well. If you want to do something with all your heart, you find a way, I guess. Of course, we are taking all the precautions like having a doctor on the sets.
Will she be up to say, aerial acts?
We'll have to see how many of them go into the final episodes. They might have different life stories but it is going to be their talent based on which they'll go ahead or not in the show. But I would also add that dancing is not just about splits and somersaults. The really good dancers in the Hindi film industry have not necessarily been those who do acrobatics with their bodies. They are the ones who make their audience dance with them, be it Govinda, Sridevi ji or Madhuri Dixit. In the old times, there was Shammi Kapoor. They are not necessarily doing some splits or aerial acts. Of course, such acts can look beautiful and take a performance to another level but it is also about connecting with your audience, using your body along with music. As a member of the audience or as a judge, if I feel what the contestant is trying to say, that for me is a good performance.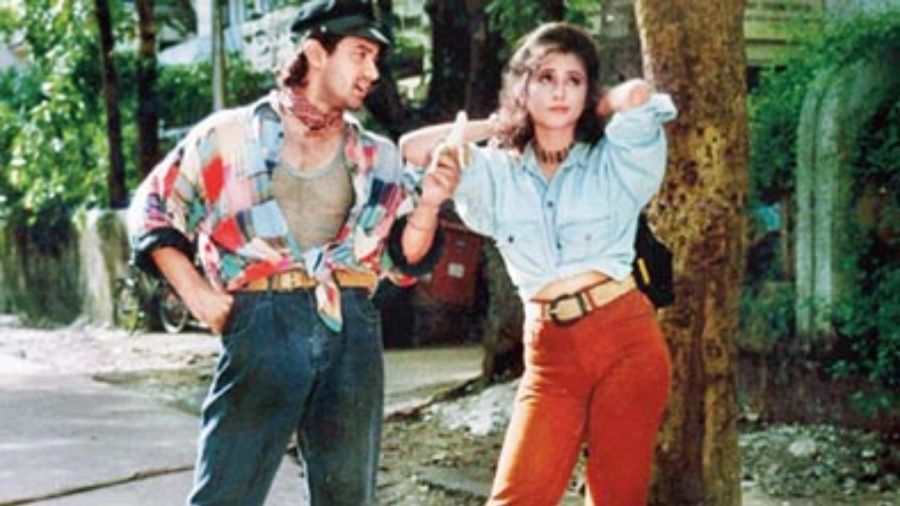 Urmila Matondkar with Aamir Khan in Rangeela
Coming to your acting career, it's been 27 years since Rangeela. Any memories from those times?
I think the whole world knows about my Rangeela memories. I would rather like to take your memory back by another two years. My connection with dance started 30 years ago when I did a movie called Narsimha, when I experienced the adulation of the public. I remember at the time of the release of Narsimha, I had gone to a film theatre. When a song started, there was money being thrown and one coin came fell in my lap. That is the moment that makes you realise that "Oh my God, now I have really become a star!" That is something that remains etched in an actor's mind forever.
It was Minerva in South Bombay. Sholay had played there for five years. Later my movie with Shah Rukh (Khan), Chamatkar, also released there. I find TV the best medium to connect with those audiences of mine who have put me up there.
One remembers another hatke film you did in those times, Bhoot. Given supernatural thrillers have become so popular, do you recall when you got that script if there was a doubt in your mind whether to sign or not?
Not really because in my career, all the movies are so mould-breaking that other actresses would think twice before taking them up. There was Pinjar; there was Pyar Tune Kya Kiya, which had an anti-hero kind of role; there was Ek Hasina Thi, which was another revenge story of a sort...
You were not afraid to take on gray shades…
Exactly. Even for that matter, Kaun, which came immediately after Rangeela. In that, I play a psychopath killer. I don't think any other actress in the history of Hindi cinema in that much span of time has tried and done so many kinds of characters. I believe in picking up things that would be challenging and then doing my best.
When do we see you in Kolkata next?
It's been a while that I have been to Kolkata. The first connection I have is with the mishti doi and the sweets. Luckily in those days there were not so many security issues. I used to carry back all of that by hand every time I used to travel. People used to ask: "Oh my God, are you sure?" I'd say it's okay, I'm going to carry it (sweets) as my cabin baggage. To me, Kolkata is all about all the sweets and the mustard fish. And the golgappas!