One is a fashion designer and the other is a chef. To stay on top of their game, they need to constantly network and keep themselves active by putting out meaningful content. That's where technology comes in. For fashion designer Kresha Bajaj and chef Karishma Sakhrani, the go-to universe for tech solutions has been Apple because of the seamless way gadgets connect and, very importantly, the solutions that are at the tip of their fingers via the App Store. These are two women with plenty of tech chops and punches. Let's hear it from them about their tech set-up.
Kresha Bajaj
Kresha Bajaj has an enviable Instagram feed. She travels, she meets new people every other day and she, of course, designs. "Travels have always been a great influence on me as a creator," says Kresha. Not a stranger to the fashion world, she hails from a family that has pioneered bespoke wear. As a child, it was her father's tailoring shop that was her playground. She studied in some of the world's most distinguished fashion colleges, including London College of Fashion, Parsons in New York and Paris and Fashion Institute of Design & Merchandising in Los Angeles, before deciding to return home to Mumbai.
Diving into the industry head on, Kresha launched her e-commerce website, Koecsh, and was soon invited to showcase her collection at Lakme Fashion Week, which garnered a lot of appreciation. Today, she is respected for her knowledge of the bridal lehenga. But the story of the Kresha Bajaj brand is incomplete with technology. And this is what she has to say about her tech chops.
Changes in working style during the pandemic....
The pandemic encouraged the world's digital transformation. As a business, we began to look for ways to continue our operations remotely for almost a year, thanks to the Internet and my Apple devices, we turned to various collaboration platforms and video-conferencing capacities to remain engaged with colleagues and clients, while working from home.
Her tech set-up and working seamlessly across the design studio....
Apple has been my go-to when it comes to tech. Whether it is for work, making me reach my fitness goals or something as simple as reminding me to drink adequate water in a day for overall health. Across the Krésha Bajaj brand, Apple products are used in every department. Our marketing team uses our new purple iMac for digital content creation using Photoshop and other editing software. Our graphic design team uses the iPad Pro and Apple Pencil to create illustrations and digital print patterns, and our store team uses the iPhone to reply to queries on various social media platforms as well as conduct virtual appointments with clients. The entire management team also has their Apple Watches synced so we can share our activity with each other and get updates when we've closed our rings, finished workouts, and also compete for Activity Competition awards. It's been extremely motivating, especially during lockdown.
Getting the most out of the iPad....
iPad Pro is a multi-purpose device whether you want to use it for illustration, digital or graphic design, video or animation. I have started using iPad Pro and Apple Pencil in my creative workflow — it is excellent for drawing/sketching designs, and also for marking up feedback for my team. It's also light and portable. I love the responsiveness of Apple Pencil, I am able to sketch without any lag, which makes it feel really natural to use.
Making use of the new-generation iMac....
I am very excited about switching to iMac as my primary computer. While it's an all-in-one device, it has an impossibly slim design, gorgeous Retina display, powerful multitasking capabilities, and great accessories. Not just that but as a designer, I use a lot of Pro apps, including Adobe Illustrator and Photoshop. The M1 chip makes everything I do feel fast and responsive, which really helps with my productivity, saving me time. The iMac also has the option of the Touch ID on the Magic Keyboard, which allows me to securely login to my account with an on-keyboard fingerprint sensor.
How to get an Instagram feed like Kresha Bajaj....
I almost always use my iPhone for all the images I post. I love the resolution and clarity of the picture, especially Night mode. The 0.5 wide angle is perfect for taking larger than life photos, but my favourite feature till date is shooting moving objects like light and water, using Live Photos and then adding the Long Exposure feature for a beautiful effect.
Karishma Sakhrani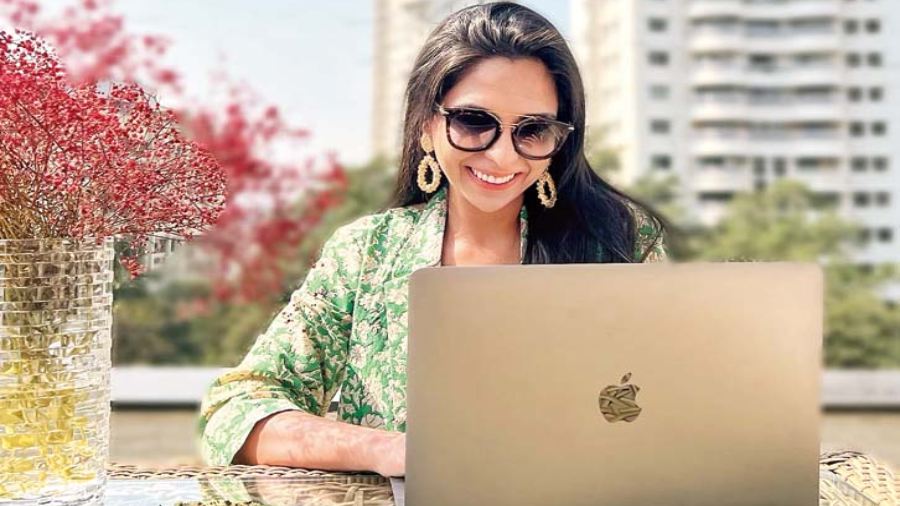 Technology brought everyone closer during the pandemic. Had it not been for video calls, group gaming apps and social media, everyone would have felt a huge disconnect and void: Karishma Sakhrani
Pots, pans and tech. In 2022, being a chef and wellness expert requires a good helping from the tech industry to keep things moving. After giving up a career in business development, she decided to follow her passion for food, entering MasterChef India 4 in 2015. Beyond her wildest dreams and expectations, she made it to the final and ever since this life-changing experience, there's been no looking back.
She went on to forge a reputation as the go-to chef for restaurants and brands that champion healthy eating, quality ingredients and great sourcing. When not cooking, she is often found working out a serious sweat at the gym, enhancing her knowledge of nutrition and, at times, eating pizza and drinking a glass of Merlot. She tells us about her tech-kitchen balance.
Gadgets and their importance to a chef....
I'm always on the go! I spend a lot of time experimenting in the kitchen, conducting training or hunting for the best produce in the market. There's always a lot to coordinate and I must ensure I'm well-organised. My iPhone 13 Pro Max makes my day a breeze. I'd never remember anything if it wasn't for Siri. Additionally, the Notes app helps me chalk out my work. And, of course, the exceptional iPhone 13 Pro Max camera needs no introduction. I shoot all my recipe videos using the iPhone camera set up on a tripod.
Getting the most out of the MacBook Air....
My new MacBook Air has been great for my virtual meetings. The FaceTime HD camera helps for crisp video calls and the 18 hour battery life keeps me going all day. I also use my MacBook Air for my photo and video editing, documenting of recipes and organisation of my photos and files. It's made my life so much easier!
Connected living....
My favourite part of being an Apple user, is how everything is connected so seamlessly and each device talks to each other. You can work from anywhere, using any device and have all your information up to date, so you can pick up where you left off.
When to upgrade, given that Apple devices last for years....
I use my Apple devices on a daily basis, all-day, every day. So it's really important for me to keep upgrading my devices. That being said, I use the same model laptop for years. I change my iPhone every year though - simply for the upgraded camera.
Power of the App Store....
The apps make everything so much easier. I use the built-in fitness app on my phone to track my fitness and daily activity levels. I'm an avid podcast consumer, and tune in to some interesting channels, like Mind Body Green, during my morning walks. I also use the app My Fitness Pal to calculate macros and calories for my recipes; and InShot makes editing my recipe videos a breeze. I wind down at the end of the day with Calm, a guided mediation app.
The pandemic and technology....
Technology brought everyone closer during the pandemic. Had it not been for video calls, group gaming apps and social media, everyone would have felt a huge disconnect and void.  
Tips and tricks to maintain a strong Instagram game....
Instagram is a full-time job. To add to which I have another full-time job as a hospitality consultant and chef. The key to enjoying Instagram is to embrace it fully and not to forget to have fun. It's not as glamorous as it seems, but once you learn the art of "watering" it every day like a plant; by sharing meaningful and beautiful content - it's the most gratifying job there can be. I love connecting with millions of people every day through this platform.