It wasn't just another day for Imran Chaudhri as he stepped into the red circle at Ted Talk. The years have been kind to him and have heaped a vast number of patents. He spent more than two decades at Apple, working on some of the most iconic consumer products of our era, like the Macintosh, iPod, iPad, Apple Watch and iPhone. The Apple era for him ended in 2016.
At Ted Talk in April he began by speaking about the increasing power of compute while the size of our computers shrunk. Well into the talk, something extraordinary happened. Something like a phone rang but instead of taking out a device, he saw a projection on his palm. "This is my wife, I'm going to have to get this," he said.
The audience hears Bethany Bongiorno's voice loud and clear. She tells him not to forget to mention her. Of course, he didn't. Once again, he didn't pull out a phone to answer the call.
As talks deepen about a mixed reality headset from Apple, Chaudhri and Bongiorno, both former employees of the Steve Jobs co-founded company, are working on a technology that can upend how we look at screens. Their start-up is called Humane, which has been working on cutting-edge technology to reshape how it is used in our lives. The Ted Talk event offered a glimpse into a future scooped out of a Hollywood film scene.
The device that made the phone projection possible is something he had inside his breast pocket. It's a puck-like device with a camera, projector and speaker sticking out the top.
"Some believe AR / VR glasses like these are the answer," he said. And then he added that those devices put "a further barrier between you and the world". Having spent his life playing around with screens, the British-American designer knows what he is talking about.
It wasn't just about making a simple call. He has shown how, with a press on the device, a question could be asked and be met with a response. He then taps two fingers on the device and says a sentence: "Invisible devices should feel so natural to use that you almost forget about their existence." It immediately got translated into French by an AI-generated clone of his voice. We are not done. He holds a bar of chocolate in front of the device (which is still inside his pocket) and asks if he can eat the bar. He receives a negative response from the device because of a food allergy he has.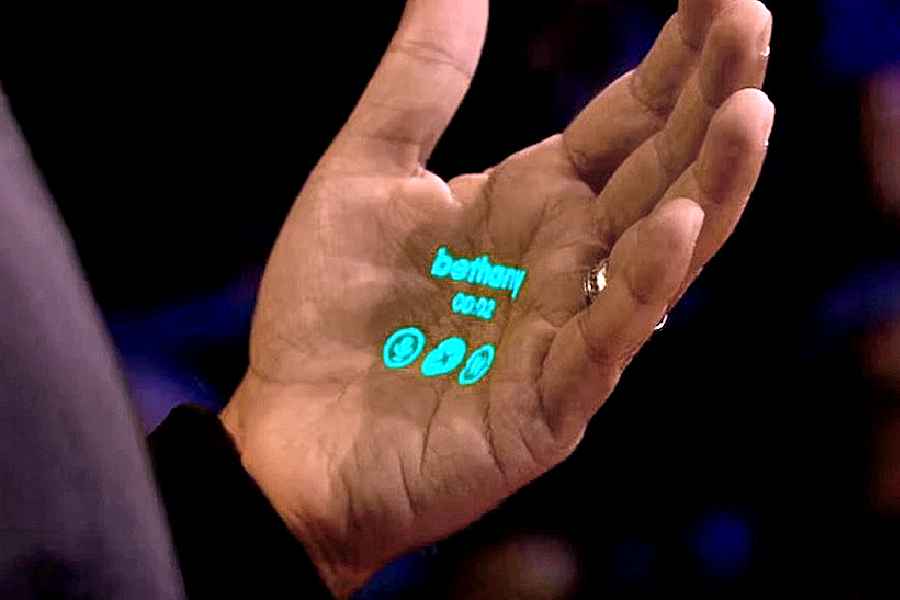 A demonstration of a projection technique Humane is working on
From Apple to Humane
For Chaudhri and Bongiorno, Humane continues to scale and recently had a new investment round of $100 million and partnerships with OpenAI, creator of ChatGPT, as well as Microsoft. While Chaudhri was the former director of design for Apple's human interface team, Bongiorno was a director for Apple's operating system. And they have been joined by Patrick Gates, a former senior director of engineering at Apple; he serves as chief technology officer.
Humane is not about showcasing what's possible beyond Apple. It is about the changes that are coming in general. Both had a brilliant run at Apple. Chaudhri arrived in the Cupertino-based company in 1995 as an intern in the Advanced Technologies Group (a corporate research laboratory at Apple Computer from 1986 to 1997) and two years later, after finishing school, he was there again. By this time, Steve Jobs had returned to Apple, giving the company a new direction. He had brilliant ideas and many of them were implemented. Bethany joined in 2008 soon after the first iPhone was shipped.
The $100m round for Humane comes at a time when focus is on AI. The company said it would be working with Microsoft to power Humane's Cloud services. According to reports, Humane would also be partnering with OpenAI to integrate its AI technology into the Humane device. "Artificial intelligence, especially at the consumer level, is still in its infancy, and we're at the beginning of a long journey," Bongiorno said in an interview.
At the moment there are several questions around what Humane's gadget demonstration is. For example, what happens if a person is sporting something that doesn't have a breast pocket? How much of the compute is happening on-device, and how much is being sent to the Cloud? Is the projection bright enough for outside use?
Pranav Mistry is another person who has been working on different wearable technology. After receiving a degree in computer science and engineering from Gujarat University, he did excellent work at MIT and then at Samsung Electronics. He currently has a start-up called TWO.
"AI can have a transformative impact on most aspects of our everyday lives, but it does require a large amount of data to do so. We are effectively building devices and platforms for a new era, which means an ongoing process of development and redevelopment," Bongiorno has told TechCrunch.
The two, of course, have some great ideas but it remains to be seen how it gets implemented. There are challenges, like Magic Leap faced and how the hype it generated worked against it. It was a start-up that had the backing of AT&T, Google and Alibaba Group, and partnerships with content creators like Disney's Lucasfilm. Then take the case of Andy Rubin's Essential phones that had to shut shop. A more recent example is Neeva, which was expected to challenge Google Search; it is shutting down its search engine.
For the moment, the duo have played their cards right. They have been secretive and rightly so because it helps to temper expectations. Second, they hope to create something that's collaborative, like Chaudhri has said in an interview: "The more that we create that kind of environment that allows for discussion and debate, the better the product will be."
Will Humane be able to market a new technology without having people to give up even a degree of privacy? What looks exciting is that Chaudhri and Bongiorno are looking at a technology that's bigger than just having a wearable camera.