The Indian gin market is burgeoning, to say the least; old players are investing big and emerging distillers are exploring fresh methods. In the last year alone India saw the release of three homegrown craft labels, Terai, Samsara and Gin Gin. Most craft brands are going for small or curated batches (for a cleaner finish) or even seasonal varieties, and some indie names are exclusively sticking to indigenous ingredients or locally sourced botanicals. If you're wary of piney, overwrought, old school picks, try these homegrown gins at your next winter brunch:
Hapusa
Earlier this year Hapusa bagged gold at The International Wines & Spirits Competition 2021. The small-batch gin from Anand Virmani and Jay Dhawan's Nao Spirits is the world's first Himalayan dry gin, created with foraged Himalayan Juniper berries. It also uses native elements like mangoes, gondhoraj and turmeric that are not usually used to make gins.
Hapusa is a sipping gin with savoury, earthy taste notes, subtle floral accents and it finishes quite strong. The handcrafted gin is made to a one-shot method on Nao Spirits' 1000-litre copper pot and is ideal for making Negronis.
Calcutta Gin
The no-frills Calcutta Gin is one of the most affordable brands and is made by Essencia Beverages which is a part of Transways Groups, one of the largest alcohol manufacturers in West Bengal. The gin is an ode to the city's heritage and is smooth, simplistic and easy on the aroma, and is good for classic cocktails like gin-tinis or gimlets.
Terai
Terai is a one-shot distilled craft gin produced from Globus Spirits, owned by the house of Swarup and manufactured by India Craft Spirit Company. Terai uses 11 botanicals sourced from Delhi's Khari Baoli, also known as Asia's largest wholesale spice market. 
The dry, contemporary gin is herbaceous, with a savoury finish. It is distilled in the London dry gin tradition but relies on a vibrant, contemporary flavour with a distinct floral bouquet and citrusy accents. 
Tickle
Goa's beloved Tickle gin is made by the minds behind another sunshine state marvel, the coconut-ty Cabo White Rum. Tickle is produced using the cold extraction method and uses Himalayan juniper, cardamom, cinnamon, coriander seeds, clove, orange peel and even black pepper grown in the factory plantation of Adinco Distilleries where the gin is made. The balance of spices and citrus notes give it an interesting flavour profile and it's ideal for a tonic pairing. 
Gin Gin
Founded by millennial entrepreneur Shubham Khanna, Gin Gin was marketed as India's first hemp craft gin. It is made with the single-shot infusion process using a handmade custom column still which has been designed and made in India, it allows the mix to macerate, and collect the botanical distillate which is then proofed with water and bottled at the desired strength. Gin Gin uses hemp from Uttarakhand, its profile is not too juniper-forward, and the blend also uses lavender, blue pea flowers and rosemary.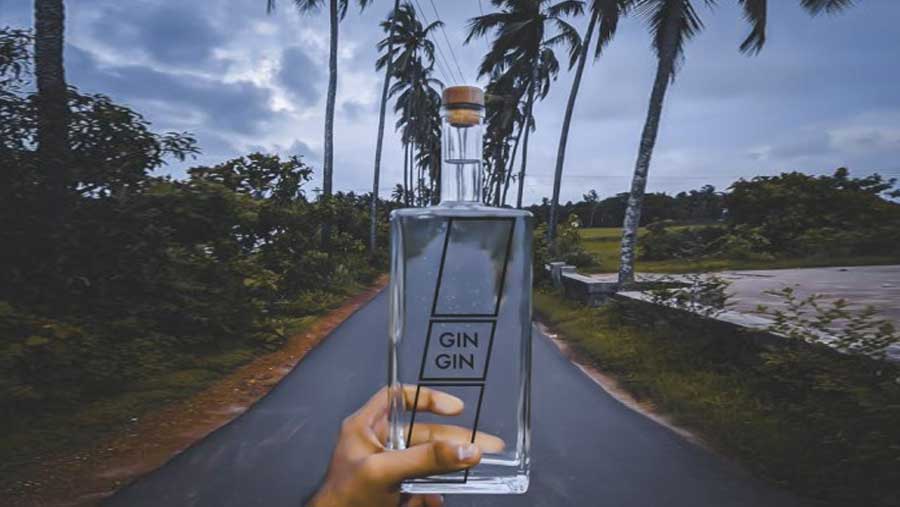 @ginginwala/Instagram
Samsara
Samsara is over a year old, and just introduced India's first pink gin, touted to be the trendiest pick of 2022. It boasts a subtle sweetness in its tasting notes and is infused with fresh summer berries and floral extracts. 
UCLA alum Aditya Aggarwal's Samsara Gin is distilled in the classic London dry method and uses more than 10 botanical elements such as locally sourced Indian blood oranges, cassia bark, organic hemp seeds, vetiver grass, green cardamom, and juniper berries, which are sourced from Macedonia. 
Jin JiJi
The dry gin is distilled in Goa and is one of the first gins to use cashews in its production, although the Himalayan wild juniper is the main ingredient. Jin JiJi has a Darjeeling dry gin, which is a tea-inspired variant made with the finest FTGFOP1 Grade tea handpicked using indigenous methods. Its other classic variety uses tulsi and aromatic chamomile flowers.
Jaisalmer
This craft gin is produced by Radico Khaitan, one of the biggest players in the Indian spirits industry.  Jaisalmer is a triple-distilled neutral grain spirit, re-distilled in a traditional copper pot still and sources its botanicals from all over the country. 
Coriander and vetiver from around Jaisalmer, sweet orange from Central India, Cubeb berries and lemongrass from Southern India, Darjeeling green tea from Eastern India and lemons from the west. Ingredients like angelica roots, liquorice and caraway seeds offer a peppery tinge to the gin, while the sweetness of orange peels complements the citruses.