Education should not be limited to reading and writing. There is a need to focus on the arts and this made Ek Tara Foundation and Tomorrowland Foundation join hands and bring their first school in India and to Calcutta (the first school is in Nepal). Tomorrowland Foundation has been created by one of the leading electronic music festivals in the world (Tomorrowland) and their collaboration with Ek Tara has led to the creation of Tomorrowland Foundation Music and Arts School by Ek Tara.
The 7,000sqft space is dedicated to performance and art and is on the premises of Ek Tara Learning Centre. The school was started to encourage and teach young girls and women music, dance, art and theatre, so that they can express themselves in a creative way. The school's objective is to help personal development of children and will enrol students from non-profits, budget private schools and government schools. The foundation's current goal is to reach out to 5,000 students in four years.
December 2 marked the official launch of the school and members of We Are One World (the Belgian company behind Tomorrowland) were present. The next day, the school was inaugurated by chief guest Firhad Hakim, mayor of Calcutta, Javed Ahmed Khan, state disaster management and civil defence minister, Sandipan Saha, mayor in council (education and IT), and Swarna Kamal Saha, MLA from Entally.
Meet Debby Wilmsen of Tomorrowland
How was the collaboration conceived between Tomorrowland Foundation and Ek Tara?
We already work with some schools in Belgium as we are a Belgian organisation. We have done some things in Mexico and Europe, so we thought we would like to do something else... a new school. That is when we were introduced to Ek Tara in India. We also have had teachers coming from India, a lot of festival participants from India. So we went ahead with it. When we had the first call with the team it really was a match made in heaven.There was a lot of passion and they had told us what they have already achieved. So we just had to add our creative part to it and we got started. Our team then came here in May and we were convinced about our project.
We took a walk around the community. We met parents, the children and the team. We corporate and communicate with the community and also get more families involved, DJs involved to teach.... We want to use this power to not only communicate but also do some talent scouting. If a girl here is playing really good music then we will see if we can feature her at a music festival.
What exactly happened during your visit in May?
It was good to see the kids being a part of communities and having enough passion, dedication and putting in hard work. That was good to see because if you give them the starter tools they have the push to make their dreams come true. We also saw that all the people working for Ek Tara are very passionate and this is especially important because all this is for children. Children are our future and are building the world of tomorrow.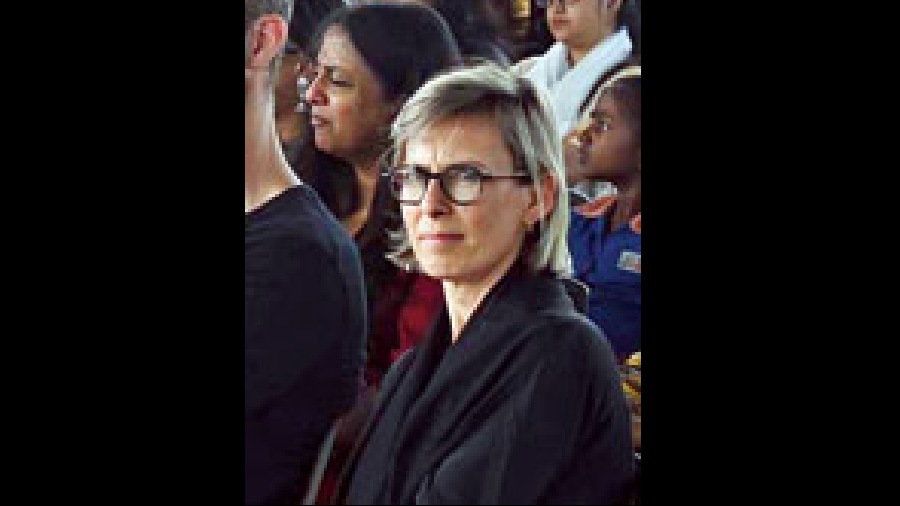 Meet Debby Wilmsen, press coordinator and spokeswoman of Tomorrowland
You saw the children put up a performance. What do you think of their potential?
I was really amazed because when I came here I was told by someone: "Do you know that Bollywood stars mostly come from Calcutta?" I wasn't aware of this! When I saw them acting I was surprised. Their art is full of passion and it is nice to see that. Of course, we have built a school and they are looking for teachers and we will make sure that we find a lot of teachers.
You mentioned some Indian DJs will get involved....
Yes, we have some Indian DJs from the festival. They are not based in India... I think they are mostly in the UK or Belgium. But there are some involved from the festival because we have some connection with the promoters and organisers over here.
Will there be offers for the students when they graduate?
No, we have to see about that. But what we would like to do is offer some workshops where DJs playing in India can come and host a few sessions. Maybe in the future there are things we will be able to offer. At the moment, the focus is on the school.
Where else are you venturing out?
We already have a school in Nepal but it is a completely different school. It's in the Himalayas and it has to do with music and art. We are now looking for a school in Africa but we are still in search of a proper location. At the moment, our focus is on India.
Moments from the school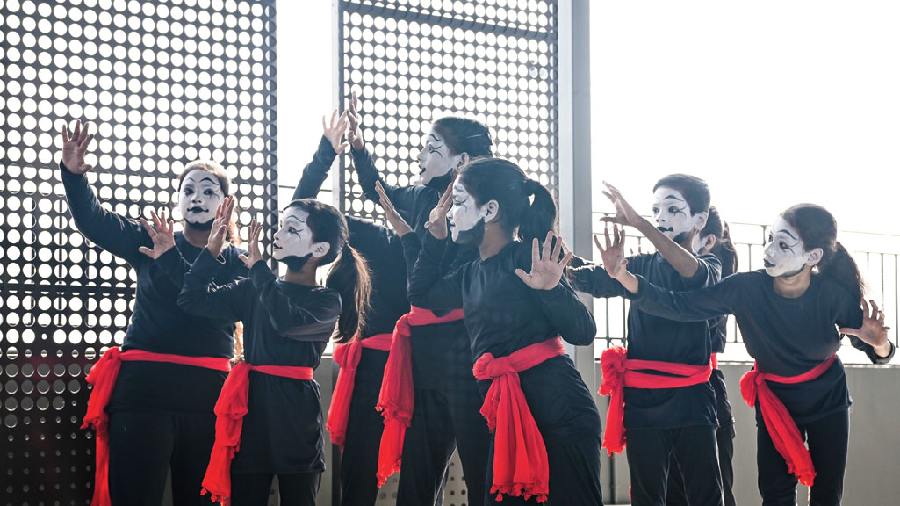 At the launch, there was a mime performance
Pictures: B. Halder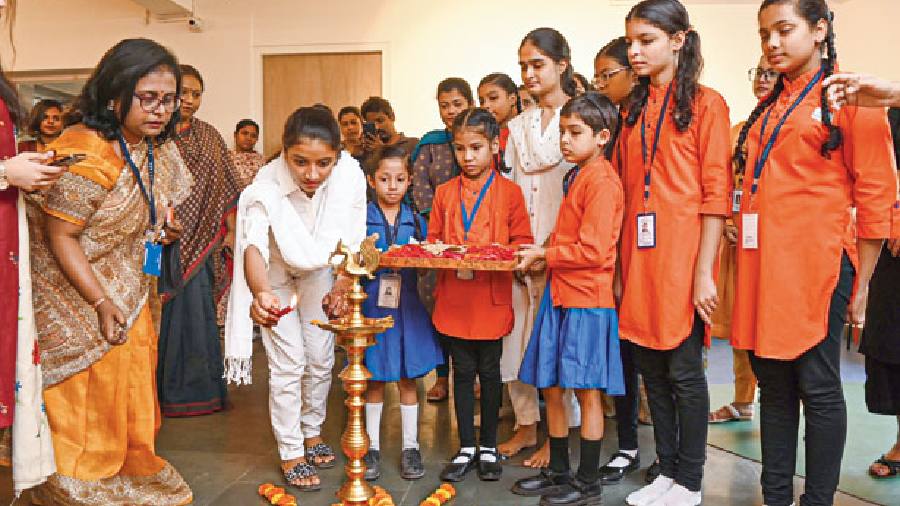 The lamp-lighting ceremony during the inauguration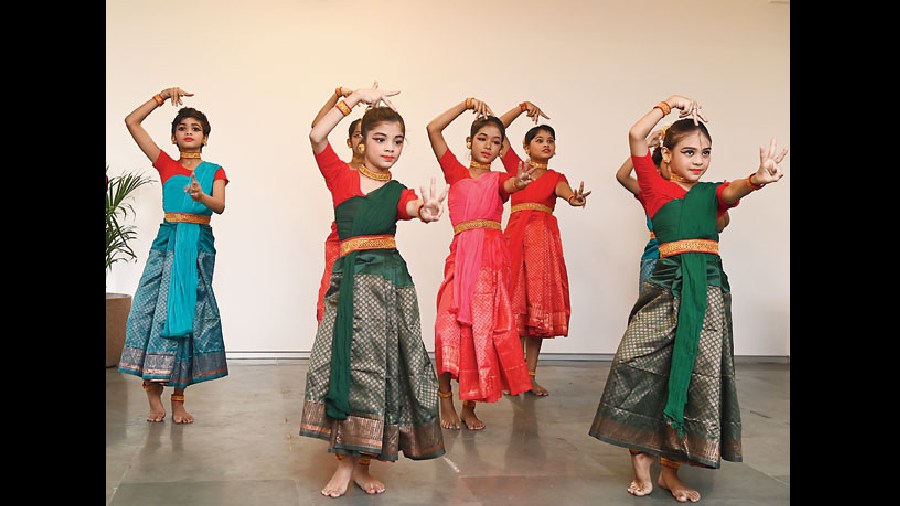 Students of the school present a dance sequence to welcome guests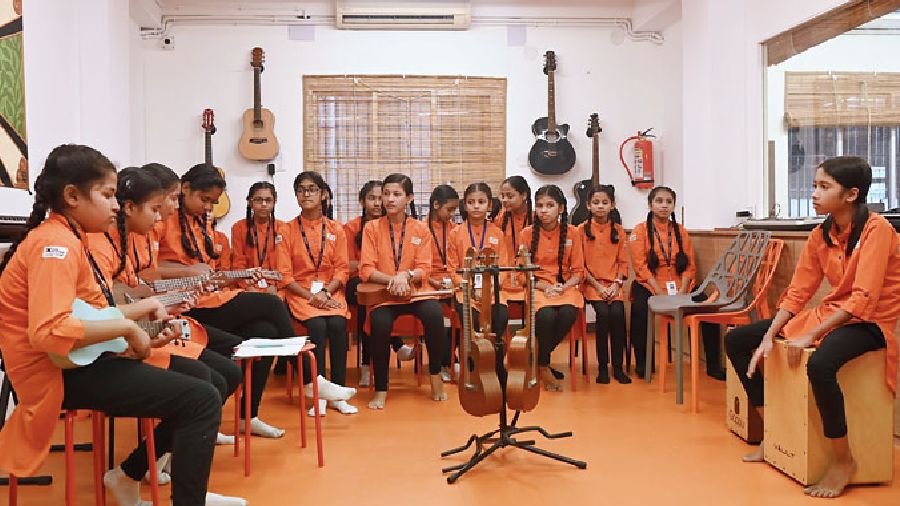 Students played different musical instruments and sang songs like Do-Re-Mi and Blowin' In The Wind in the music room+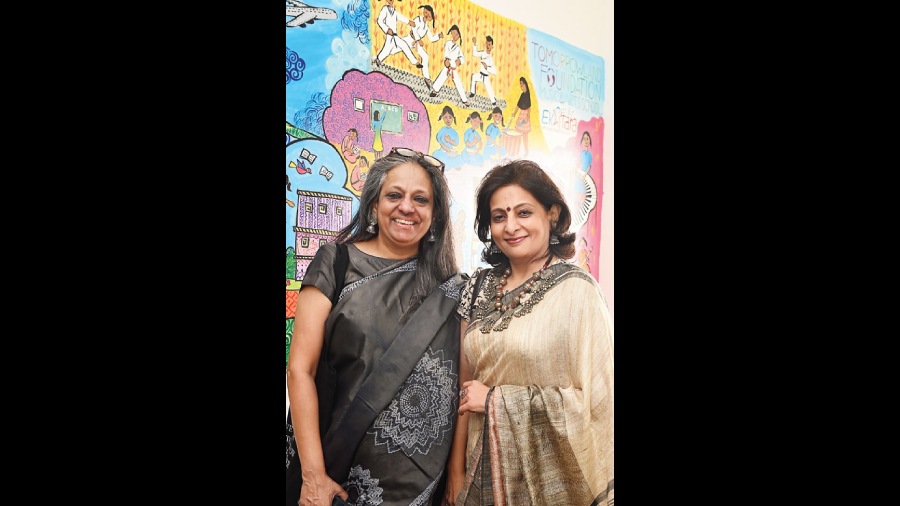 The founder and trustees of Ek Tara, Vinita Saraf (left) and Namrata Sureka. "Tomorrowland Foundation chose Ek Tara to be one of their three music and arts schools in the world to work with marginalised children. This fits perfectly well with our vision of holistic education and community transformation. We are committed to working with our 1,500 children and reaching out to many others with our Tomorrowland Foundation Music and Arts School," said Vinita. "At Ek Tara we feel privileged to associate with a prestigious global brand like Tomorrowland Foundation. We could not have asked for a more meaningful collaboration to nurture the talent and dreams of underprivileged children of our city," said Namrata.