Every week, I end up with enough video footage to stitch together a couple of short videos. But when you are travelling on assignment, it's not always possible to spend enough time on a video-editing software. Further, it's not necessary to spend long hours on a video each and every time. This is where iMovie speaks to me. The go-to app for video editing on iOS and macOS has undergone a vast upgrade to offer more options. What the new upgrade — in the form of iMovie 3.0 — promises are new modes to make video editing more automatic and less time consuming. Meaning, you will use the app a lot more.
The first time Apple spoke about the new changes was during its recent spring product even where the new iPad Air and iPhone SE were unveiled (and, of course, the Mac Studio). The features to keep an eye on are Magic Movie and Storyboarding.
First, let's talk about Magic Movie, which basically involves compiling a bunch of clips. With this mode, you can instantly create styled, edited videos complete with titles, transitions, even music. All it needs are a few taps on the screen. First, select media or an album from your library and then let Magic Movies identify the best parts of the footage to automatically stitch together an edit. It's somewhat like the way Apple automatically makes themed music-montage slideshows in its Photos app. This, of course, is far more complex.
There are 20 different styles to give your video its look. But you need not be stuck with what the software comes up with. You can rearrange or delete clips or modify the details with tools for clip trimming, splitting and more. At once, magic comes into play to dynamically recompose the length of your project.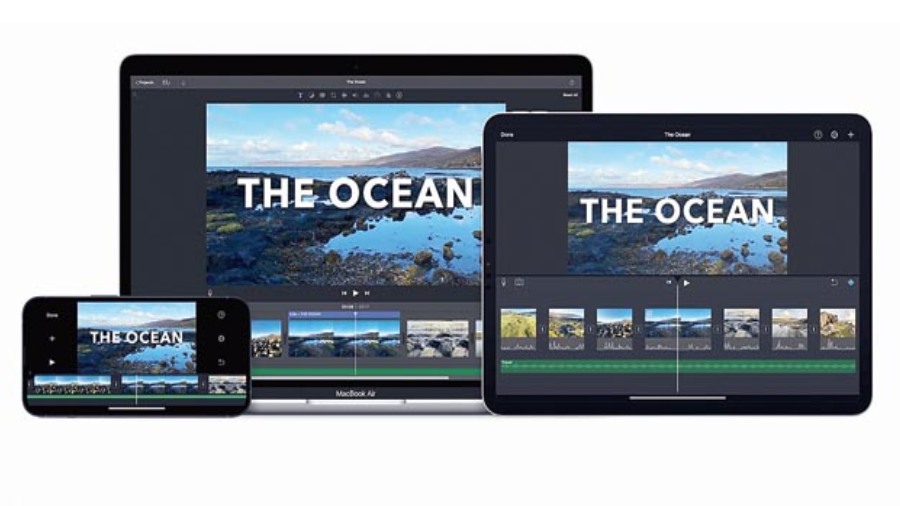 iMovie works across Apple devices.
Picture: Apple
The second skill involves Storyboards. It's the part where templates are created for various types of video projects. Things we end up doing are videos around cooking, science experiments and product previews. Apple has 20 storyboards based on popular genres and each storyboard comes with a short list with examples to guide you through capturing footage, organising clips and learning different story structures. The storyboarding list can be shuffled and modified. It works very well and the cuts down on work drastically.
So you have the new iPhone 13. There is something called Cinematic mode, which is basically the rack-focus effect that you get on expensive video cameras. While shooting a video, you can lock the focus on a person but when the character looks away, the focus shifts to the other face in the frame, only to shift back to the primary person when he or she looks at the camera again. Even if the subject leaves a frame and then re-enters, the focus shift will continue to happen. After a video is shot you realise the focus needs to be changed. Get this done on the app. Modify the depth-of-field effect in already captured material, and add and delete focus points to help guide the audience through your story. You can even add and adjust Cinematic mode videos directly in the new Storyboards feature to help shape your story.
Besides this, there are more special effects. Make action shots more exciting by slowing them down. Let viewers fly through scenes by speeding them up. Or add a broadcast feel to your school report with picture-in-picture and split-screen effects. Also present are 13 creative video filters that add a cinematic touch. Give your film a nostalgic silent-era style, a vintage western appearance or a fun comic book look. Not enough? There is the option to add over 100 smart soundtracks on iOS that intelligently adjust to match the length of your movie. You can also add built-in sound effects or record your own voiceover to create a video that sounds as good as it looks. Plus, green-screen effects. You can place yourself or your characters in exotic locations with a tap or a click. Masking controls and strength adjustments let you fine-tune the effect for maximum believability.