As Pinterest's hype peaked, the mug cake trend also experienced a boom. The quick, single-serve dessert needs minimal prep time and spares you the post-baking horror of cleaning up. In the last couple of years, as a plethora of fancy, viral recipe hacks began cluttering our timelines, the humble mug cake took a backseat. 
But while fad-seekers have their cake pops and cloud bread, the mug cake has always been here, serving as a last-minute dessert saviour or as the quickest (and quietest) midnight DIY snack.
Since work-from-home culture is clearly here to stay, this one-utensil wonder could be the most efficient pick-me-up to get you through a day of endless Zooms. There are a number of iterations you can explore even if you have just 30 minutes to spare.
Classic chocolate
If you are making a mug cake for the first time, this recipe is ideal. It's simple, easy and the ingredients can't possibly disappoint you.
Ingredients: 
Flour 4tbsp
Cocoa powder 1tbsp
Coffee Powder 1tsp
Powdered Sugar 3tbsp
Baking powder 1tsp
Butter(melted, salted) 1½ tbsp
Vanilla Extract few drops
Milk (room temp) 6-7 tbsp
Chocolate chunks ½ cup
Add in all the dry ingredients to your mug followed by the wet ingredients and mix thoroughly. Sprinkle the chocolate chunks on top and microwave for up to 3 minutes on high heat. 
The centre of the mug cake will be fudgy while the edges will turn fluffy and if you're in the mood to over-indulge, add a scoop of vanilla ice cream to the top!
 
Recipe from Chef Kunal Kapur's website: 
https://www.chefkunalkapur.com/recipe/chocolate-mugcake/
Tik Tok's favourite Oreo cake
This three-ingredient mug cake took Tik Tok by storm and it's worth the hype. If you're craving something sweet but don't want to put in too much effort, this recipe is for you.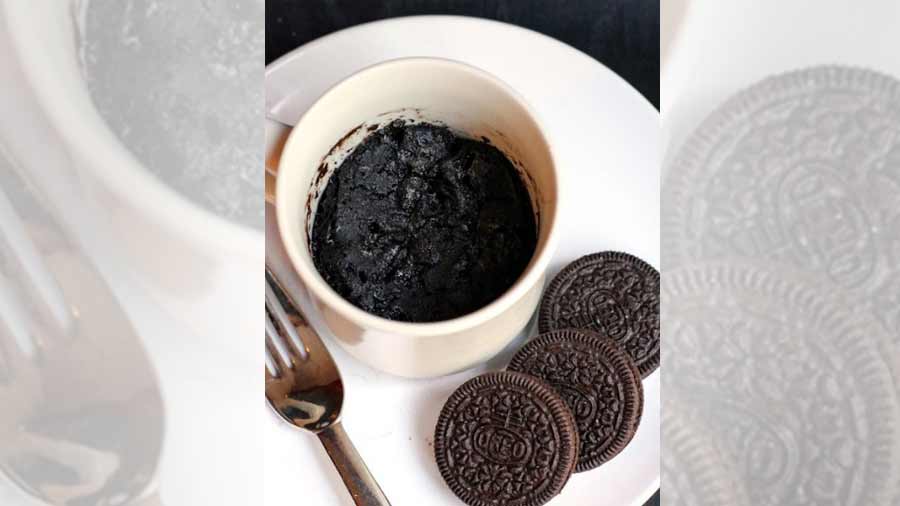 Ingredients:
Oreo cookies 4
Milk 3tbsp
Baking powder 1/4 tsp
Add crushed Oreos in a mug and add milk, once the cookies soften, mix it well. Microwave for a minute and a half on high heat in the microwave and enjoy! The best part about this recipe is that you can customise it however you want. Add in nuts, dry fruits, or other candies.
Pro tip: If you want some bite in the texture, bury a whole Oreo in the batter before you microwave and voila!
Crunchy peanut butter
You can't go wrong with crunchy peanut butter be it in a sandwich or straight from the jar. But what if it was mixed in a mug cake? If Reese's peanut butter cups are your favourite, then you have to try this recipe.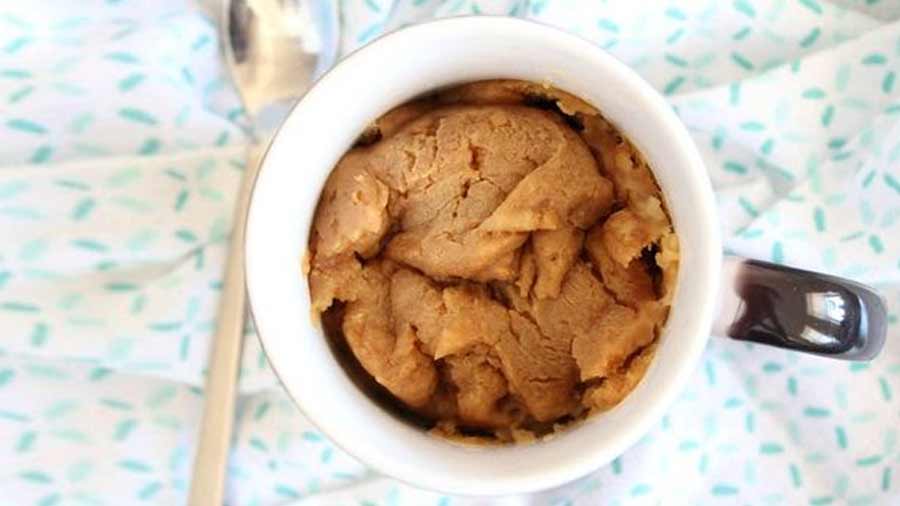 Ingredients: 
Flour 4 tbsp
Baking powder ¼ tsp
Granulated sugar 4 tsp
Milk 4 tbsp
3 Peanut butter 3 tbsp
Chocolate chips
Warm the milk slightly and dissolve the peanut butter in it. Add in all the other ingredients and top the mug cake with chocolate chips and microwave for three minutes. 
The crunchy peanut butter creates a wonderful texture while the chocolate blends in effortlessly with the nutty flavours. Sprinkle some sea salt on top to get a balanced finish.
 
Recipe from Kirbie's Cravings website:
https://kirbiecravings.com/peanut-butter-mug-cake-eggless/#recipe
Luxurious red velvet
For anyone who still doesn't get the hype around red velvet, listen close! It is not just a fancy chocolate cake but its flavour and texture are enhanced by the use of buttermilk and baking soda. The characteristic red colour adds character to the luscious, velvety look. What's not to like?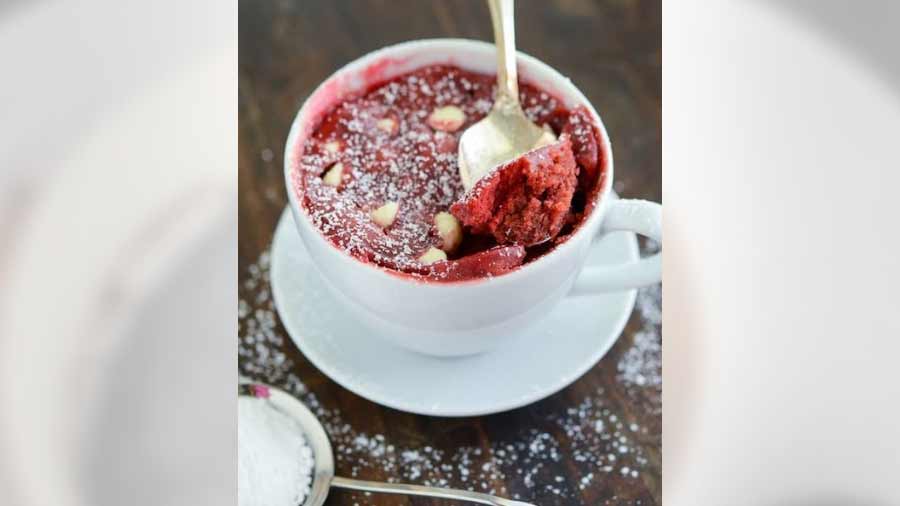 Ingredients:
Milk 3tbsp
Vinegar ½ tsp
Flour ¼th cup
Castor sugar 2 tbsp
Cocoa powder 1 tsp
Baking powder ¼ tsp
Oil 1½ tbsp
Red food colour 1 tsp
Cream cheese ½ tbsp
Add vinegar to the milk and let it rest till the milk curdles. Mix all the dry ingredients, followed by the wet ingredients. Add cream cheese to the centre of the mug cake and microwave for not more than 90 seconds. 
The velvety red cake smells delicious and the tart cream cheese adds a creamier element which makes it the perfect post-meal snack!
 
Recipe from Bake with Shivesh's website:
https://bakewithshivesh.com/red-velvet-mug-cake-eggless/
Love marshmallows? Try S'mores
Toasty marshmallows, crunchy cookies and a fudgy cake? Sign us up! This mug cake spotlights the best element of outdoor camping — s'mores!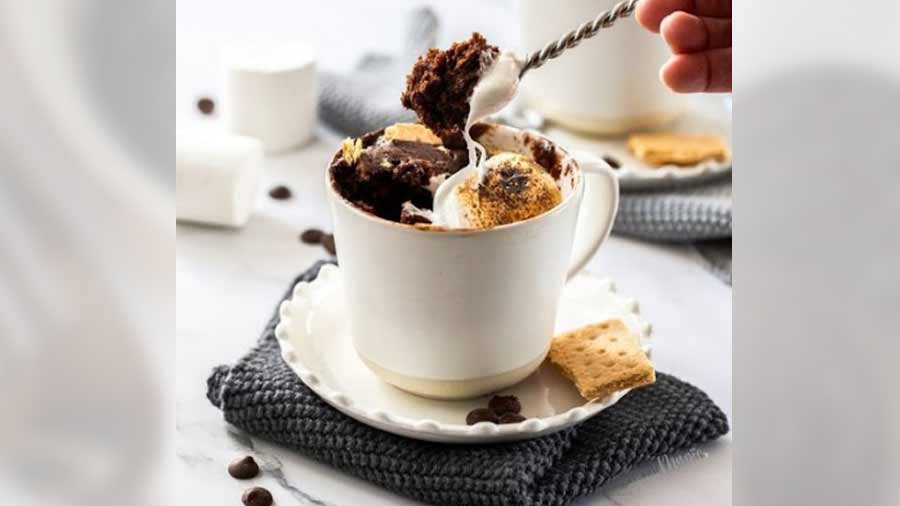 Ingredients:
Flour 3 tbsp
Brown sugar 3 tbsp
Cocoa Powder 3 tbsp
White oil 3 tbsp
Water 3 tbsp
A pinch of salt
Vanilla extract ½ tsp
Cookie crumbs 2 tbsp
Marshmallows as many as you want!
Mix in all the ingredients except the cookie crumbs and marshmallows and microwave for not more than 60 seconds. Take a mug out and add the cookie crumbs and marshmallows and microwave for another 15-20 seconds. 
While the cake turns fluffy and moist, the marshmallows get toasty from the heat and create a creamy texture. The cookie crumbs add the much-needed bite, making this mug cake perfect! You can also add in chocolate chips if you want!
 
Recipe from Gemma's Bigger Bolder Baking website:
https://www.biggerbolderbaking.com/smore-mug-cake/#wprm-recipe-container-18868
Expert Tips:
To check the doneness of the cake, insert a toothpick into the centre, if it comes out clean, it's ready! If you are making a fudgy mug cake, insert the toothpick into the sides of the cake to check for doneness. 
Every microwave is different so make sure you cook your mug cake for only half the time of the recipe at first to check the doneness. No one deserves a dry mug cake!
Once you're comfortable with the base recipes of the mug cakes, experiment galore! You can add in or remove any toppings you desire and try different combinations to create your favourite flavour.
Always use the biggest mug you have. The wider the mug, the more consistent the cake will be. A big mug will ensure there is no spillage in the microwave.