One of the biggest problems the pandemic is leaving us with is a meh feeling, the feeling of burnout as if nothing can make us take that extra step. There is an antidote and it's called "flow". Monday has nothing magical about it. Nor does Tuesday or any day for that matter unless we have a sense of purpose or flow. And that's where the new Apple Watch Series 8 comes in. The last two years have roughly elicited the same meh feeling. That means many people haven't upgraded their smartwatches since pre-pandemic days. This is the year of the upgrade.
Choose wisely
There are three smartwatches from Apple this year. Watch Series 8 is the middle child while the most powerful one is called Apple Watch Ultra while the youngest member is Apple Watch SE. The most powerful member has all the bells and whistles that will make any endurance sport enthusiast happy but that's something not everyone needs. The Watch SE has all the big functions minus always-on and blood oxygen saturation because many don't care about those features. It's the Watch Series 8 that has a good balance of features that suit a large audience. By adding Ultra, Apple has created a spectrum of price points, so that there is something for everyone.
Changes are on the inside
This year, the release of the Ultra has attracted some conversation away from the Watch Series 8. There may not be big design changes but inside the Series 8 there are plenty of goodies.
The most important conversation has to do with the temperature sensor. When we say temperature it doesn't mean exact temperature reading or letting people know whether they are unwell.
It's a two-sensor design. One is at the back of the watch which is against your wrist while the other is on the top; both working together reduces bias from the outside environment.
At night, the sensor checks your skin temperature every five seconds, detecting super minute changes down to 0.1 degree Celsius and then you will be able to see all this data in the health app. After five nights of sleep you will be able to see trends based on wrist temperature. The temperature sensor can be used for menstrual tracking and give you retrospective information on ovulation cycles.
You can use all this data to get an estimate about when you are likely to ovulate. This is a big deal for women who want a detailed view of their menstrual cycle.
You may say Oura Ring Gen 3 or Samsung Galaxy Watch 5 are also offering temperature sensors. They are taking a different route. Oura is using the data to calculate readiness scores but we are not sure about its effectiveness. There are a lot of directions that Apple could be pursuing their temperature sensor in. With Apple, unless a technology is foolproof it won't be pushed out. We are sure the company has planned out the next few years for the Watch arc.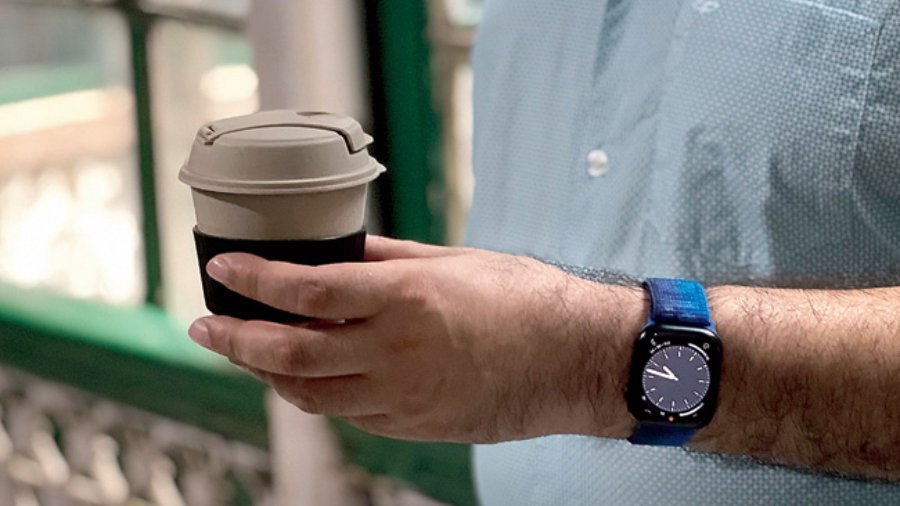 The smartwatch comes in two case sizes — 41mm and 45mm
In motion
The other big change involves improvements on the gyroscope and accelerometer. It basically means the Series 8 can now detect if the wearer has been in a severe car crash. I will always hope nobody has to use it. At the same time, look at how practical it is. These health and safety features make a smartwatch practical.
The Watch can detect up to 256 g-forces of impact and if a person has been in a severe crash, the watch will be able to notify his/her emergency contacts.
The accelerometer and the gyroscope being more sensitive, it can sense changes at levels that it couldn't have done earlier. To a conspiracy theory! A better, faster sampling rate is important. I think of motion tracking and I can't help but write about motion controllers and things like gestures. It could be very useful for Apple to have better motion trackers in watches and other things in the future to use these in tandem with AR/VR devices. For the moment, it's just a car crash feature that's there.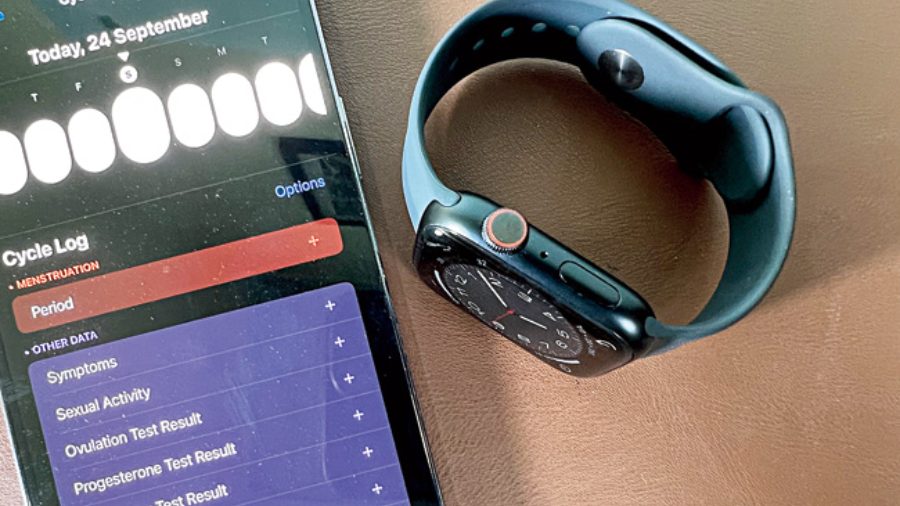 Apple Watch Series 8 gets a new temperature sensor which is designed to help with women's menstrual health
A strong operating system
The Watch cannot be seen in isolation. Integral to the experience is watchOS 9, which has a lot of new features. There is a more advanced sleep tracking that comes with Apple's latest watchOS 9. You will be able to see a breakdown of your sleep stages in details. And one thing I really like is that you can see the data directly on the Watch itself besides on the Health app.
Improvements also come with WatchOS 9 in the form of customisable workout views where you have dedicated views for different information.
Don't underestimate the Compass app
The Compass app has been overhauled. You can drop waypoints or basically little pins marking your location and you can customise the label and colour of these pins so you can sort them easily. There is also the backtrack feature. Start tracking your steps which you can use to get back to wherever you started. I want to see this integrated with Maps in the future.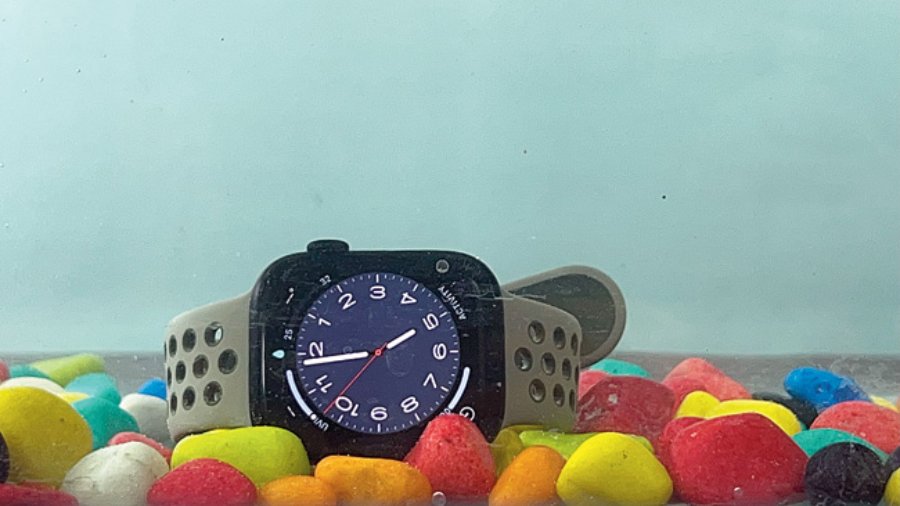 Apple Watch Series 8 is water resistant to a depth of 50 meters
Battery power
You can get up to 36 hours without charging, thanks to the low-power mode. How does Apple do this? The always-on display, background sensors, notifications, cellular connectivity all of that will be turned off but the most essential features will still be on. Otherwise, you will still get a day or a little more than that with the Watch.
Should you buy it?
There are two versions to the Series 8 — a 41mm and the other 45mm case sizes while watch straps from previous generation works. You still have the heart rate monitor, blood oxygen monitor… just about anything you can ask for.
The Watch Series 8 keeps me motivated and helps me move, exercise and close rings. And I know people who love  competing with friends and family members to find out who is more active.
This is a very mature product. Some people can get more glued to the Watch because it lets you ignore the phone. In case you have some very important notifications, it will come to the Watch. The focus on fertility tracking is equally commendable.
I have always believed that companies need to focus on what people need rather than giving unnecessary tech features or designs. Apple is already miles ahead in the smartwatch segment yet it's not taking it easy when it comes to innovations that are practical. That defines the Apple Watch Series 8 — the most practical smartwatch you can have at the moment.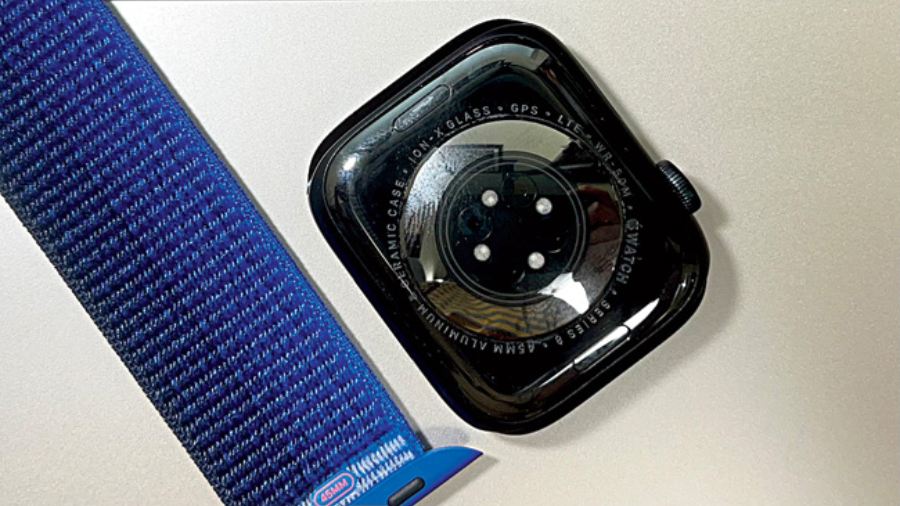 Apple Watch Series 8 has an important feature — crash detection
At a glance
Device: Apple Watch Series 8
Price: Upwards of Rs 45,900
Case size: 41mm and 45mm
High notes
 Temperature sensor looks into women's menstrual health
 Crash detection SOS
 Lower-power mode means longer battery life
 You can joy meaningful upgrades via watchOS 9
 Redesigned Compass app
Muffled note
 Waypoint integration with Maps app will be helpful