Google Nose
It is a truth universally acknowledged that Google can give you the answers to almost everything. Whether they are the right ones, is a conversation for another day. In 2013, Google announced it was taking its search engine prowess to the next level with Google Nose.
Google promised that you would be able to smell what you searched for — puppy, baby, roses, even ghosts. All you had to do was sniff your desktop, laptop or phone screen. Along with the video, there was even a dedicated website, which is still preserved today.
Google Pokemon Master
In 2014, the company advertised an intriguing job opening via a video on YouTube. The JD was exciting and the perks even better — travel around the world navigating all kinds of terrain using Google Maps and find the wild Pokemon that have been let loose. The final round was supposed to happen at Google headquarters and the winner would land a job as Pokemon Master.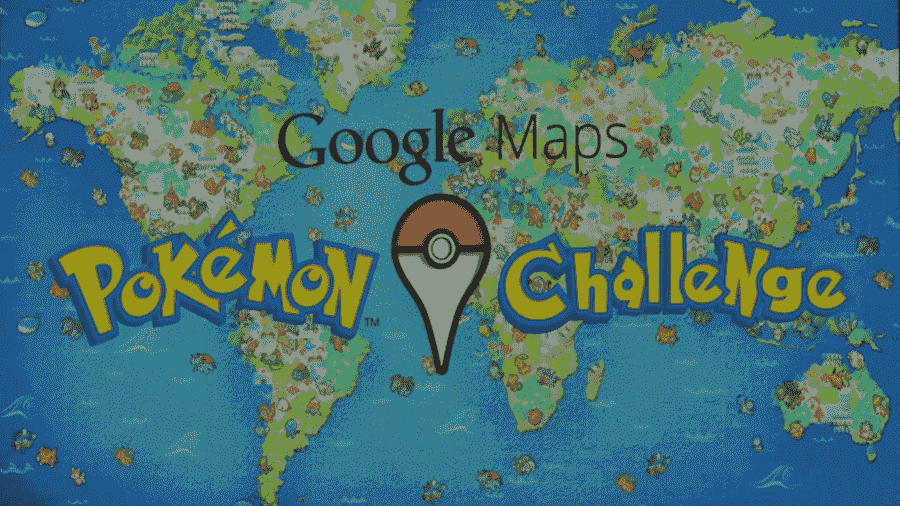 YouTube
Interestingly, the joke was on them because two years later, Niantic Labs — still owned by Google in 2014 — came out with the viral game Pokémon GO. It was redemption for all those who fell for the hoax in 2014, unless they had fallen into a lake chasing Pokemon as many players did.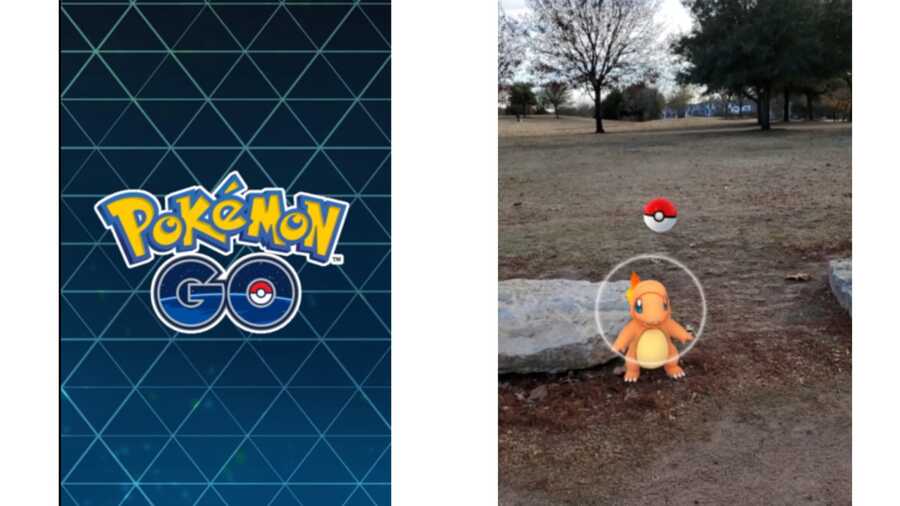 Snapdeal Matrimony
Remember when Snapdeal was the IT thing? 2014, and the company decided to fool people by cashing in on one of India's biggest industries — matrimony. Called SnapdealMatrimony.in, the website was supposed to help you find your ideal match by selecting their most desired qualities, a tailor-made life partner.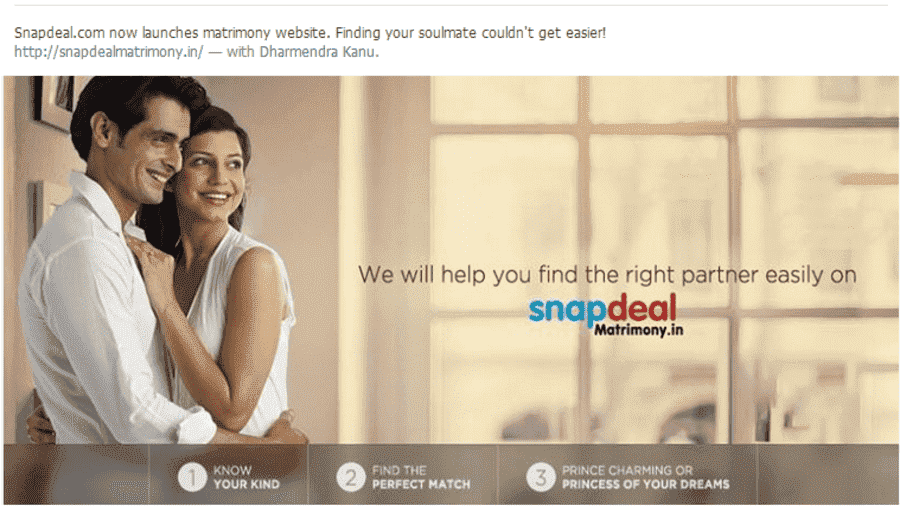 The website prompted you to select a series of (rather stereotypical and sexist) options from a drop-down menu for your desired match and once you went through the steps and reached the end, a cheerful cow told you that you'd been pranked. Snapdeal later released a video on YouTube of the making of this elaborate prank, and it was just as funny as the prank itself.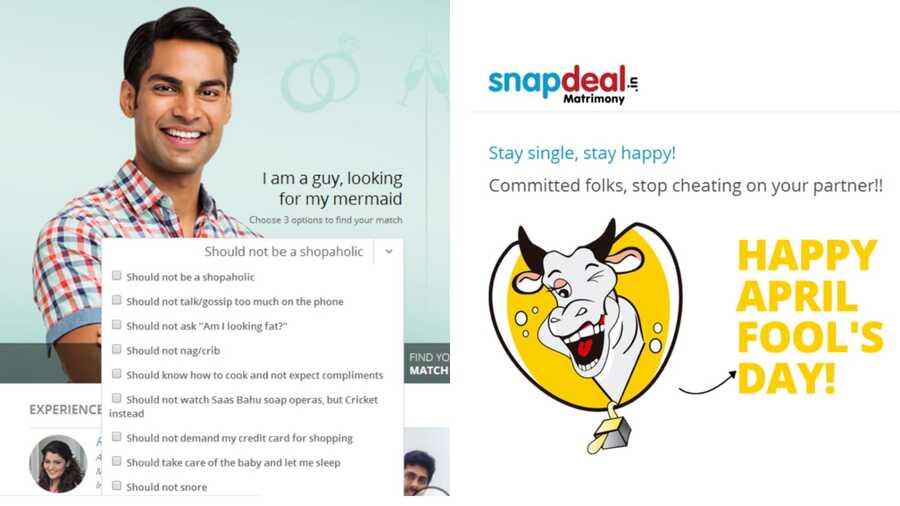 Airbnb's new service, Airbrb
2014 turned out to be a great year for jokes. Holiday rental giant, Airbnb came up with Airbrb. Yes, instead of homes and vocational rentals, you could rent out a desk to work from.
In a promotional video on YouTube, those renting out their desks spoke of the opportunity to make an extra few bucks while they were having lunch or on a 15-minute break. The money meant you could rent a better desk to work from — like your boss's, with books and snacks and even a blanket.
While 15 minutes is far from enough to get one's work done, in this time of WFH, acquiring a desk away from the familiar walls of your abode might just be a bonus.
Swiggy's International Delivery
In 2016, Swiggy teased foodies with this April Fool's prank which claimed that the company would now be able to deliver food across the globe. According to the video on YouTube, if you were craving fried chicken from Kentucky, glazed bison ribs from Canada or shark fillet from South Africa, Swiggy would deliver.
The video is far-reaching and most people saw through the prank, what with claims of sending delivery partners with reserves of liquid nitrogen to keep the food fresh, and putting them through rigorous training in the gym! The idea though, we're all for it. There is the matter of Customs and international laws but one can dream.
Ola Restrooms
App cab company Ola has played pranks on April 1 almost every year. Some of them were rather far-fetched, like 2021's flying car, but some got most people hooked, line and sinker (and hopeful).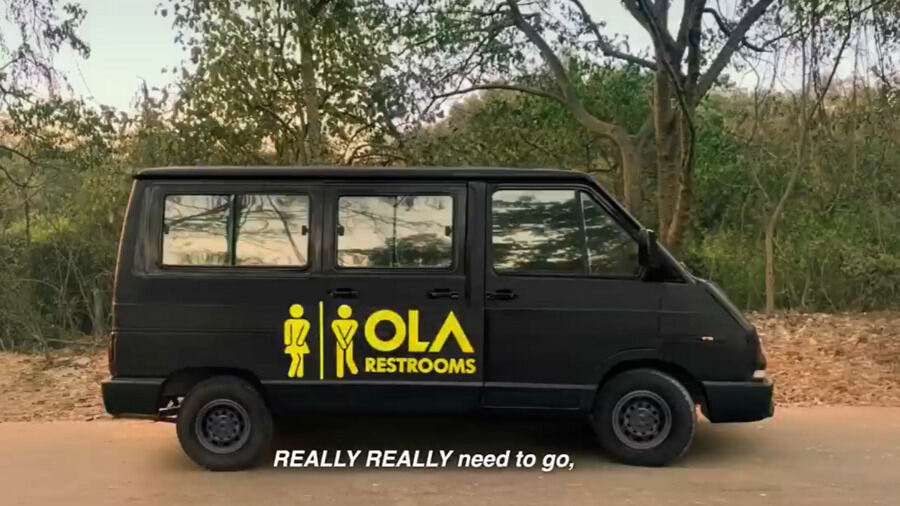 Ola/Facebook
With the tagline, 'When you really, really have to go', Ola introduced its fleet of mobile restrooms, available at a click. The ad was funny and the idea was welcomed, and despite the doubt that it might be a prank, people lauded the move. Understandably, people were not happy when they realised it was an April Fool's Day prank, but Ola redeemed itself by launching a campaign on April 2 to build more public toilets in India. They partnered with Gramalaya, an organisation providing sanitary facilities in rural areas, and began a crowd-funding initiative.
Keventers 'Bhang' Milkshake
It was generally agreed upon that April 2020 was not the time for pranks, so brands went all out in 2021. With Holi so close to April Fool's Day, milkshake brand Keventers capitalised on the festive fervour to launch three flavours — original bhang, strawberry bhang and mango bhang. There was even a caveat that it would be available in select stores only.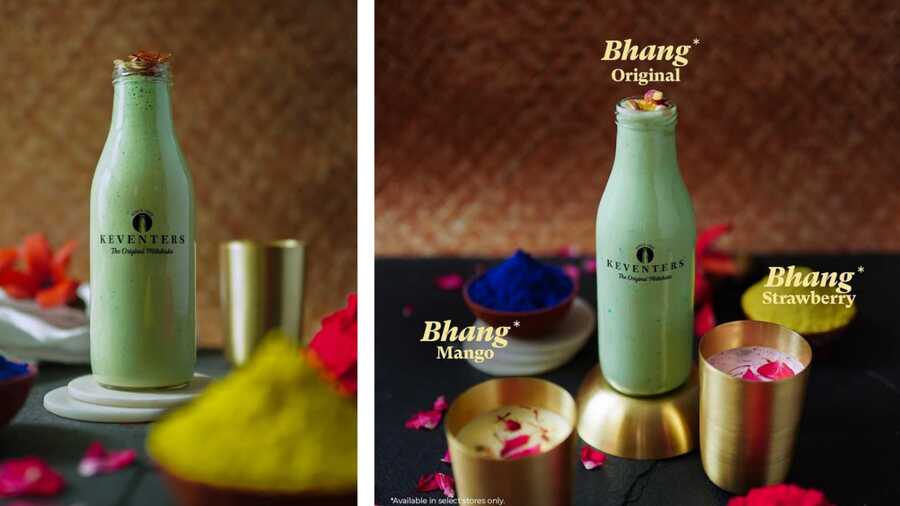 keventers/Instagram
The announcement got mixed reactions from people and some fell for the joke until the company put up an Instagram post to announce that it was a prank.
Zomatcho and FoodieBae
Having a partner who shares your tastes in food is a big bonus for many. In 2015, the food delivery company Zomato, heeded users' suggestions to launch a dating app called Zomatcho to help connect like-minded foodies. The idea seemed to melt faster than a marshmallow in hot chocolate.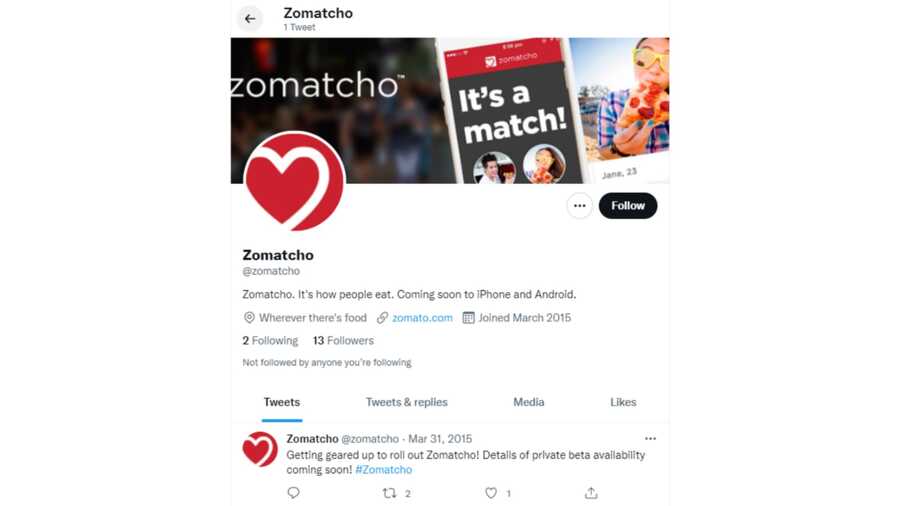 Jump to 2021, and Zomato's Instagram account had a video with a Tinder-inspired aesthetic announcing that they would help people find the chhole to their bhature. The first 10K users were to be given special access. The prank seemed plausible and friends were tagged, stories were shared and tweets were sent out, but unfortunately that date with a delicious meal never happened.