Milan Fashion Week Fall '23 was full of striking contrasts and unexpected surprises. From prim and tailored looks to bold and daring designs, the runways were filled with every kind of fashion imaginable. Fashion houses like Iceberg and Max Mara pushed the envelope with oversized belts and yeti coats, while Giorgio Armani and Alberta Ferretti opted for more subdued and subtle designs that still made an impact. On the other hand, other fashion houses like Prada, Gucci and Fendi celebrated the beauty of minimalism with their classic silhouettes and timeless designs. These collections exuded elegance and sophistication.
The colour palette was dominated by shades of grey and black, but pops of colour such as bright oranges, reds and blues added a playful touch. Materials were equally diverse and included everything from ultra-distressed denim, satin and metallic to more casual fabrics such as cotton, fleece and jersey. Key details included bold belts, shrugged jackets, peekaboo bras, cold shoulders and built-in balaclavas. Cocoon capes and hoodies were also spotted across the runways. Furthermore, knots, cuts, pockets, and drapes were popular details, with designers adding extra functionality and playfulness to their designs through single pockets on dresses and multiple pockets on coats.
Let's take a look at the top trends spotted across the Fall 2023 runways in Milan…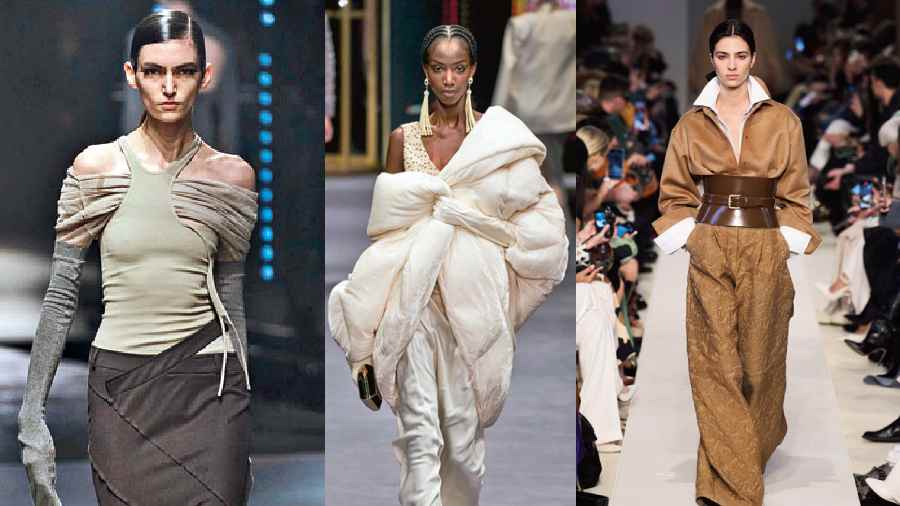 Sleeve Slits
This season, the biggest trend in fashion is the "consciously undone" look. From cutouts and off-the-shoulder necklines to slitted sleeves, designers are bringing a new level of edginess to fashion for Fall 2023. Sleeve slits give an effortless and edgy vibe to any outfit, from jeans and a T-shirt to a maxi dress. The look is comfortable, flattering and helps to show off your shoulders and upper arms, which is why it's been popping up on the Milan runways. Brands like Del Core, Fendi, Andreadamo, Bottega Veneta, Marco Rambaldi, and Vitelli all featured the look on their runways.
SHRUGGED JACKETS
This season, one of the hottest trends that is sure to make a statement is the 'shrugged jacket' look. From Antonio Marras to Del Core and Etro, designers have been sending models down the runway with their jackets nonchalantly slipped off their shoulders. The shrugged jacket look is a simple yet stylish way to instantly update any outfit. Whether you wear it off both shoulders or casually draped over one, it instantly adds an effortless and cool vibe to any look. This trend is sure to be a major hit this year.
BOLD BELTS
The Fall 2023 fashion scene was all about one accessory: Bold belts. From Max Mara to Anteprima, Blumarine, Tod's, Giorgio Armani, GCDS, and Bottega Veneta, it seemed like every major designer was embracing this bold and stylish look. Belts are the perfect way to add an extra bit of detailing to an otherwise simple outfit. They can be used to cinch in a dress or to add a bit of structure to a blazer. Whether you're wearing a tailored blazer and trousers, a simple dress, or even a jumpsuit, a statement belt can instantly transform your look.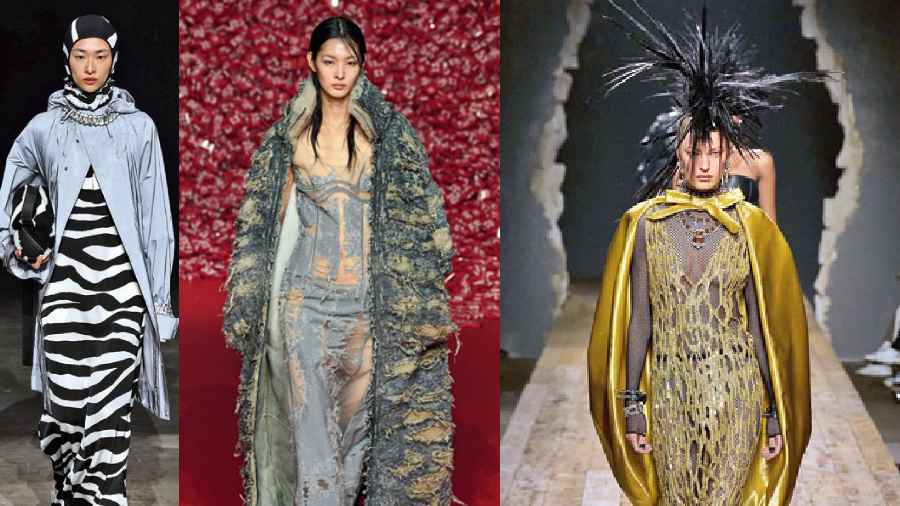 BUILT-IN BALACLAVAS
Fall 2023 is the season for balaclavas and knit head coverings! From accessories to built-in looks, balaclavas are a must-have for the season. Designers like Jil Sander, Bally, Antonio Marras, and Alberta Ferretti have all embraced the balaclava trend and incorporated them into their Fall 2023 collections. From classic balaclavas to more stylish and modern interpretations, these designers have crafted looks that will have you looking cool and staying warm all season long.
ULTRA-DISTRESSED DENIM
Denim has been a staple part of fashion for decades. For Fall 2023, Diesel and Roberto Cavalli have pushed the boundaries of denim to create ultra-distressed denim looks. From oversized jackets and trousers to trench coats and boots, ultra-distressed denim pieces were everywhere. The pieces were seen in classic blues, blacks and greys, as well as indigo and acid-washed hues. The distressed denim was complemented by other pieces like leather accessories, providing a rugged and chic street-style-inspired look.
COCOON CAPES
Superhero, but make it fashionable? This season, designers are making capes the must-have item for the fashion-forward crowd. From Prada to Sportmax, Moschino to Trussardi, the runways have been awash with rounded cape details, transforming everyday looks into those of an on-trend superhero. So what is it about cocoon capes that have made them so popular? Well, they offer a certain level of protection. Not only are they incredibly stylish but they can also provide some warmth and comfort when out and about. They are also incredibly versatile and create a dramatic silhouette that stands out from the crowd. Whether draped over your shoulders or tied around your waist, cocoon capes can be the perfect way to add a touch of mystery and intrigue to any look.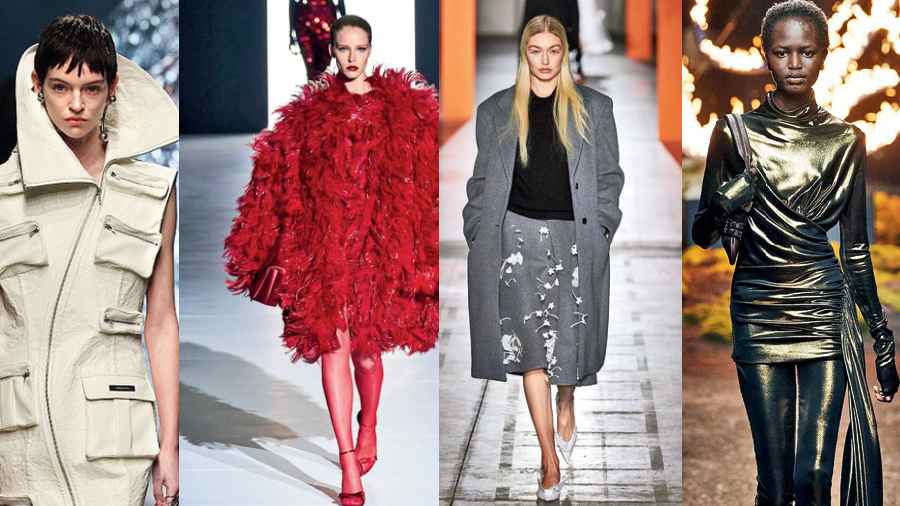 POCKET POWER
It's time to leave the bag at home and take your style to the next level with the pocket-heavy trends of fall. This season, it's all about taking only the essentials with you and keeping your look simple. From cargo pants to maxi skirts, there's no shortage of styles that have more than enough room to house your daily necessities. The skin-tight cargo pants from Diesel are the perfect combination of style and functionality, giving you plenty of room for all the items you need throughout the day. Speaking of style, Prada took this trend one step further with a wool cape featuring four pockets front and centre.
YETI COATS
Yeti-style coats have recently taken the podium. Whether you choose a furry or feathery textile, these coats are sure to keep you warm and fashionable. Gucci, Roberto Cavalli and Dolce & Gabbana are some of the designers who have embraced the Yeti coat trend. Gucci offers a Cruella Deville-style coat in blue fake fur, while Roberto Cavalli's coats take art imitating nature to the next level. Dolce & Gabbana has opted for eye-catching red feathers, and Moschino has something for everyone with its multicoloured plumes. Max Mara has crafted supremely comfortable teddy bear coats in classic styles. MSGM has also embraced the trend in mauve, lemon, and white boucle, with fringes or long fur. Finally, Ferragamo's iterations come in pearly grey or flaming red. When it comes to staying warm and fashionable this winter, Yeti-style coats are the way to go.
UTILITARIAN FITS
On the runways of Milan, Prada led the way in showing us how to incorporate uniforms and utility garments into our look. Prada's collection featured a mixture of World War Two operator's capes as well as nurse's uniforms, all with a modern twist. The nurse's uniforms were transformed into long shirts with short trains and the operator's capes were given a feminine touch with the use of tight-fitting trousers and high-waisted slimline slacks. Tod's took a different approach to this trend by featuring aviators' jackets and leather officers' belts with little pockets. Fendi went even further by deconstructing blue workman's overalls and adding aprons to trousers. The use of uniforms and utility garments in fashion can be an interesting way to create a unique look. You can give a subtle nod to these classics or go all out with a full uniform look. When done properly, the result can be interesting and stylish.
METALLIC MAGNIFICENCE
The metallic trend for the year is quickly picking up momentum, as seen on the Milan runways. From Ferragamo and Blumarine to Giorgio Armani, the trend is making waves in fashion circles. At Ferragamo and Blumarine, body-hugging fits took the lead. Models strutted down the runway in shimmering, tight-fitting pieces, ranging from body-hugging minidresses to sleek metallic jumpsuits. The overall effect was eye-catching and fashion-forward, proving that the metallic trend isn't just for evening wear anymore. Meanwhile, Giorgio Armani took a different approach. Rather than embracing the body-hugging fits, he presented a silky PJ-looking set. It's a comfortable look that can still make an impact. Whether you're lounging at home or stepping out for a night on the town, Armani's metallic set is perfect for any occasion. The metallic trend is the ultimate way to add a bit of sparkle and shine to your wardrobe and is a great way to stand out from the crowd.