The Durga Puja in Kolkata exposes a contradiction at multiple levels that one has been unable to decode.  
One, for 355 days a year, Kolkata is a visually drab city at the street level; during Puja, it transforms into possibly the greatest street installation art show in the world; neighbourhoods you would not give a second glance (seen the narrowness of Nalin Sarkar Street?) attracting well-meaning enquirers with the standard question: "Ki korey korlen eta?" 
Two, the transformation is the result of a number of artists working in silo on their respective installations; it is an irony that possibly the largest collection of installation artists are never brought together by the government with a single line agenda: "What can you do to transform the face of our city for the remaining 355 days?"  
Three, what we curate with patience, we destroy in a hurry. There is no museum to archive 10 outstanding installations (a Rabindra Sarobar museum had been created for this purpose but is disused and forgotten). In another country, the Haridevpur Puja installation by Sushanto Paul would have been preserved and ticketed. If you go back there a fortnight later, it will be plain ground with neighbours possibly tossing garbage into it.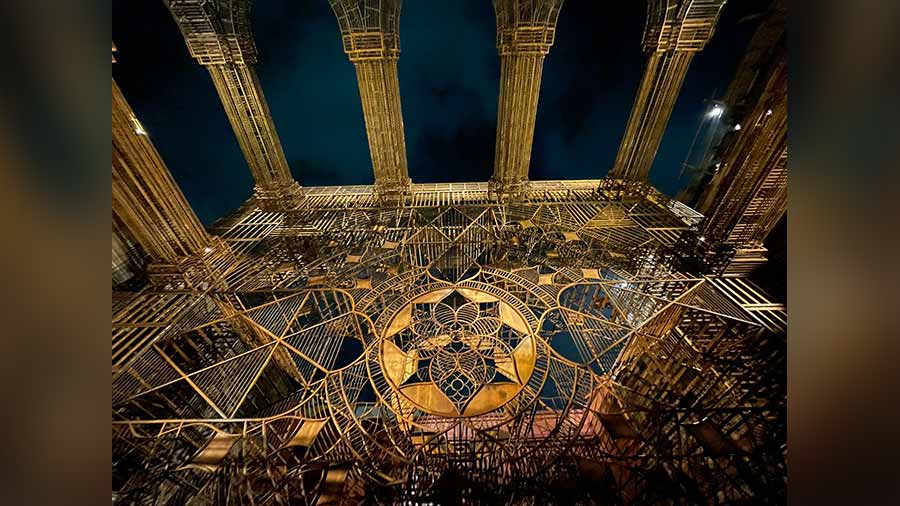 Another facet of the Haridevpur installation by Sushanto Paul. Try reversing this picture as well to appreciate the full effect. This installation should be archived and preserved
Mudar Patherya
Four, the general word is that Kolkata does not possess the spending power of Mumbai, Bangalore and the NCR. Why is it then that we host a grander public spectacle than any of them with relative funding ease, relatively no extortion in the name of Puja chaanda, no Puja committee going bankrupt and no ticketed revenues (compare this with multi-pounds paid to see Anne Hathaway's cottage in Stratford-on-Avon, possibly the most irresponsible spending one has ever done)?
Five, there is a general theory that Kolkatans are experts at maaroing phaanki and doing less with more. When was the last time you saw a Durga protima half-complete on Sashthi?
Six, the general complaint is that most Kolkatans are poor people managers; no two Kolkatans seem to agree on anything ("Yeh mera kaam nahi hai, uska kaam hain"). And yet, puja committees coordinate across sponsors, visualisers, artisans, electricians, contractors and residents, and deliver the installation on schedule.
Seven, the average Kolkatan expounds, debates, exaggerates, dissents and engages. The Kolkatan could be the ideal marketing manager. And yet, when it comes to marketing Kolkata's Puja, a tried and tested 'product', we have done a hash job. Consider the numbers: there could be 4 million people out in the streets every night for at least five nights (20 million in all conservatively speaking) compared with Rio de Janeiro Carnival (five million people) and Edinburgh Festival (crossed 3 million for the first ever time in 2019). The irony is that you will struggle to get a five-star room during the Carnatic Music Festival in Chennai, which is miniscule in terms of numerical impact; you will be able to get any number of five-star hotel rooms in Kolkata during the Puja. The reason? If you tell Indians in other parts of the country about the unforgettable grandness of the Great Kolkata Show, they will have only one question: "Really?"
Eight, whenever you see a canvas, you check the name of the artist in the corner. In most Kolkata pujas, you will need to enter the pandal 'office' and ask for the names of the artists who curated that puja. Most simply do not bother giving out the name, which in some ways represents a copyright infringement (not acknowledging public art should be considered an official transgression). Some pujas that made an exception were the three curated by Sushanto Paul; his Tala Prattoy installation displayed candid work-in-progress pictures of more than 200 hands who worked on that showpiece (hope this becomes a trend).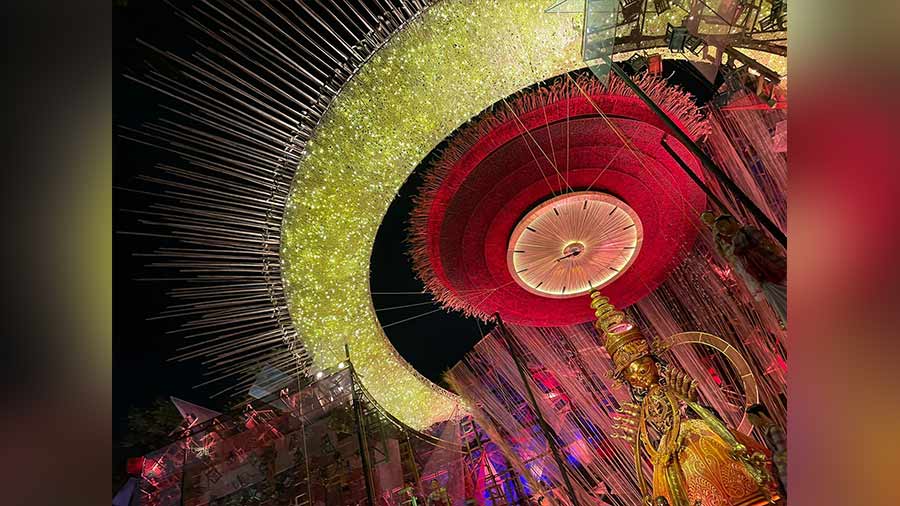 The Tridhara installation. If you care to overlook the garishness of colour, there is a message on time and its perishability. With no mention of the artist curator. A pity
Mudar Patherya
Nine, every Kolkatan is a storyteller (born, influenced or imitating). And yet, no puja committee (safe generalisation) has ever communicated the story of what their installation stands for. What is the big idea? What are the shadows supposed to mean? Why is the pratima 20ft high? Why has tin been used instead of glass? What is the overhead clock dial implying? Why have car steering wheels been used on the flanks? If you can figure all this out, I bow to you, O master! An idea: what if a puja appreciation walk could be conducted for a specific puja? Well, footfalls would spike comprising genuinely interested listeners, for one.
Ten, one hears that Kolkatans are not competitive enough and an average resident becomes an achiever only when transferred outside the city. And yet, Kolkata aggregates the largest national festival show each year with resident hands, the Puja gets bigger and better (possibly) each year and the only other national public celebration that comes to mind is Ganesh Chaturthi in Mumbai (distant second in terms of grandeur, aesthetics and imagination) — clearly an instance of imagination prevailing over commerce. The curators of Sreebhumi's puja never got within 7,218km of St. Peter's Basilica but designed something that deserves a "Well done" WhatsApp from the Pope.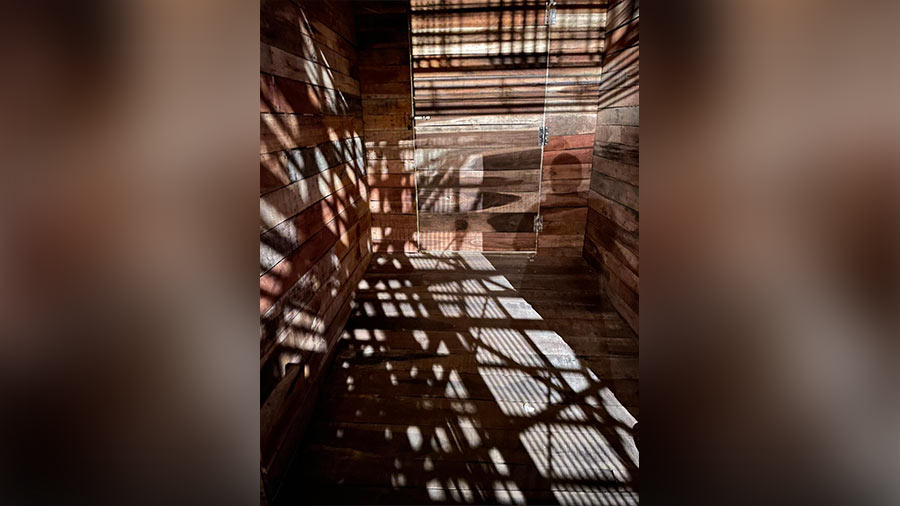 The author, a shadow chaser, chanced upon this at the Haridevpur puja
Mudar Patherya