Cosy, warm and inviting. Bohurupi Santiniketan's new studio in Graham's Land in Tollygunge has a lived-in feel. Roy Abhisek, the force behind Bohurupi Santiniketan, has restored an old house to transform it into his 1,000sq ft "studio-cum-workshop". Abhisek, who has studied textile designing in Santiniketan and has been living in Calcutta for the past decade, harbours a love for the retro. And, the store is a living example of the romance. Right from the gate to the first floor and the terrace, there is a vivid vintage charm which is also contemporary-cool. One can spend hours in the verandah with a cup of tea, engrossed in addas or lie down under the chandelier made of recycled cloth.Abhisek has launched with a wide collection for men as well as women. "Womenswear was there but not so prominently," he says. Besides jamdani and addi collections, he has also come up with a collection made from leftover fabric. To mark the launch, Bohurupi Santiniketan shot their collection with Swastika Mukherjee and Diti Saha for this special The Telegraph feature. An album.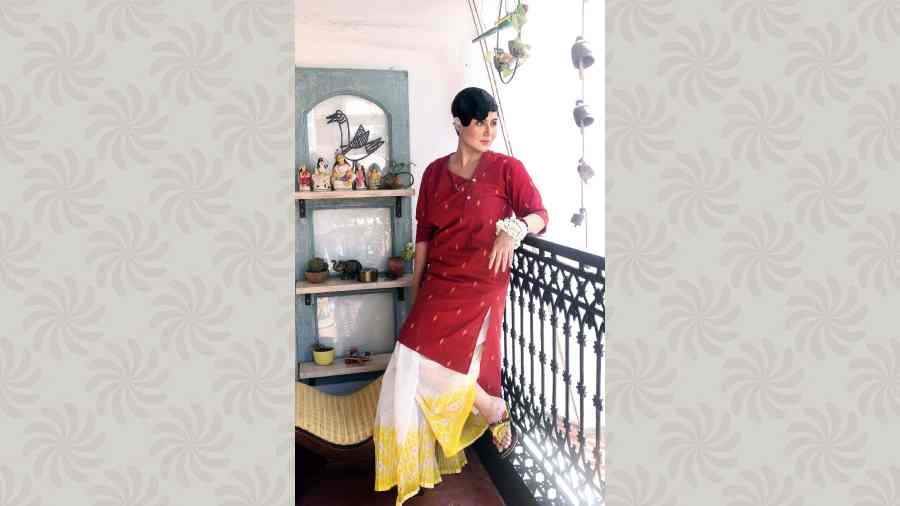 Swastika Mukherjee pulls off a cotton kurta-dhoti combination like only she can. Effortlessly and with ease. We absolutely love the border of the dhoti that matched with the motifs on the kurta. The parrot chappals complete the summer brunch look. Hair and make-up pro Abhijith Chanda gives her wow vintage waves, accessorised with a silver hairpin by Jalsaghar-Calcutta, the dot of magic that lends it the charm. The make-up is kept clean in tune with the gender-neutral vibe of the look. "I definitely wanted to wear a dhuti-panjabi. I love wearing dhotis and have two-three, white mixed with different borders. You need help with draping a dhoti because everyone is not good with wearing a dhoti. For people of my father's generation, it was as easy as wearing a trouser and a shirt, but nowadays I think men also prefer a stitched one because it is easy to move around in. It's smart and comfortable. I think men are wearing our clothes more than we are wearing theirs'! Dhoti and panjabi is specifically a man's wardrobe. We should start wearing it. You can wear your partner's clothes or your brother's or brother-in-law's! We should wear a dhoti-panjabi to a wedding for a while rather than the sari!" smiles Swastika.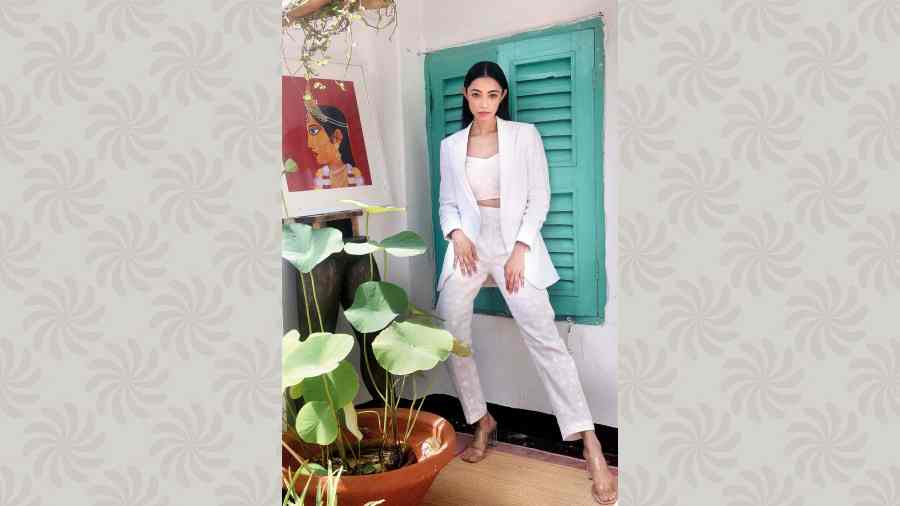 Diti Saha looks fresh and fabulous in a jamdani suit, great for a summer evening soiree. The no-fuss coolness is a winner for us. "The jamdani suit is so comfortable and white is one of my favourite colours," says Diti.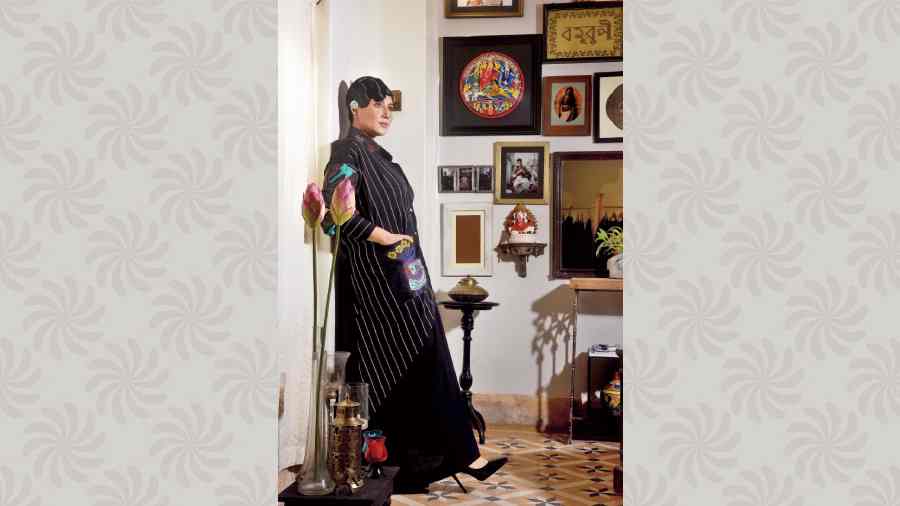 This frame oozes drama as Swastika gets into an outfit made from a combination of leftover fabrics, in cotton, with kantha embroidery.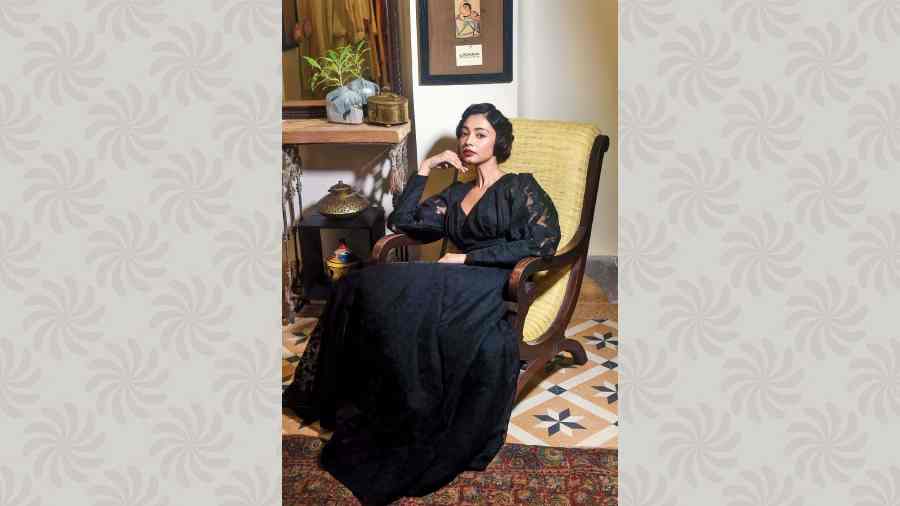 The black jamdani dress on Diti is total red carpet. Abhijith styles the hair in vintage waves and seals the vintage glam with red lips. "I want the looks to be retro to go with the new studio," says Abhisek.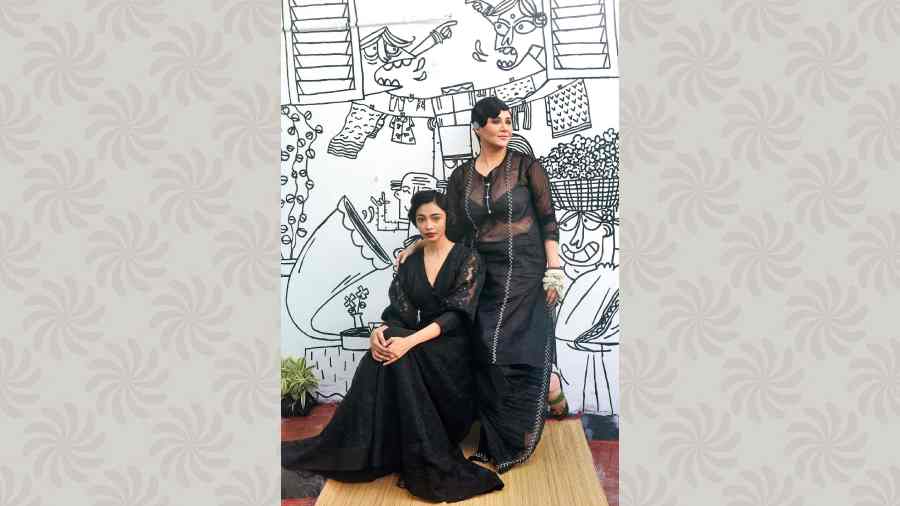 Peals of laughter (BTS gold) follow the first few shots of this frame. "I had told Abhisek that do you want me to feel extremely conscious and starve for three days before the shoot and run to the gym before and after the shoot?! I had almost written it in my contract that 'no duet shots with Diti'.... This doesn't mean I am unhappy with my body. More than anything, it's important to be healthy!" laughs Swastika as she poses in her black addi kurta and cotton dhoti, a striking look. Diti too is ROFL. "She has this aura around her and for me it's one of those days that I am sharing the frame with Swastika Mukherjee. She always makes you so comfortable," she says.
More about it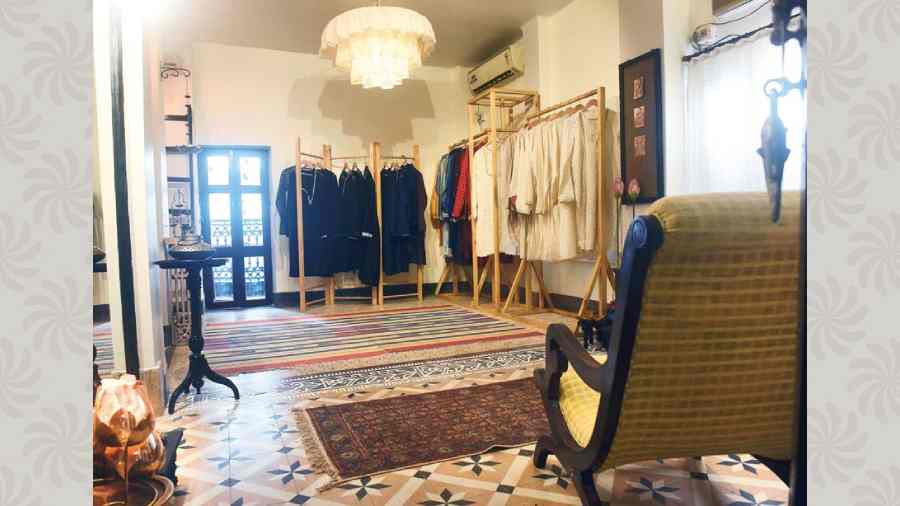 What: Bohurupi Santiniketan
Where: 20/12B Graham's Land, Tollygunge, NSC Bose Road
Timings: 11am to 8pm; closed on Mondays
Pictures: Pabitra Das
Hair and make-up: Abhijith Chanda