Raj Chakraborty's August 11 film Dharmajuddho — starring Swatilekha Sengupta, Subhashree Ganguly, Parno Mittrah, Ritwick Chakraborty and Soham — is set in a small town. One night the town descends into anarchy as clashes break out. Four people take shelter in the house of an old woman, who awaits her son's arrival. The Telegraph chat with Subhashree and Parno...
Both of you started out in the industry in 2007 but this is the first time you have come together for a film...
Subhashree: We used to hang out together, often at my place around 2013. We kept in touch... we had common friends.
What were your thoughts on each other's films at that point of time?
Parno: I just thought she was very hot!
Subhashree: 'She was'?! Excuse me! (Both burst out laughing)
Parno: She is very hot! And a great performer. I love watching her dance. The way she has evolved over the years is brilliant. It is so good to see her this way. She is so sorted; has a beautiful family and balances her work and family life so well. She is so graceful and I just love the way she carries herself.
Subhashree: I remember Parno's scenes from Bedroom. Her body language was amazing. I had seen her in Ranjana Ami Aar Ashbona. But in Bedroom she was outstanding.
Parno: That is one of my fave characters.
Subhashree: She is so friendly, warm and funny. In the past she has helped me a lot, which normally heroines would not do to each other.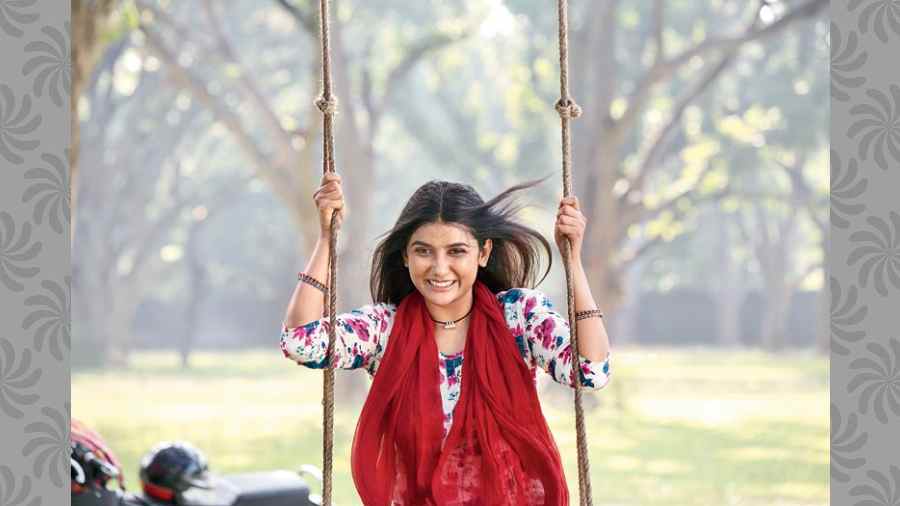 Parno Mittrah in Dharmajuddho
Taking off from this, do you feel there is a sense of camaraderie and bonhomie among the heroines now?
Subhashree: The friendship happens, evolves and remains, whatever be the situation. If a person is destined to be in your life journey, then he or she will always be there.
Parno: Everyone has a purpose. I'm very content with who I am and what I can deliver. I have seen people are not what they show. I don't believe in keeping fake friendships. I have come here to work. I am amicable. It's about how you look at life. If someone is not comfortable being your friend, that friendship will not remain.
But does it hurt at times when someone doesn't meet those expectations?
Subhashree: Not any more. Maybe it did affect us when we were starting out.
Parno: And it is not just about the film industry. You are going to meet people who are going to disappoint you, hurt you, and you have to deal with it. That's life.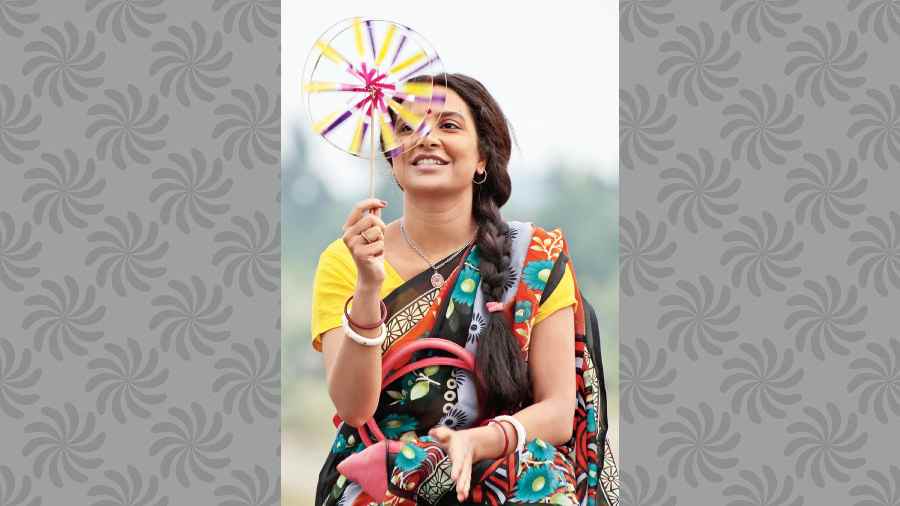 Subhashree Ganguly in Dharmajuddho
Both of you have been successful in  different streams of cinema — Subhashree in commercial films and Parno in middle-of-the-road movies. Now, though, the paths have merged, and there is only one kind of cinema now...
Subhashree: I had never felt this difference (of commercial and art films). Both of us portray our characters faithfully and sincerely.
Parno: Only difference was that her films had a bigger budget and they could go to foreign locations to shoot! (Laughs)
Subhashree: If I feel happy about a script, I'll say yes.
Parno: I had auditioned for Paran Jaye Jolia Re.
Subhashree: And everyone wants to do that larger-than-life film.
Parno: We have grown up watching Madhuri Dixit films.
What were your first thoughts when you heard the story of Dharmajuddho?
Subhashree: It is very relevant and such a humane story. Humanity comes first. Raj has told this story so well that it will easily connect with everyone.
Parno: I was floored when I first heard it. I started visualising the character and how to go about it.
Subhashree: Raj is so passionate and emotional and has captured the essence of the story brilliantly. And he has the larger-than-life vision, which you can see in the film's scale, scope and mounting.
Parno: This is my first film with Raj. I really enjoyed working with him. I love his passion... he has so much clarity. If a director has clarity and vision, it becomes easy for us actors. At the end of the day it is his baby and he knows how to nurture the child. We know exactly what he wants.
Subhashree: You will be moved after watching the film. Once the end credits roll, you won't be able to speak for a few minutes. This actually happened twice, at a special screening and at KIFF (Kolkata International Film Festival)... it had such a huge impact on the audience.
Tell us about your characters...
Parno: I play a college-going girl in love with a Hindu boy... and there's the whole problem around the Muslim girl and the Hindu boy. Finally she has to flee and take shelter. She starts off being a sweet, innocent girl who turns to her survival instincts, and she becomes feisty. She has trust issues. And at one point she goes through catharsis.
Subhashree: My character is soft, vulnerable, comes from a village, has a loving husband, and is heavily pregnant. And she gets stuck in a riot-like situation, and then it's about how she fights for survival. We shot the film mostly in Purulia. And the story unfolds through the course of a night when strangers take shelter in a home.
How was your shooting experience with Swatilekha Sengupta?
Subhashree: It's a huge takeaway for us that we got to work with Swatidi. It was a treat to watch her perform. She was full of energy... was always there on the sets.
Parno: That generation has a different level of passion for their art. They are so dedicated, passionate.
She was unwell and yet she had so much energy.
Subhashree: She had so much love for the craft. She was enjoying herself.
You have these intense scenes together in the film...
Subhashree: And we had a fight scene... which was not there in the script.
Parno: And I was like, 'How do I go about the process when the other character is pregnant?' It shows my character in a bad light.
Subhashree: And I was like, 'How do I fight back?' But then it is about protecting my child, and she becomes fearless.
Parno: And we didn't have time to prep for that scene.
Subhashree: This scene has a huge impact, people started clapping at the screening... and after a few minutes there's another scene featuring the two of us, and I'm getting  goosebumps thinking about it. It is so meaningful.
Picture: Rashbehari Das