Not heavy rather heavyweight. That was the laptop, which found space on my office desk, in my backpack and at the cafe for a week. It's more of an ultrabook that has struck the right balance between being light and compact on the one hand while speedy on the other. It's not unusual to find ultrabooks that lean towards just being compact; not this one… it's a perfect companion for work… and mostly work. Asus Zenbook 14 Flip (UP5401) makes life at office and beyond uncomplicated.
Asus has lately been using something like an outside-inside policy, which basically is about getting everything right about a machine. The chassis has a great build, the monitor is among the best money can buy and the processor is nimble enough for most tasks while each machine in the stable knows its target audience. Here, it's the office-going crowd.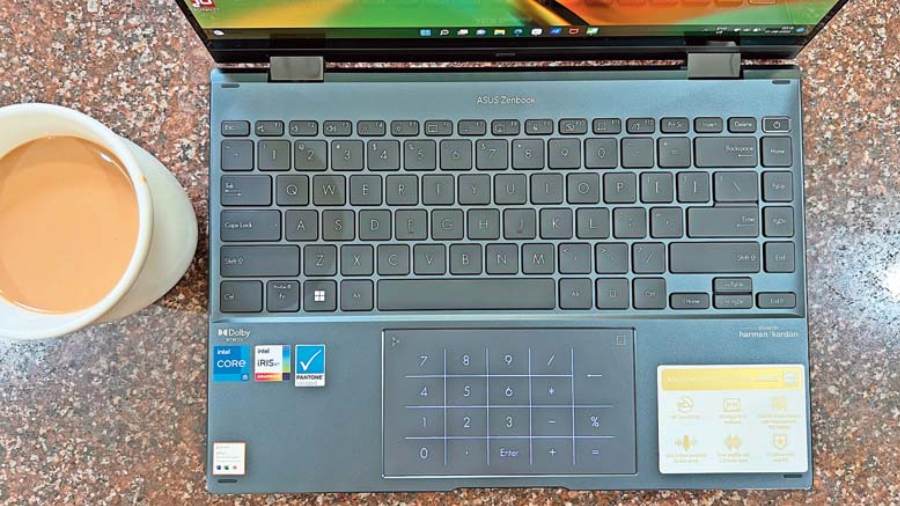 The trackpad doubles as numpad
Perform to impress
Office work will obviously vary but certain things apply across the board, like using Chrome to the extreme, keeping 30 tabs open at one go. The machine can handle this effortlessly and switching between programmes is free of hiccups. You just can't fault it. The review unit we have is powered by 12th Intel Core i5-12500H (Iris X graphics) and 16GB RAM (LPDDR5) — a descent spec sheet.
Some of the software packages that are close to my workflow include Office 365, Slack, Photoshop, Premiere Pro and Sound Forge. Most videos that are getting on the machine are simple, having single or dual layers with a basic audio track. I don't need a multi-track workflow with crazy 4K editing. It's not a laptop for that kind of work. Same goes for Photoshop — it's some basic photo editing with a few layers. If you are looking at gaming, sure it can handle most titles but you can't push the machine hard enough.
The point is, most people want a laptop that will serve them well at office as well as at home for entertainment. The Flip 14 is that kind of a device. Plus, it's light enough to carry around during commute.
Making the laptop standout is first the keyboard, which is a full-size one with good key size and key travel. I rarely come across such excellent keyboards with the perfect backlighting. To make space for the keys, the numpad has been worked out differently — the trackpad doubles as numpad. There is a touch button on the trackpad, which turns on numbpad functionality. It's comfortable to use and well-designed.
What I don't understand is the placement of the power button. A few months back I reviewed an Asus laptop that had the power button on the left-hand side of the del key, which had a corner placement. The idea was to stop people from pressing the power button by mistake. This time, the power key is back on the extreme top-left, though it functions pretty well.
Heat management too is quite good. Look anywhere on the laptop and there is some ventilation or the other, which is quite good and the machine hardly becomes hot to touch.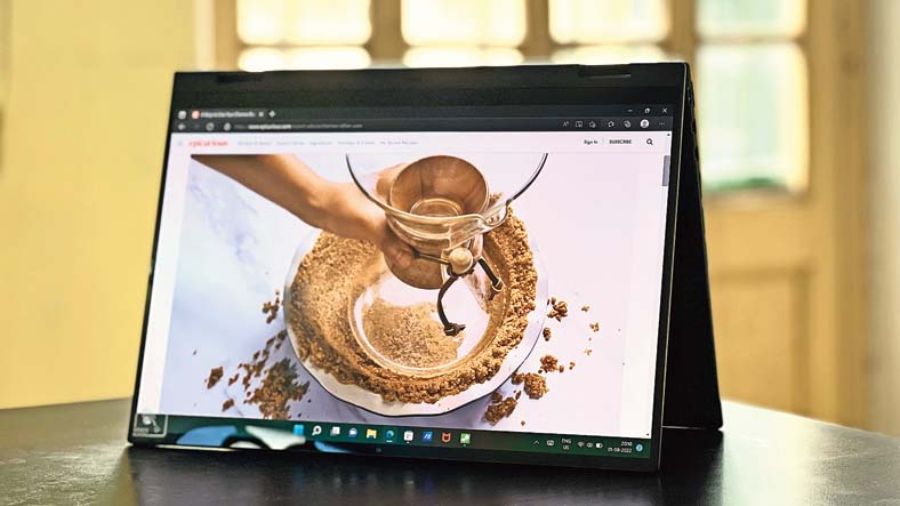 The machine can be used in tent mode while watching films
Display magic
The real magic of the device lies in the quality of display. It's OLED all the way. And once you get used to working on OLED screens, it's impossible to switch over to any other technology.
Offering a screen ratio of 16:10, the display covers 100 per cent of both sRGB as well as cinema-grade DCI-P3 colour gamut, besides supporting HDR. The colour are as you would expect — bright and it pops.
Keeping the camera company is a decent set of speakers that support Dolby Atmos. I am not saying the speakers will get extremely loud but there is good instrument separation when you are listening to music. And dialogue delivery too is clear.
On the outside, it's a premium look. Asus has not thrown in plastic into the build, ensuring the machine lasts for years to come. And the minimalist look goes well with the design philosophy of our times.
You can use the machine in tent mode to watch films or make video calls as well as a tablet. I am not a big fan of laptops turning into tablets but while using the system in tent mode to watch films, it worked perfectly well. The display did not give away as I took tent mode through several stages. There is support for the stylus but, once again, it's not particularly useful for me.
Should you buy it?
This is where battery comes into play. It's impossible to fathom battery life because workflows differ — yours can involve more photo editing while mine can be more about browsing. In case you are looking at a decent mix of watching movies and browsing, you should manage nine to 10 hours of on-screen time, which is more than enough for a day.
There's really nothing to dislike about the machine because Asus has sort of stamped "work" all over the laptop. You need something light in your bag and that's what you are getting. There are a few key characteristics that make Asus Zenbook 14 Flip (UP5401) standout, namely lightness, heavyweight performance and the ability to take the laptop experience to a new level. After having worked on the OLED screen, it's almost to switch tracks.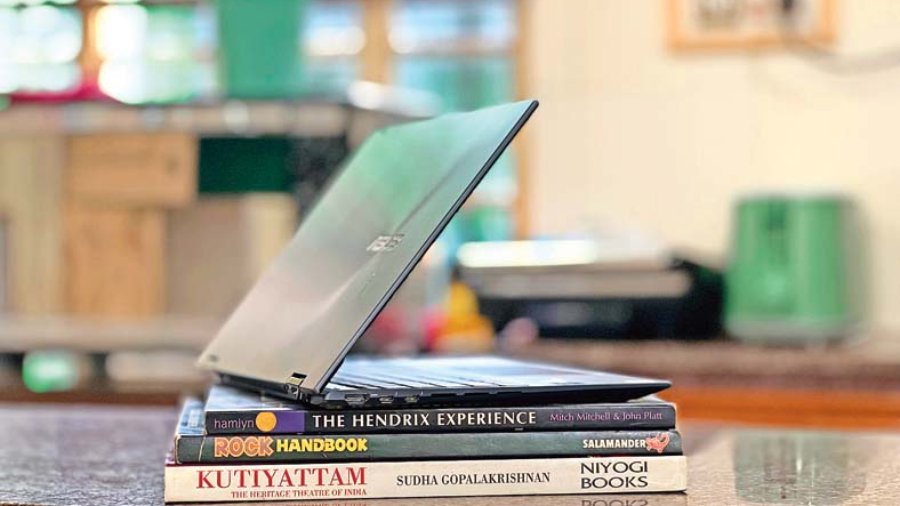 The laptop comes with a strong chassis and the lid has almost zero flex
At a glance
Device: Asus Zenbook 14 Flip (UP5401)
Price: Upwards of Rs 99,990
Weight: 1.4kg
Ports: USB 3.2 Gen 2 Type-A, two Thunderbolt 4 (supports display / power delivery), HDMI 2.0b, 3.5mm combo audio jack and micro SD card reader
High notes
u It's all about the display
u The machine is light yet powerful
u Great for office use
u Battery easily lasts a day of work
u Keyboard is comfortable to type on
u Strong chassis
Muffled note
u Speakers are of good quality but not loud enough