There's a good chance you've reviewed your data storage in a post-pandemic world. WFH lifestyles have altered work routines and also the way we store our files and images on the cloud and in physical data storage drives. It's also brought SSD storage drives into the mix.
Demystifying the SSD
An SSD (Solid State Drive) doesn't have moving parts; in that sense it is similar to a USB drive or memory stick. The data is stored in microchips. SSDs are faster, lighter and use less energy. Speed is one of the key advantages; SSDs edge out HDDs on this front. An HDD (Hard Disk Drive) uses a mechanical movement to acquire information that typically takes longer than an SSD. Many of the newer SDDs are also more durable and are designed to withstand drops without any loss of data. These benefits come at a price. SSDs are typically four times more expensive than HDDs with similar storage
SSD or HDD?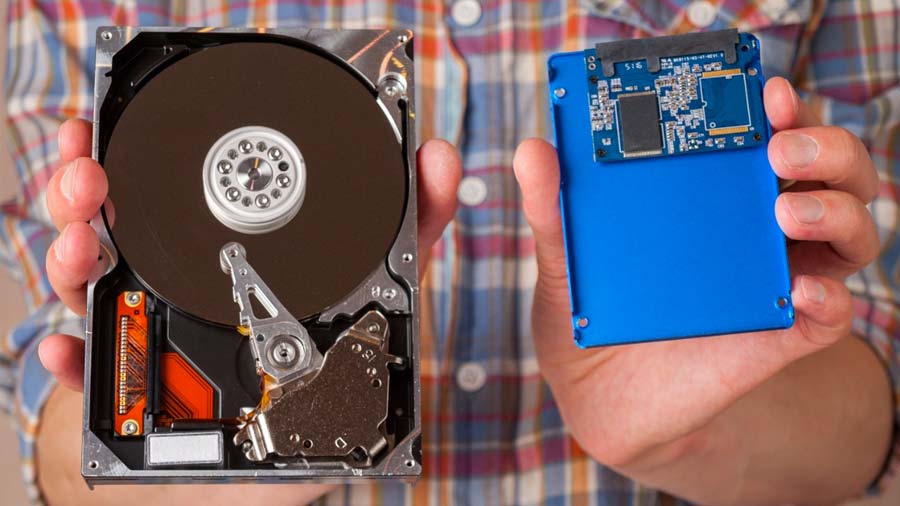 A HDD and an SSD
Shutterstock
This one boils down to individual data storage needs. If you don't have more than 1TB of data to store, you could opt for an SSD storage drive and access it at will. But if you are sitting on a heap of files and images/videos that you've accumulated over many years, we'd suggest an SSD + HDD option. Store laptop or device back-ups and files or images that you don't need on a daily basis on HDDs. Opt for an SSD for files you are likely to access on a regular basis. Your SSD effectively supplements your laptop or tablet or even smartphone storage. Most SSDs allow you to run games or apps directly from the SSD drive. 
Check out these SSD drives
Seagate One Touch SSD: This featherlight SSD drive weighs under 50g and comes with a three-year limited warranty and rescue data recovery services. This Seagate device offers lightning-fast transfer speeds – 1030 MB/s and comes in three storage and three colour options. You can connect to Windows, Mac and Android devices with both USB-C and USB-C to USB-A cables in the box. Available here for Rs 6,399 onwards.
Seagate One Touch SSD
Samsung Portable T7 Shield: This is one of the most rugged SSDs out there. The Shield boasts of IPS65 dust and water resistance and is drop-proof (up to 3 metres). The high-tech rubber exterior controls heat to maintain steady performance. Security features include password protection with AES 256-bit hardware encryption. Speed is a given – the T7 Shield delivers transfer speeds of 1,050MB/s. Available here on the Samsung virtual store for Rs 11,299 onwards.
SanDisk Extreme Pro Portable SSD: True to its name, this storage device is ready for the elements. The Carabiner loop is a handy design touch and secures the drive to your belt loop or backpack. Perfect for those outdoor trips when you're likely to snap images non-stop. The durable rubberised coating can handle any impact, while an IP55 rating offers dust and water resistance. (From Rs 7,749 onwards)