Ever thought of getting a ghettoblaster in the form of a Bluetooth-enabled speaker? We are talking about something that's built for adventure and, at the same time, built to last. Recently we came across the Sony SRS-XG300. Of course, the name gives away a lot. The company's X-prefixed speakers feature Sony's party-friendly X-Balanced Speaker Unit. In case you believe that parties need to be a heavy-duty affair then take a look at XG500.
Being a rough-and-tough candidate, the speaker is, of course, waterproof and dustproof with an IP67 rating. More importantly, the speaker is big and bold to deliver thumping sounds in open spaces. Definitely not the stuff for listening to a Gramophone company release of Strauss; we are talking more on the lines of Wolfgang Amadeus Shred by The Great Kat.
There are several rivals in this Bluetooth speaker category, especially JBL with its Xtreme option but there's something about Sony's tuning that turns the music on. It can handle as much of Lizzo doing her "hair toss" in Good As Hell while you kick the sand on the beach as it can work its way through A Perfect Day by Lou Reed while you chill on a beach chair, downing a Negroni. And the sound in many ways does justice to the price tag.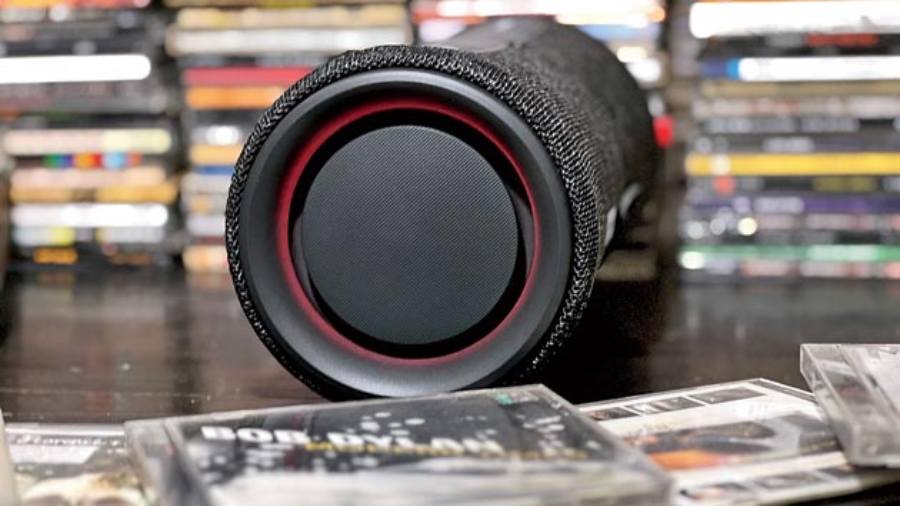 LEDs are there on both passive radiators and these can be controlled via an app
Beach or lounge
Sony tries to make the speaker worth the moolah with its spec sheet. Take, for example, LDAC support, which is Sony's proprietary hi-res codec. Codec may not interest you while making a purchase but do care about this one because it makes music come alive. It is capable of a very high bitrate of 990kbps, which provides high-resolution audio. It can also automatically adjust to a lower bitrate of 330kbps or 660kbps to increase stability. In other words, it works well in the lounge as much as it does on the beach. There is also support for the usual SBC and AAC.
To feel the magic of the speaker, try something like the Beach Boys and their paeans to catching a wave. All the studio techniques, harmonies, vaulting falsetto, and harmonic complexities are captured on songs like Wouldn't It Be Nice, Don't Worry Baby and Good Vibrations. On the other end of the spectrum is the music of Dua Lipa and her roller-disco vibe on Future Nostalgia. Or take the perennial bestseller, Miles Davis's Kind of Blue that's packed with subtle chord movements. You can feel the man's spontaneity.
All the nuances of an album are delivered with enough clarity even when you amp up the volume to 80 per cent. And the "kick" can be felt clearly at this volume and when you max it out, you won't be disappointed because distortion doesn't ruin things. The sweet spot is between 70 and 80 per cent volume.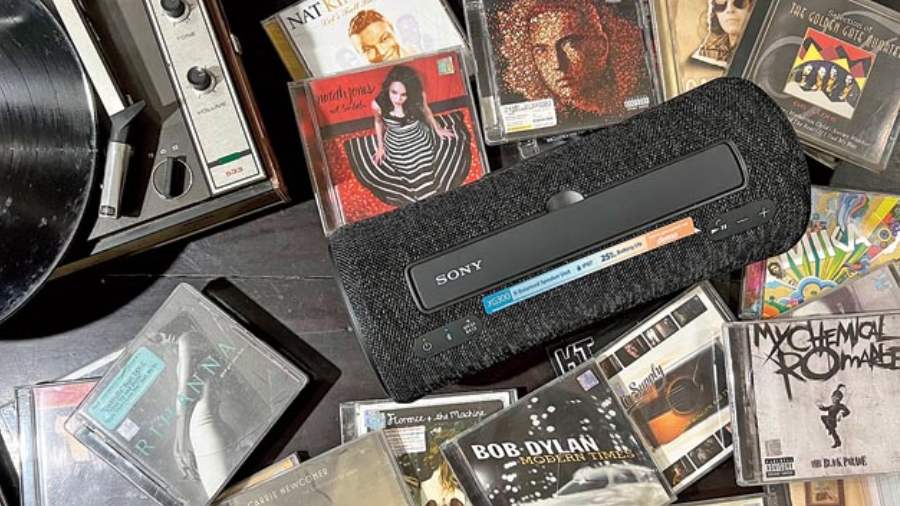 There is a sturdy rubberised handle at the top with a retracting mechanism to slide it flush with the rest of the speaker when you don't need it
Inside out
The other part of the deal is design and controls. It's not the lightest of Bluetooth speakers but it's very comfortable when compared to XG500. With dimensions like 12.52 x 5.43 x 5.35 inches it will easily slip into your duffel bag. There is a sturdy rubberised handle at the top with a retracting mechanism to slide it flush with the rest of the speaker when you don't need it. What I like about Sony speakers over JBL Xtreme options is the fabric finish that wraps up the entire speaker, giving the sound a rounded quality.
Controls include power, Bluetooth, and Mega Bass buttons on one side, and play/pause/call and volume on the other. There is a protective flap in the rear where you are greeted with a 3.5mm aux-in port and a USB-A port to charge other mobile devices (the speaker sort of becomes a power bank). There are dedicated buttons for the battery and lights. Pressing the former tells you how much battery is left while the latter takes care of LEDs around the two passive radiators on both ends. The IP67 rating does allow the speaker to tackle splashes as well as being fully wet but I wouldn't suggest that you dunk it.
More impressive is how it works seamlessly with Android as well as iOS. If you are using an Android device, use Google Fast Pair. To get the most out of the speaker, download Sony's Music Center app that lets you play around with the sound, tackle the LED lights and enjoy shortcuts to music and audio streaming services apps you have installed on your phone, besides giving access to any audio files you've stored locally on your phone. In the app, by default Mega Bass is on but you can create a custom EQ setting.
The fun element is the DJ Effect setting. In a way it acts as a mixer because you get an isolator and flanger effects. Even with zero knowledge of DJing, you can get through the function. Also present is the option to group speakers together to make music go livewire but I was unable to test this feature. It is supposed to work with speakers that support Party Connect.
Should you buy it?
Perhaps the only disappointing element is the quality of microphone. It's good but there is scope for improvement. As for battery life, it can play up to 25 hours per charge (depending on the volume). Overall, Sony SRS-XG300 plays its party cards right with thumping sounds.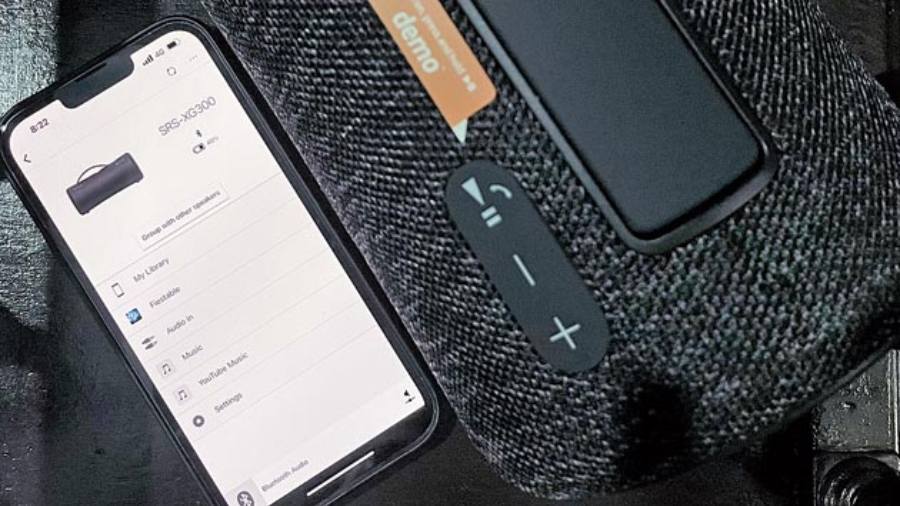 The Bluetooth speaker comes with app support
At a glance
Device: Sony SRS-XG300
Price: Rs 27,990
High notes
Excellent sound without distortion at high volumes
LEDs look great
Good battery life
Helpful app support
Muffled notes
Mic quality could have been better