Last time when we spoke, remember I told you I had some news to share that I could not talk about just yet?" Sonali Bendre tells The Telegraph animatedly over the phone. "Well, this is the news. And it indeed is about news," she says laughing, as she goes on to speak about her debut web series The Broken News, now streaming on Zee5, where she, as editor of a news channel, is up against a rival channel housed in the same building whose editor will go to any length to sensationalise content. The eight-episode show, co-starring Jaideep Ahlawat and Shriya Pilgaokar and helmed by Vinay Waikul, on contrasting philosophies of journalism, is the first collaboration between Zee5 and BBC India, and has logged 100 million-plus streaming minutes and six million-plus views in a week since its premiere, becoming the most viewed original series of 2022 on Zee5. The children's dance reality show, Dance India Dance Li'l Masters, with which she had returned in front of the camera after treatment for cancer, is also in its final week of competition.
The show is on the cut-throat contest between television news channels. How did you react to the story as a viewer?
The show is a mirror to our society. They are just showing the compulsions and choices (that news channels face). In the show we are not judging anybody. But viewers need to understand the process. Once they understand what is happening, they can choose. Once they start making the right choice, then automatically it will drive the way they view the news. That's what we ask on the show: 'Aap ko kya dekhna hai, sansani ya sach?' The choice is in the viewers' hands. What they watch will be what will sell more and hence will get made more.
As the editor of a news channel in the show, what kind of choices do you have to make? In the trailer you are seen asking colleagues at a news meeting: "Are we a porn site?"
The way the business of news is — and I am calling it business as money is put in on the content that will be consumed in a certain way and when people put in money they expect a return. No one would put in money to make losses. Certain businesses, like medical, education, media are social businesses. They need to sustain themselves but they have social responsibility also. It's not just a profit and loss thing. One has to consider what the moralities and choices behind them are. So the editors-in-chief and channel owners have to make some tough choices. Can they make those choices, how they make those choices and how they keep away from certain choices and once they make those choices, how they fall into the trap of it — that is what the story of the show is about.
It's based on a BBC original, right?
Yes, the original is called Press. I saw the series and liked it. That's why I wanted to do it. At that time, I had no idea which platform it was coming on. It's been a while that I have faced the camera for fiction. So I was very clear that I would only do something that would make sense to me and choose stories that had a voice, that would tell something. With OTT platforms, we are in an interesting time when there is a place for different voices.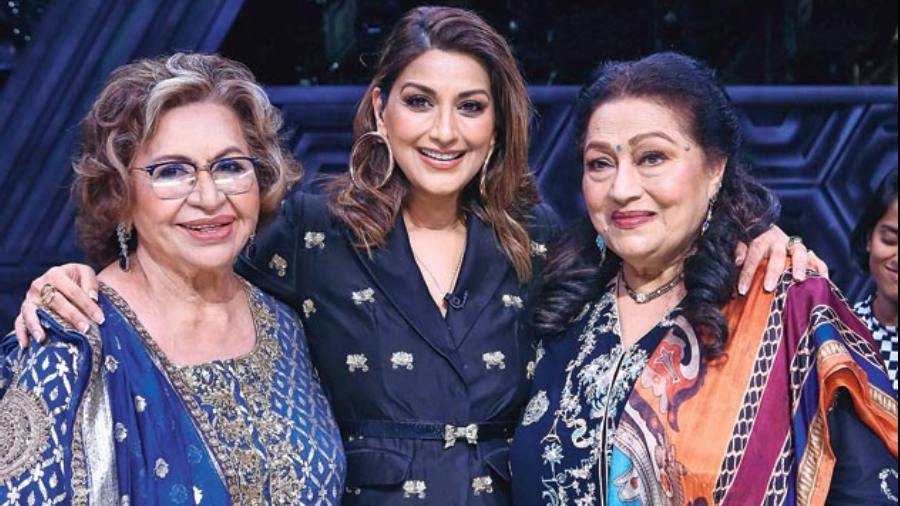 Sonali Bendre with Helen (left) and Bindu who were special guests in an episode on DID Li'l Masters on Zee TV
Press dealt with the print media. Did you have a conversation with the director as to why the story for The Broken News was changed to deal with electronic media?
They adapted it so beautifully to India and to today's times. This was a slightly earlier show of the BBC. Times are changing, especially after Covid. This story fits in so beautifully with what is happening around us. It was just waiting to be told. Adapting it (to the electronic media) totally made sense.
You have been running an online book club. What is the idea behind it?
I have been running it for five years now. It's my passion project which kept me going through tough times. The only thing we get out of it is joy, which is priceless. There are no hard and fast rules but we usually do it once a month. It depends on how fast I finish a book. It's my choice which book I pick. We do master classes, we do recommendations, we do little ones for the younger readers, we do for young adults, we do first-time authors… there are so many verticals under it that it keeps me busy through the month. We do so many conversations with authors. There is enough going on. We usually pre-record it but during the pandemic we did so many live sessions also. Sometimes even now we do live as book club members like to interact with the authors and we can take their questions. We announce the book earlier. We have a lot of international authors also, so sometimes the timings don't match for us to do live sessions.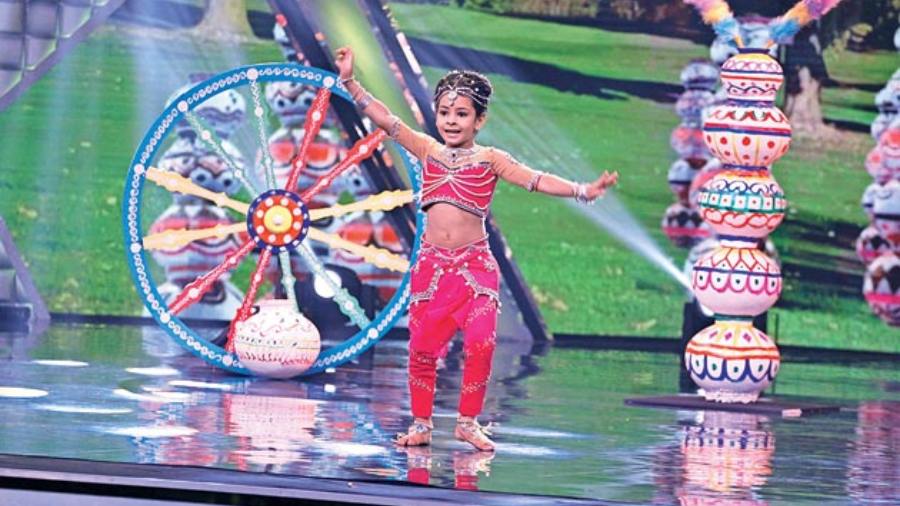 The talent hunt you are judging on Zee TV, DID Li'l Masters, is on its last lap now.
Yes, I wanted to take all the top 10 participants to the finals. I cannot eliminate anybody now. Even bringing it down to 10 was so difficult! All 10 are remarkable. Thank god that public voting has started and it is not totally in my hands now. (The top five will dance it out in the finals of the show next weekend).
Viewers in Bengal are rooting for six-year-old Rishita Tanti.
Yes. How lovely is she! And such a beautiful girl. She is adapting herself very fast. She does Bollywood so well. We are getting her to do different things and all that too she is picking up. It is shocking that these kids are so good at such a young age. Some children come with one or two acts prepared. But these kids are picking up new things too. And they get just three-four days to rehearse a new number.
Helen and Bindu came as guests on the show.
Yes, the stories they have are amazing. And they were such amazing dancers. I have never worked with either of them but, of course, we are all part of the same industry.
Lastly, do you remember which was the last film you faced the camera for?
It must have been seven years back. It was — as we call it — BC, before cancer. Now it's AC, after cancer. My memory before cancer is a little faded, not a pleasant experience. Lot of things have changed since I last worked — the technology, the way they shoot, the way you act, the people around.... My husband Goldie (Behl) says: "This is the time when you should be working". He has worked with me, so he knows how I like things to be done. He says: "The way things are working now on the sets is how you used to like it. So you would enjoy the kind of stories being told and the people making the films." He was right. I am enjoying it.