The one term that became a rage in the fashion world in 2022 is 'Y2K'. The major trend brings together a host of throwback moments in fashion within the timeline of the mid-'90s to early-and-mid 2000s. From the ramp to celeb wardrobes across the world, brands and designers have reimagined contemporary styles taking inspiration from design elements of those decades. Shimmer fabric, wide-legged pants, denim-on-denim, cowl neck, miniskirt, cut-out silhouette, velour tracksuits, and vibrant colours are just a few from the list highlighting the Y2K aesthetics of maximalist approach and statement styles.
Growing up seeing their favourite pop stars and Hollywood-Bollywood celebs sporting them in those decades, the trend is a major hit with the millennials who are exploring it with contemporary twists. As the year comes to an end, The Telegraph creates a lookbook highlighting a few styles from this major trend of the year, shot at South City Mall's newly opened dine den, Scrapyard.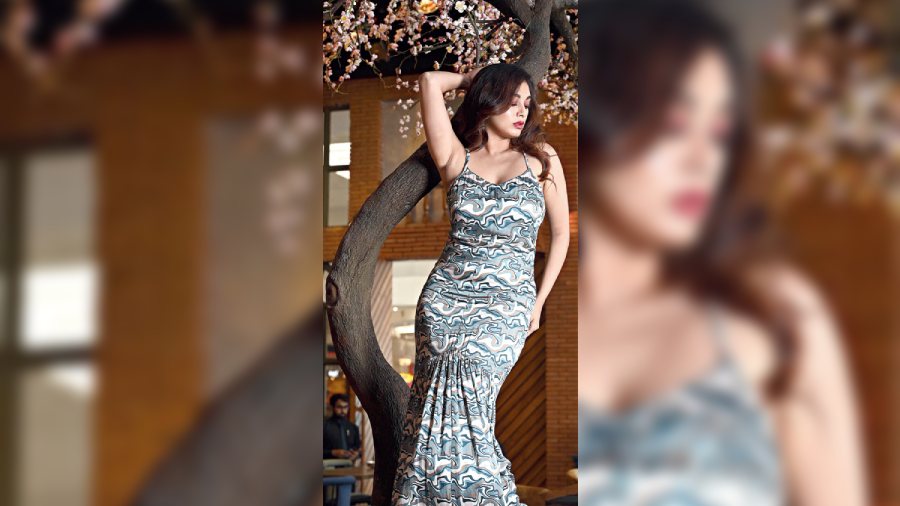 Bibriti's satin slip dress from Avai spells out Y2K with many trends clubbed into one. The easy-to-wear slip dress was a fashion forward trend of the late '90s and 2000s that made its way into 2022 spring/summer trends, accessorised with the baguette bag. Clubbed with it is the pleated, flared hemline and the repeat print pattern.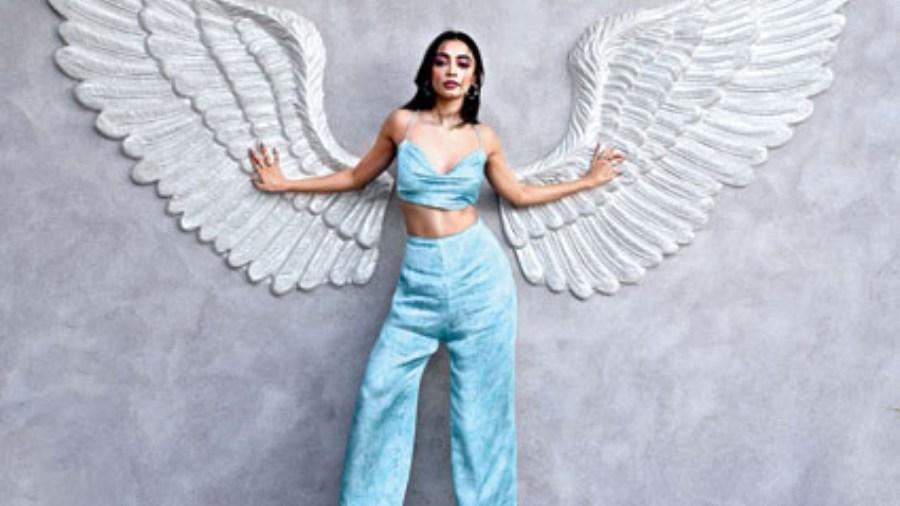 Diti's look in the trendy co-ord set brings together two popular Y2K trends — the plunging cowl neck and flared pants. In a vibrant blue shade, this outfit from Avai is all about comfort from head to toe .
The velour tracksuit, a chosen leisurewear of the early 2000s that also symbolised status and purchasing power, regained favour of the fashionistas as the athleisure trend caught on post the pandemic. Widely popularised by Juicy Couture with celebs like Paris Hilton and Rihanna sporting them in the early 2000s, the tracksuit reigns supreme as a trend on the comeback Y2K trends list of this year. Bibriti sports a neon pink one from The Atrium-Westerns Multidesigner with the Y2K popular metallic detailing flashing on the pockets, adding a dose of glam. Ayoshi channels the denim-on-denim trend in a maroon shade complementing Bibriti's look in the frame. The contrast stitch cotton denim piece from The Atrium is a co-ord set of a bustier, straight pants and a puffed-sleeve jacket.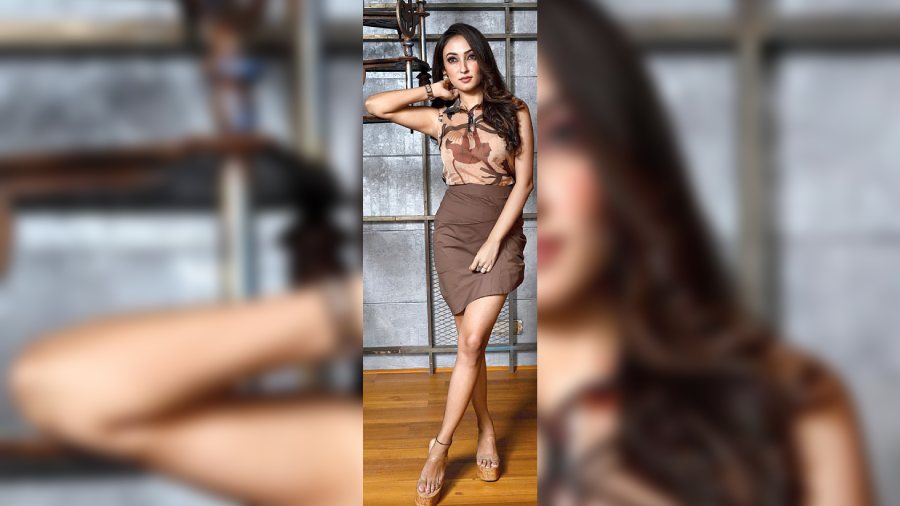 Ayoshi channels a smart look in this cotton miniskirt paired with an organza leaf-pattern top from Dramebaaz. The 1960s rebellious hemline-high miniskirt pioneered by British designer Mary Quant, made popular by Hollywood stars and pop singers in the 1990s and early 2000s, made a breakthrough comeback on the ramp in spring-summer 2022, including Prada's Milan show, Miu Miu Spring 2022, Versace Spring/Summer'22 and Dior Spring/Summer'22 shows.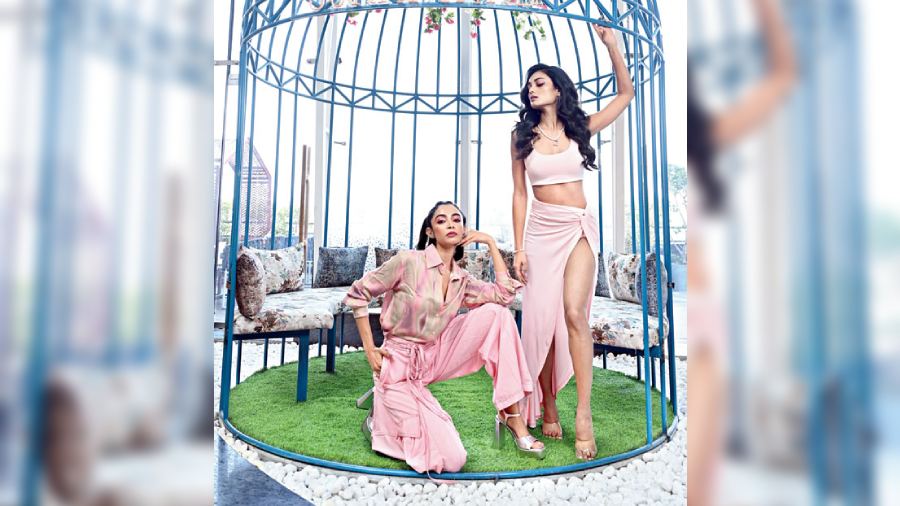 On Diti, a pair of pink cotton drill loose straight-fit flared pants detailed with patch pockets and contrast stitch. It is teamed with a relaxed-fit unisex oversized modal shirt in ombre print from Aroka. Diti's look is inspired by the throwback Y2K trend of wide-legged pants that shot to prominence in the late 1960s,'70s and '80s. A staple in the celebrity wardrobes during the late '90s and early 2000s as well, flared pants is one of the biggest comeback trends in 2022. Skirts of various kinds that appealed to the fashion choice of people during the late '90s and early 2000s have made their way up the trend-o-meter in the last two years. A popular one among them is the wrap-around slit skirt that saw its popularity in Hollywood and Bollywood alike in the later decades of the 1900s, with actors embracing the bold sarong-style skirts. With the wrap-around slit style back in trend as a resort-wear fave, Juhi sports a baby pink one made of cotton spandex blend from Miakee.
"Y2K fashion is all about that 2000s vibe blended with the pop culture of millennials. GenZ is the growing market and we're so happy to tap it with our avant-garde curated styles at The Atrium like these denim-on-denim co-ordinated sets and cropped jacket tracksuits. Both are so experimental, funky and OTT. From going bold and edgy in a corset bustier set to flashy metallic neon jogger silhouettes — these are now definitely wardrobe essentials to go from am to pm, as offbeat airport looks or for comfort clothing," said Parthivi Kanoria, founder, The Atrium — Westerns Multidesigner
"As a brand, we are loving the Y2K trend as it has a slightly retro edge with a futuristic touch! It really goes with our vibe of fun, chic and stylish clothes! Our Baddie B set is one of our bestsellers! The high slit gives it a very sexy modern look," said Iyesha Thadani, founder, Miakee
"Y2K is synonymous with the glam '90s, pop culture and playful silhouettes. The miniskirt paired with organza is playful and fun, which is what getting dressed should be all about right now! This can be styled in multiple ways, too. So, we are exploring with this trend at Dramebaaz," said Rikita, designer, Dramebaaz.
"The Y2K trend is really prevalent especially with our younger clientele. So, we've tried to incorporate bold repeat prints, vibrant colours and shimmer fabrics into our lookbook. We've tried to keep the Y2K essence with crop tops, co-ord sets and party dresses but by modernising the silhouettes to make it more wearable.Repeat prints in Bibriti's dress scream Y2K and using it in a long dress like this is a way of making it more accessible for women of all ages and the slit in Juhi's shimmer dress is also an ode to the Y2k trend," said Ayushi Sachdev, founder, Avai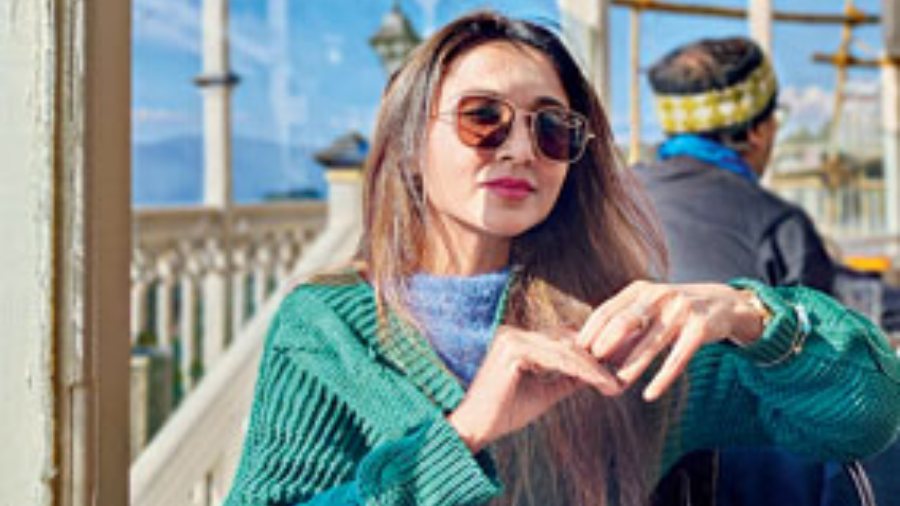 Stylist speak
"For people like me, who were not old enough to explore the super quirky and stylish Y2K trends during that era, now is the time for us to go all out with these trends as they are back and how! People are all game for cut-outs , wide-legged denims and metallic dresses.
The cut-out detail with shimmer is super glam and stylish for a party look. For the ones who don't prefer teaming wide-legged pants with baby tees, we have teamed it up with the printed shirt, giving a fresh twist to the Y2K trend. Denim-on-denim is a polarising Y2K trend that, when styled correctly, delivers a uber stylish look. When rocking this look, try to keep the fabric's colour consistent, so it seamlessly completes the outfit. The Y2K miniskirt trend brings back childhood nostalgia for our generation.
A Y2K fashion lookbook would be incomplete without the velour track sets. We styled it with a bralette and comfy sneakers. The cowl neck is one of the most redeemable throwback styles that has been reimagined again and again. The co-ord set with a cowl neck is a fresh take on the trend. Aishwarya Rai Bachchan's glam game was way ahead of its time when she wore the serene white dhoti-inspired silhouette in the late '90s film Taal. The blush-pink outfit is effortlessly stylish, extremely comfortable and reminds us of the late '90s trend. Slip dresses are an evergreen choice in fashion that's reminiscent of the Y2K trends, too," said Aisha Desmukh Chaudhari, stylist.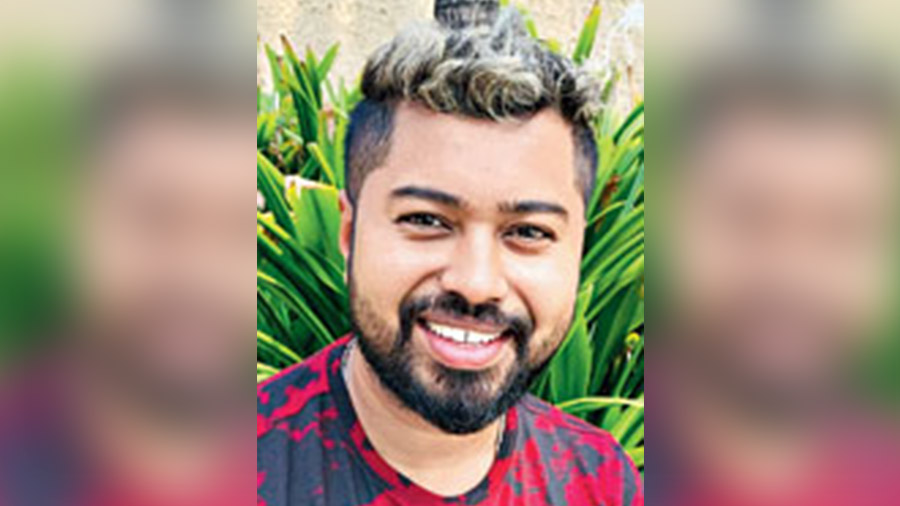 Hair and make-up
"Keeping in mind the Y2K hair and make-up trends, we have incorporated some complementing trends in this lookbook to accentuate the looks. We have added volume to all hairstyles, whether worn open or tied in a semi-bun. The partly-braided open hairstyle was also popular during the late '90s. We have used shades of pink, red and brown to add colours to the look and create some bold lips and eyes. We have also used the popular trend of glitter eyes and glossy lips for a few looks," said Bhaskar Biswas, make-up pro.
Pictures: Pabitra Das
Location: Scrapyard, South City Mall
Models: Diti Saha, Juhi Ghosh, Bibriti Chatterjee, Ayoshi Talukdar
Styling: Aisha Desmukh Chaudhuri