Back in Kolkata after touring the UK, Bharatanatyam exponent Sohini Roychowdhury is one rejuvenated soul. Her October-December tour was her first international tour in two years that also united her with her first love, the stage. In a chat, the cheerful Sohini tells The Telegraph about recent accolades, future projects and why "as artistes and human beings, one has to be hopeful and think of our tomorrow as being full of sunshine".
You must have been thrilled to be back on stage...
When we got up on the flight, I was just glad that we'd got some of our wings back. It didn't bother me that I had to wear a double mask and a shield, to be extra careful. We were in quarantine for the first 10 days and I did three virtual shows while I was in quarantine. When I finally got on the stage, it was a mixed bag of emotions. When I was stretching out before going on stage and putting on my ghungroos, I was terribly nervous. When you step out on the street after a year, it is the same feeling... but it was also a setting-free, exhilarating feeling to be facing an international audience. It felt so good to be on the real stage. My first physical performance was for the She Inspires Awards — founded and organised by Gulnaz Brennan — where I started the award function with a show. This was in Bolton, held at the football stadium. I performed with a live vocalist, country singer Sue James. For the first two pieces, I was performing and she was singing. In the third piece, she was singing and I was performing and the advanced dance students of Bolton University whom I worked with the previous day for a number of hours, were performing with me on stage.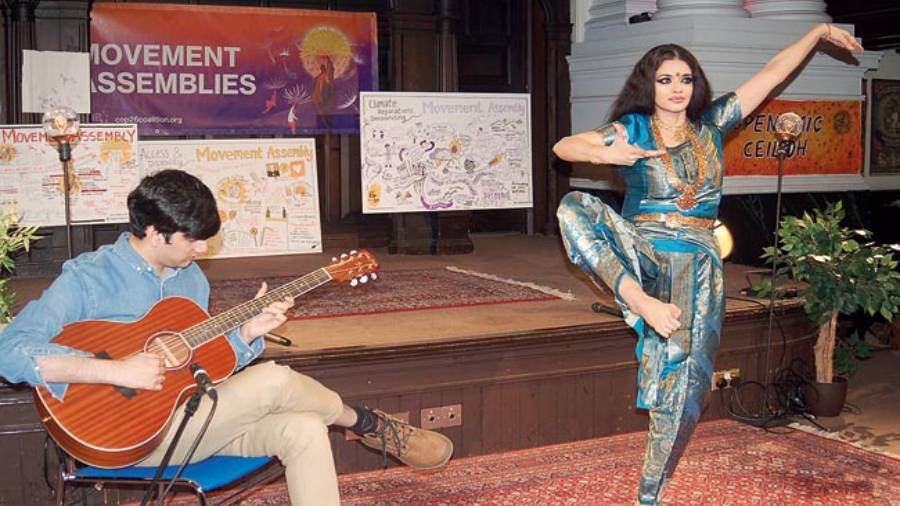 Sohini Roychowdhury with son Rishi Dasgupta at Cop26
The Cop26 UN Global Conference on Climate Change in Glasgow, in November, was quite a concert for us. It was an emotional concert because I shared the stage with my son (Rishi Dasgupta) for the first time. Rishi is currently pursuing a MSc degree in economics at the University of St. Andrews in Scotland. He plays the guitar and it was a dance and guitar jugalbandi. I performed Purush and Prakriti, pure Bharatanatyam, the way we have learnt about it in the Natyashastra with Vedic Shiva chants at the back. It spoke about nature and the importance of it in our lives, Shiva as the pashupati, the protector of forests, animals and environment, how nature is abused by people and havoc is created. I performed the Shiva tandav to show all that is toxic and decadent is destroyed and how a new order is created with more awareness, closer links with nature and how we are going towards hope and healing.  
Congratulations for the Global Culture Champion and the Global Woman of the Year awards (as part of She Inspires Awards)...
The candidates were from regional, national and international women from India to Australia and America to Malaysia. I was one of the finalists for the Global Culture Champion. When they announced my name, it was a happy moment. I received the awards from baroness Trish Morris of Bolton. I was watching the other things happen and the dinner was exciting! Then I heard my name being called again... The Global Woman of the Year was chosen from among the ones who had won that night. I was caught by surprise and it felt very good.
The award gala was graced by luminaries ranging from the mayor of Bolton, the provost of Bolton University and a host of other prominent politicians, bureaucrats, royalty, stars from the arts and sports.... The She Inspires Awards are supported by the United Nations and the European Union, and counts the Royal Air Force and the British Red Cross amongst it's principal patrons.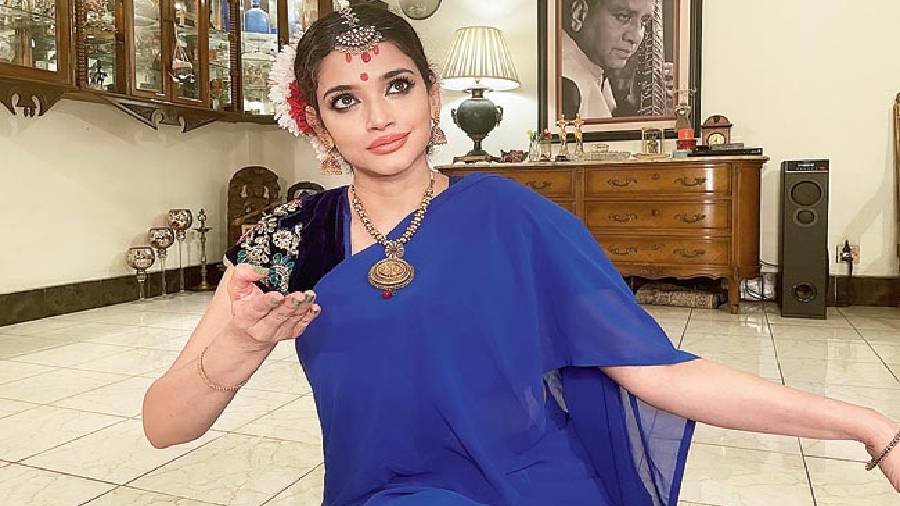 Sohini's AKLF 2022 live tribute to Birju Maharaj.
You also paid a virtual homage to Birju Maharaj at the Apeejay Kolkata Literary Festival 2022...
I was invited to perform a live dance tribute to Birju Maharaj, broadcast online through the Facebook and YouTube pages of AKLF, on January 21, the opening day of the 2022 edition of the fest. I took bits and pieces of his own choreography of the classical Bollywood songs he worked with and adapted it to Bharatanatyam. I ended it with a homage to Nataraj... Om Namah Shivaya. Birju Maharaj was the God of dance and his soul would be merging with Nataraj in heaven.
You will also be collaborating with the Byre Theatre at University of St Andrews...
I will be collaborating with them with my classical fusion and world dance, working with the students there and the community. This will begin in March, physically. I have been invited to the Jaipur Literature Festival (March) as a keynote speaker on shringar and the treatise of love based on my book Dancing With The Gods. Once I finish that, I'd fly off to Edinburgh to work with the University of St Andrews (where Prince William and Kate Middleton studied).