Benarasi, the traditional weave, goes way back in time and signifies a traditional style sensibility, opulence and grace. Designer Pinki Sinha, whose forte lies in weaving magic with this weave, presents her Monsoon Collection '22 that explores this traditional weave through contemporary styles for the modern generations to embrace it without compromising their sense of style. From millennial weddings to cocktail nights and festive looks, Pinki makes Benarasi an option for every occasion and shows how to pull off the looks in style, with model Diti Saha donning them.
The Telegraph lookbook: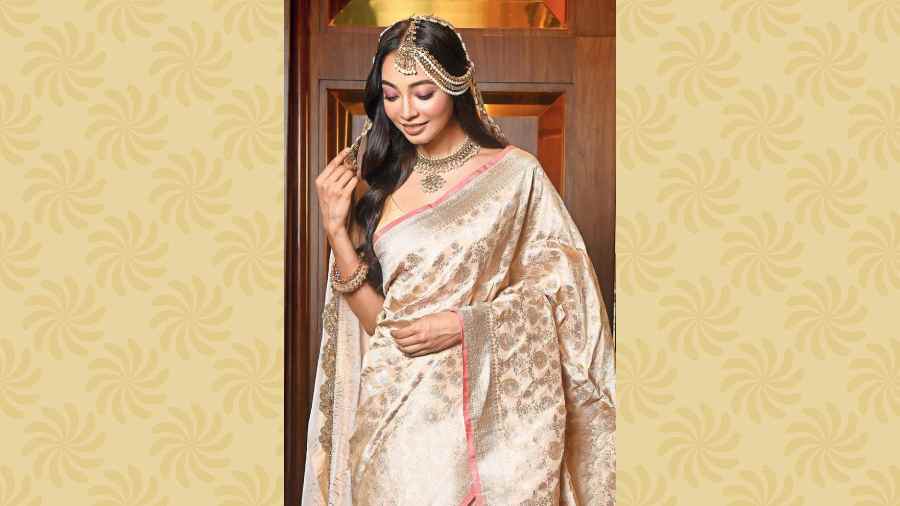 Bollywood weddings have always set trends and Alia Bhatt's wedding was no different in that, inspiring millennials with the simple, elegant look in ivory. This fuss-free, minimal wedding look is perfect for the bride who wants to stick to the traditional Benarasi for the wedding but explore it in a contemporary way. The ivory Benarasi sari with golden detailing and a pretty peach border is accentuated with a golden tissue veil, designed with pearl-detailed scallops along the border. "Give the traditional red and maroon lehngas a miss and opt for something more contemporary and elegant like this," suggested Pinki.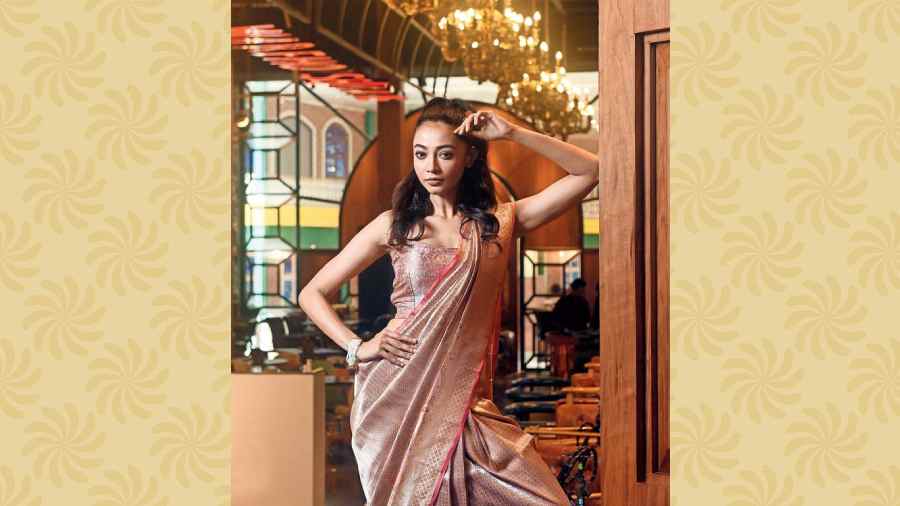 Corsets are hot favourites of the fashion world at the moment and the style will take over the festive and wedding season ahead. This look explores Benarasi through the trendy corsets and an unusual colour of rose gold pink, detailed with an amalgamation of floral and geometric patterns creating Mughal motifs. The handwoven golden and meenakari-work Benarasi is paired with a meena-work Benarasi corset for a smart sari look. "I see Benarasi taking a step forward with this look and getting noticed by the younger generations," said Pinki Sinha.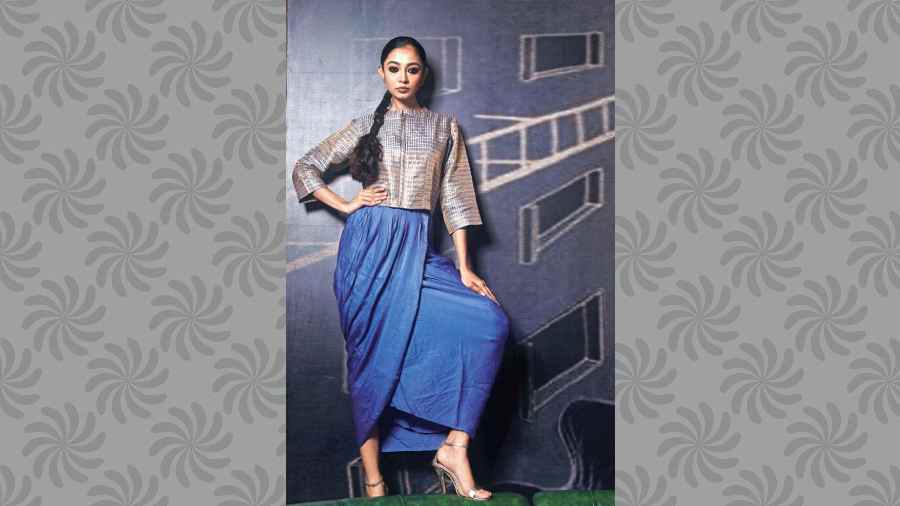 An Indo-western Benarasi outfit in metallic shades, perfect for a non-traditional festive look. The geometric-pattern zipper jacket is paired with a pre-pleated dhoti skirt for a subtle-glam, easy-to-carry festive look.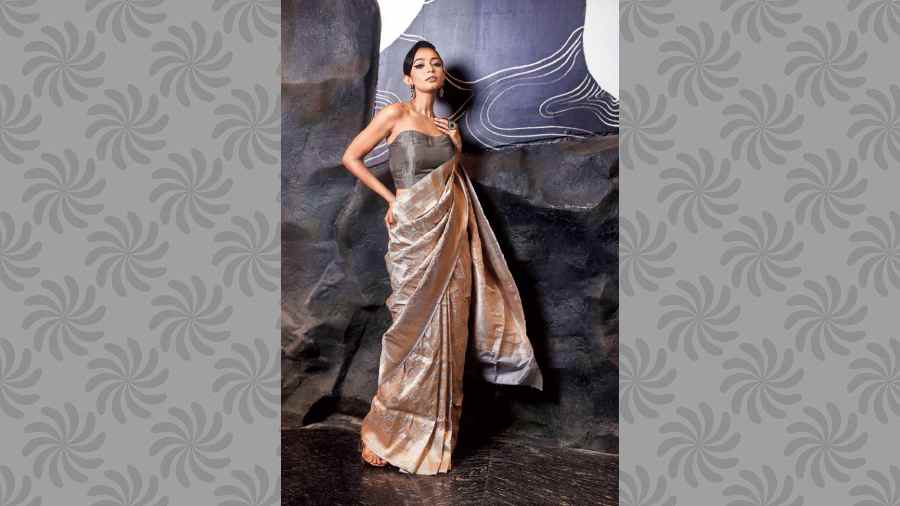 A Benarasi eveningwear or party look, with the trendy corset adding some edge. The colourplay of metallics make it more millennial. The heavy grey jaal Benarasi is designed with golden traditional Mughal motifs and six shades of meenakari, paired with a silver corset for a non-traditional Benarasi look. Subtle yet gorgeous!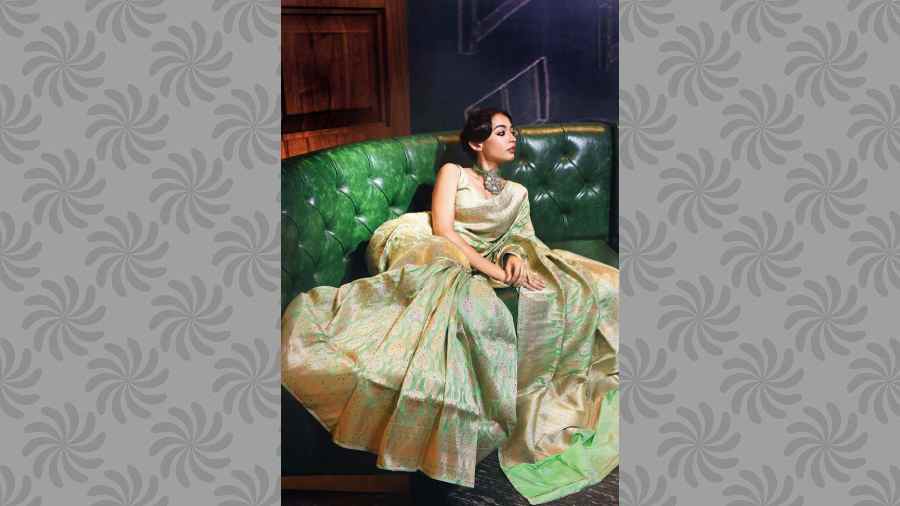 A vintage occasion-wear Benarasi look in the edgy sage green. The glam sari is designed with intricate golden Mughal motifs detailed with multicoloured meenakari work. The make-up, hairstyle and statement jewellery pieces complement the look.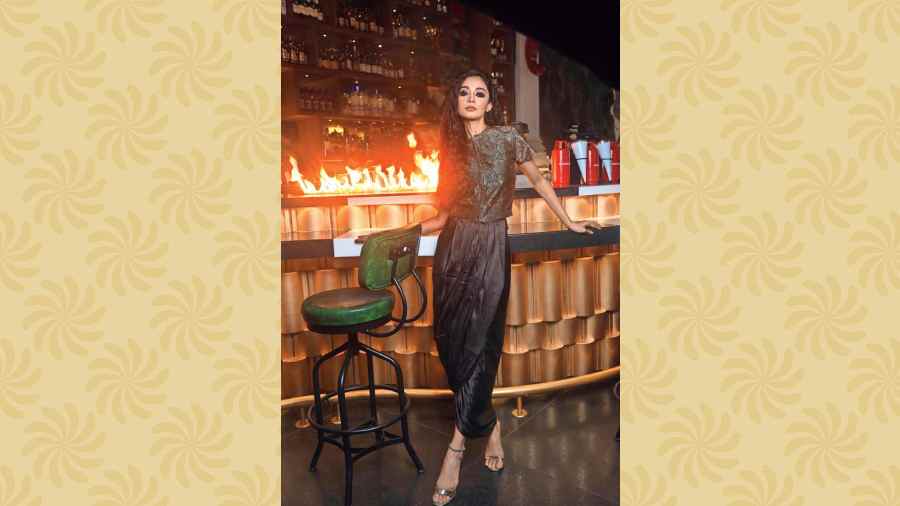 This Benarasi party or cocktail-dinner look is for the contemporary generations, who want to possess the beautiful Benarasi weave without opting for a traditional sari. The Benarasi zipper jacket with Mughal jaal motif is paired with a pleated dhoti skirt for a comfy yet glam cocktail party look.
Pictures: Pabitra Das
Concept: Vanisha Agarwal
Make-up: Abhijit Paul
Hair: Sananda Mondal Laha
Jewellery: Jollyjoolz by Priyanka Kanoi
Location: Warehouse Cafe, South City Mall