Sisters Shaireen Butt (28) and Afreen Butt (20) warmed the cockles of our hearts from the moment we met them. There was such an innocence about the soft-spoken Shaireen. You could barely hear her voice in a conversation, but Afreen vouched for her feisty spirit with which she had battled Acute Myeloid Leukemia (a type of blood cancer). Afreen, who donated her bone marrow to Shaireen to give her a fresh lease of life, spoke with maturity beyond her years. "You should never grieve for a person who's with you," she told us with a smile. The smile never left Shaireen's face too.
Their inspiring journey is what we tried to capture in this shoot. Them coming back to life and discovering the world in all its easy-breezy wondrous romance, in the summer colours of hope, purity, rebirth, and confidence, the silhouettes all relaxed, mirroring a certain calmness that was a common trait in both the sisters.
The beautiful Bombaim was a character in the shoot, lending soulful support with its quiet meditativeness.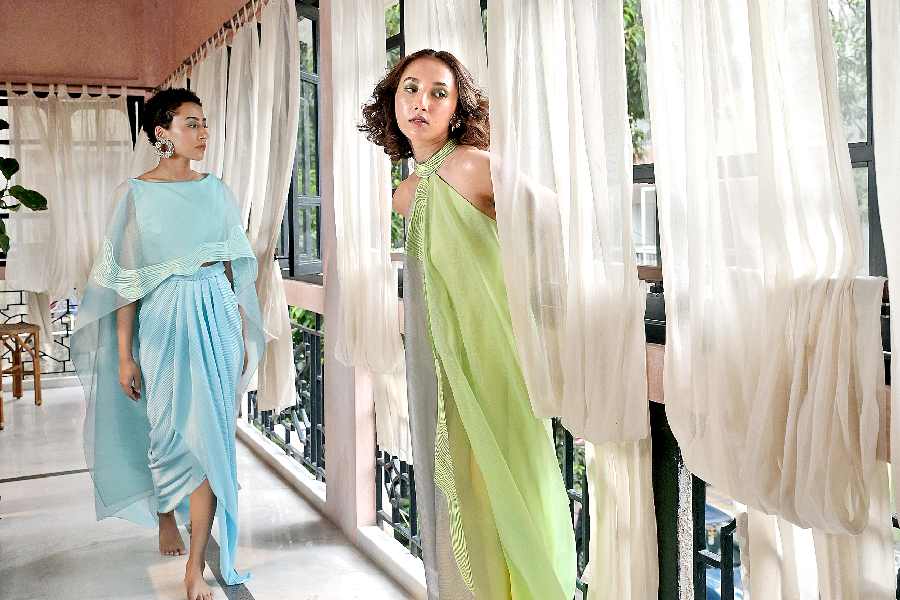 Bombaim's beautiful verandah, sprayed by the windy rain, was a great reflective mood. We gave both the sisters Amit Aggarwal pieces, accessorised with Iguana by Swasti Parekh jewellery. Abhijit gave Afreen's eyes a wash of green, and Shaireen got aqua eyes. The 'lightness of being' was characteristic of what they wore and made up Shaireen and Afreen's spirit too. "At least in front of me, Afreen was calm. That gave me the confidence to hold myself. I switched off my music completely, something I love, and avoided watching emotional content as it would break the flow. My parents knew what topics to not broach," looked back Shaireen. The sisters were confined to a room for nearly two months at Tata Medical Center for the bone marrow transplant. "That was the scariest part because anything can happen during the transplant. The room was sanitised three times a day," said Shaireen. While Shaireen would sketch on and off, Afreen read and did some stretching to relax. Both sisters said they loved watching horror films! Afreen felt she learnt a lot about Shaireen. "I think she was in a meditative state... it was inspiring. By the end of it, I was getting a little restless, but Shai was composed. She was in her zone even during her quarantine," she said.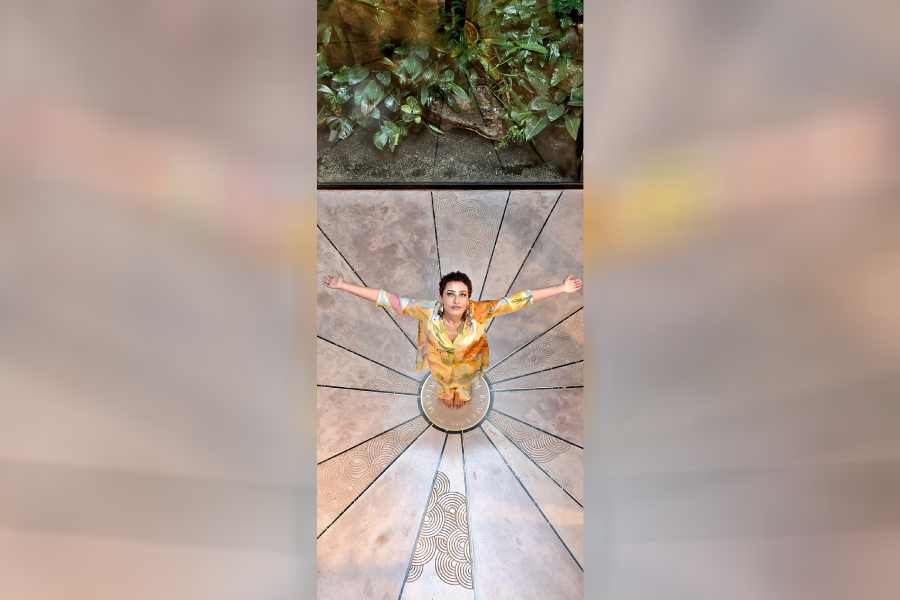 Gratitude marked this frame. "This feels like a new life," said Shaireen as she stood with arms extended, soaking in the sun at the open-to-sky courtyard area, the centrepiece of Bombaim. The colourful Yavi coords were matched with Forest of Chintz earrings and metallic shaded eyes. "Don't think nothing can be done. And, remember if you break down, the whole treatment gets affected. So, be patient," were Shaireen's wise words. Going ahead, she would love to start a venture in Darjeeling, her hometown, and join her family business of antiques. Prior to this, she had worked with 145 East and The Space at 9/2 and also ran a tattoo parlour on Park Street.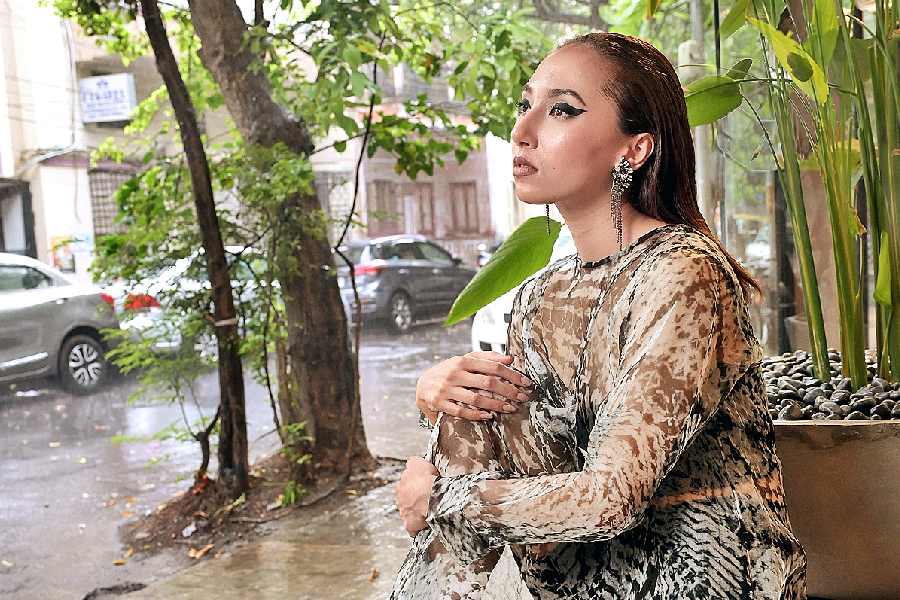 Afreen wore an Amrich: creation complemented by dramatic Deepa Gurnani earrings and lovely winged eyes. As she sat soaking in the pitter-patter, summarising the flow of life, she said being in the now helped. "It's best not to see it as something that happened to someone for a reason. It can happen to anyone. You cannot prepare yourself for it... accept the situation because you cannot change and be persistent," she said. Her message for her "Shai" with whom she shared an "unspoken bond"? "You have been resilient and strong, the most inspiring person, and pushed it so far and now you can do whatever you want to. I'll be there. I'd love to start up something together and we'll look back on this conversation," she summed up.
Concept and styling: Saionee Chakraborty
Pictures: Pabitra Das
Hair and make-up: Abhijit Paul
Assisted by: Sananda Mondal Laha
Location: Bombaim, 5A, Dr Sarat Banerjee Road (all the brands featured in the shoot are available at Bombaim)
Special thanks: Richa Kanoi and Nina Seal Sinha