Summer weddings are apt for exploring the Bollywood-inspired, trendy fusion colour palette of pastels and metallics. Taking inspiration from the recent simple, subtle-glam wedding looks of Ranbir Kapoor and Alia Bhatt in the exquisite ivory-and-gold palette and keeping in mind the longstanding pastel trend, The Telegraph created a lookbook of various wedding occasion looks. As a contemporary bride-to-be, if the subtle, minimalistic wedding trousseau has been a part of your plans, take a cue and get set for your dream summer wedding.
Bibriti channelled an easy-breezy cocktail evening vibe, keeping the subtle-glam touch of wedding function looks. The elegant gown from Anvay Couture is embellished with fine pearl and cutdana embroidery on pure georgette, perfect for a comfortable evening look during summer weddings.
A simple reception look, ideal for summer weddings, Shaheb looked dashing in the Mayur kurta and jacket set from YAJY. A fusion of traditional taste and contemporary style sensibilities, the bundi is detailed with tonal resham embroidery in geometric pattern and is paired with an embroidered kurta.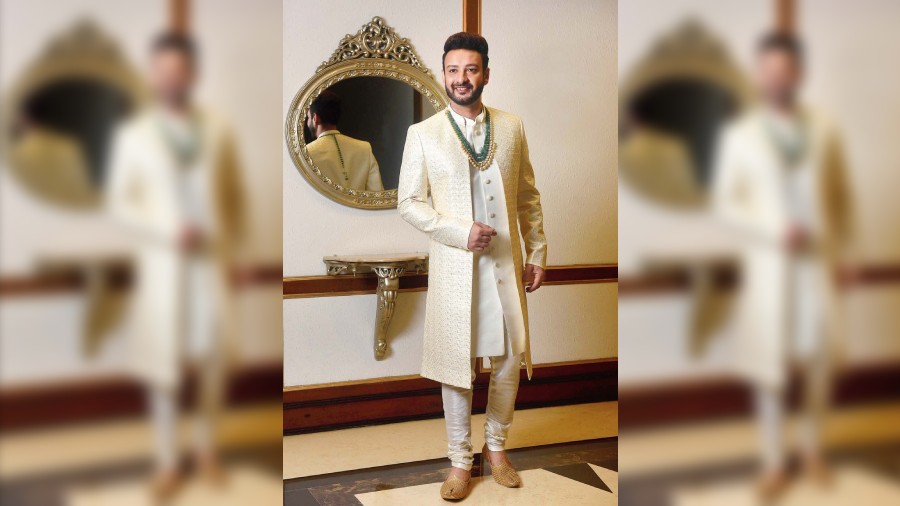 Shaheb sported the look of a charming groom in the Indo-western sherwani from Nav Durga, designed with intricate Lucknowi work.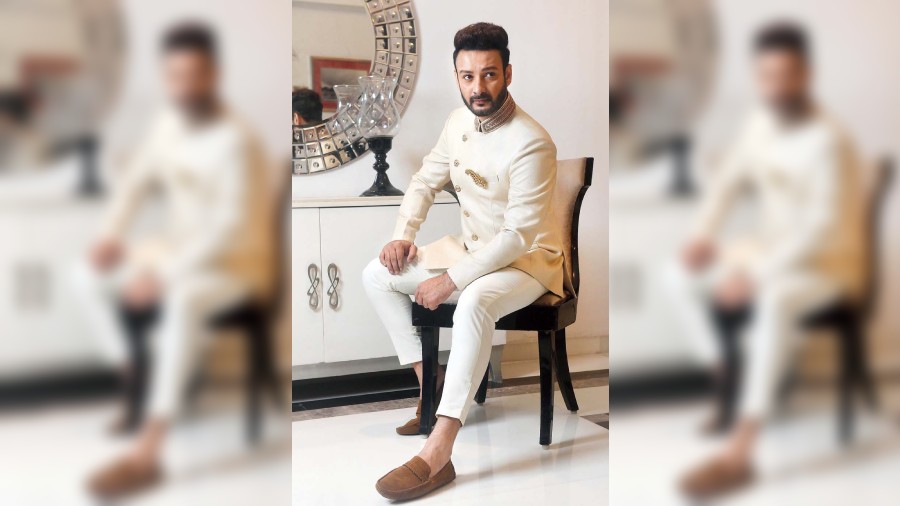 Shaheb channelled a contemporary-classy look in this groom's attire from Deepak and Madhu — a plain and simple slant-cut bandhgala made with textured fabric, designed with zardosi embroidery on the collar. The kalangi has been used as an accessory on the pocket to add a glam touch to the look, paired with matching trousers.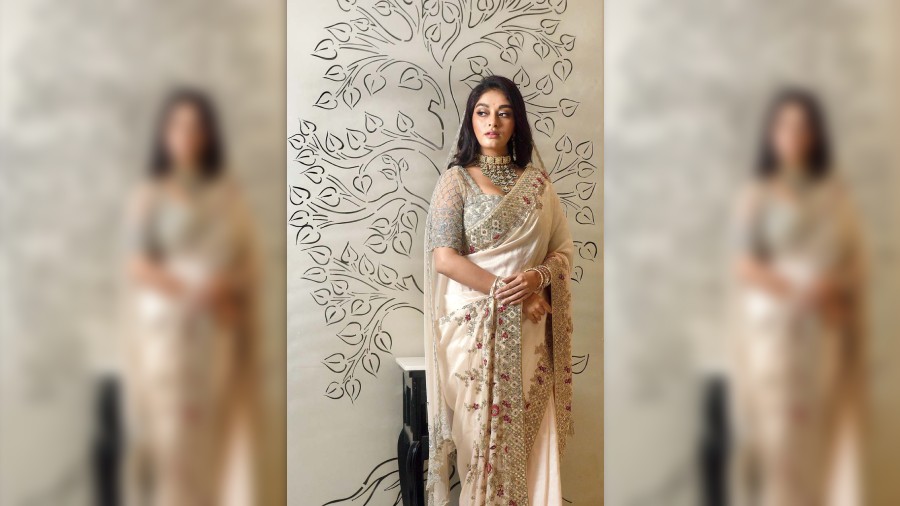 Bibriti portrayed a minimalistic wedding look of the contemporary-classy bride in this crepe hand-embroidered sari from Anvay Couture, designed with floral motifs and a peach-tone highlight. It is paired with a complementing embellished ivory blouse and a dupatta used as a veil from Soigne and the City.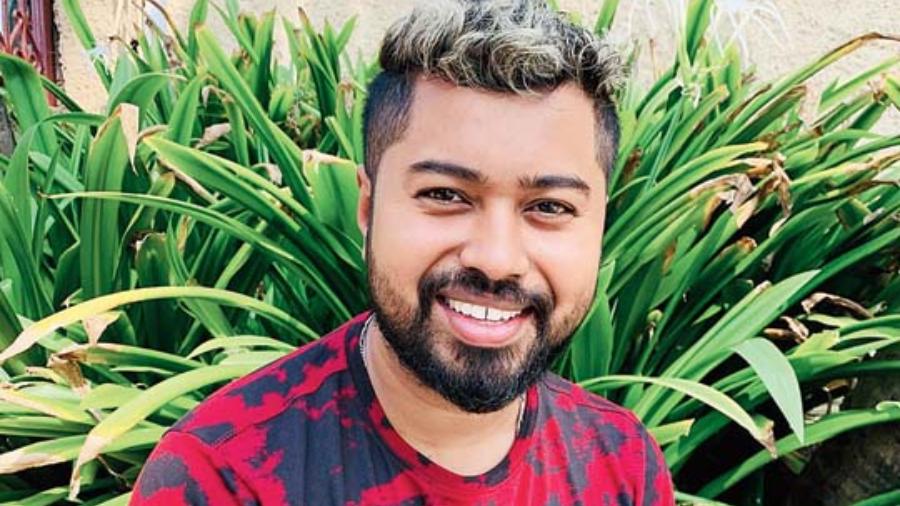 HAIR AND MAKE-UP NOTES
We have mostly used peach and pearl colours. A pastel colour palette was chosen for the make-up, keeping in mind summer weddings. There is a hint of subtle glow in all the looks with a touch of gloss on the lip. Bibriti's hair was kept open for most looks — Bhaskar Biswas, make-up pro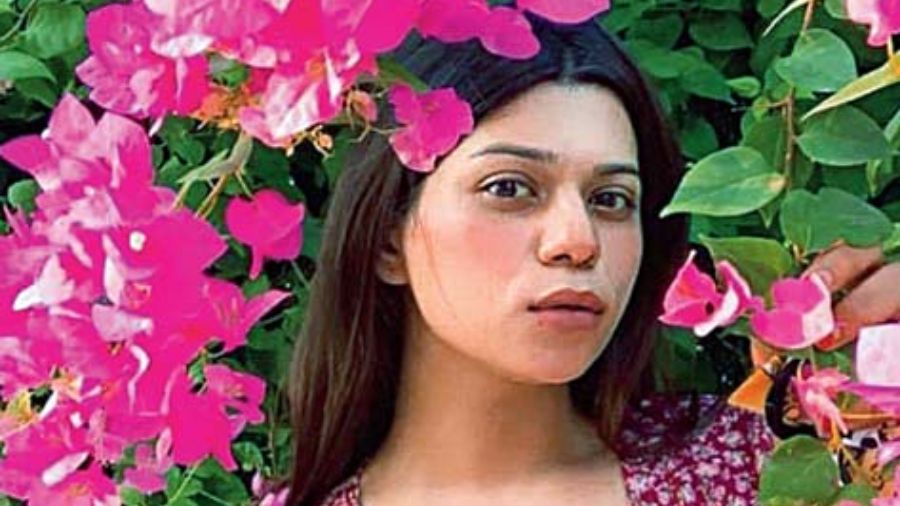 STYLING NOTES
Pastel shades are trending big at Indian weddings and this summer, metallic shades are getting fused with pastel ones to make soul-soothing fashion statements. The sophistication and elegance of ivory is being preferred by brides. Ivory, gold, beige, champagne are colours that are trending for the bridal trousseau — Kiara Sen, stylist
A fun BTS The Telegraph chat with Shaheb and Bibriti on weddings and more...
If you had to choose a season to marry what would that be?
Bibriti: I like monsoon. So , a monsoon wedding definitely!
Shaheb: Winter.
If you had to style your wedding lookbook what colour palette would you choose?
Bibriti: White and black. White for the wedding day and black for the reception.
Shaheb: I would leave that to the girl that I choose to marry.
How do you look at the concept of marriage and did the idea change over the years?
Bibriti: The concept is a farce. I have no strong belief in the institution called marriage. It is a legal bind after a point of time; if two people are not having the same notion or not on the same page. As long as you can connect to each other, even if you are not legally bound, it is a valid relationship. The tag doesn't matter to me much.
Shaheb: I don't strongly believe in the concept of marriage. It depends from person to person. There are people who believe in the institution. For me, I don't believe in the institution of marriage. It is really odd for me that after two people say that they love each other, they will have to get the law involved to keep it official. I think for me as long as people are happy staying with each other, it is as good as a marriage. For me, personally, I was never a big believer in marriage actually. My family has been. Now, everyone is after my life to get me married. So marriage is always a family pressure. They are always trying to find a good match for me. Family weddings have become a curse for me now. I can't go!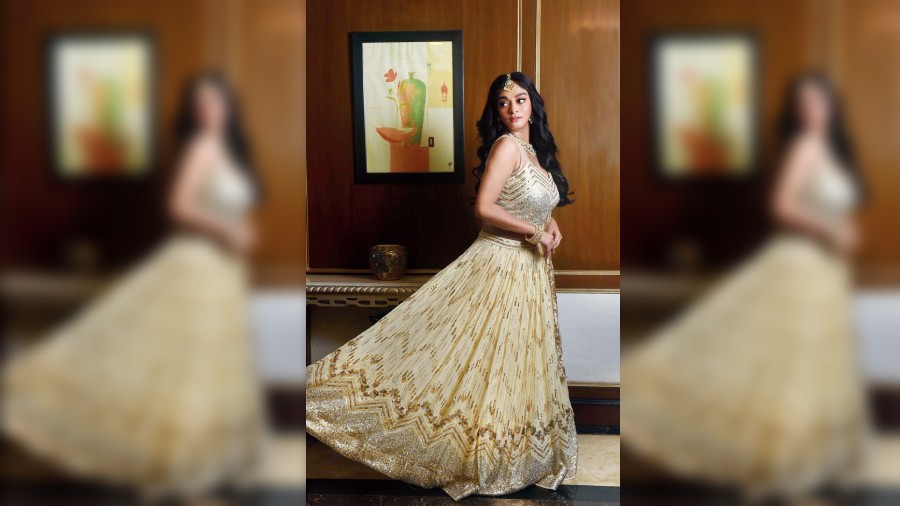 Bibriti channelled an elegant charm in this georgette lehnga set from Nav Durga, embellished with sequin handwork creating the trendy geometric pattern. Perfect for that dazzling Insta twirl!
Wedding trends have changed a lot over the years. Do you look forward to a big fat Indian wedding or a minimalistic wedding?
Bibriti: For me, signing on the dotted line is never an inspiration or never was an aspiration. I want a big party happening, like one whole day starting from mehndi, taking feras, sindoor daan and then cocktail and dance, so maybe a big destination wedding for having a fun time with my friends and family, apart from signing the dotted lines.
Shaheb: I would prefer a minimalistic wedding, probably a destination wedding with 20-30 friends and family. I don't have to worry about some distantly related aunt saying the food isn't good enough or the decoration could have been better. I rather not face that and take a few close friends and family and have a destination wedding.
What do you look forward to most when you are invited to a wedding?
Bibriti: I think getting decked up and clicking pictures.
Shaheb: Food.
Your funniest memory from a wedding diary so far?
Bibriti: I went to Rajasthan to attend a friend's wedding and then we had a tiff and I came back and didn't attend the wedding.
Shaheb: I had gone to the wrong wedding. There were like two-three weddings happening in the same place and I knew the person's nickname. Smartly with a gift, I walked into the wedding and then I realised the groom is different! By then people got to know, they recognised me! They invited me to meet the groom and say 'hi' to all (laughs). Then I thought what to do with the gift, let me hide it somewhere. It was pretty embarrassing. (Laughs)
Did you manage to attend the right one after that?
Shaheb: Yes, after that! (Laughs) And I told him you should have told me your good name.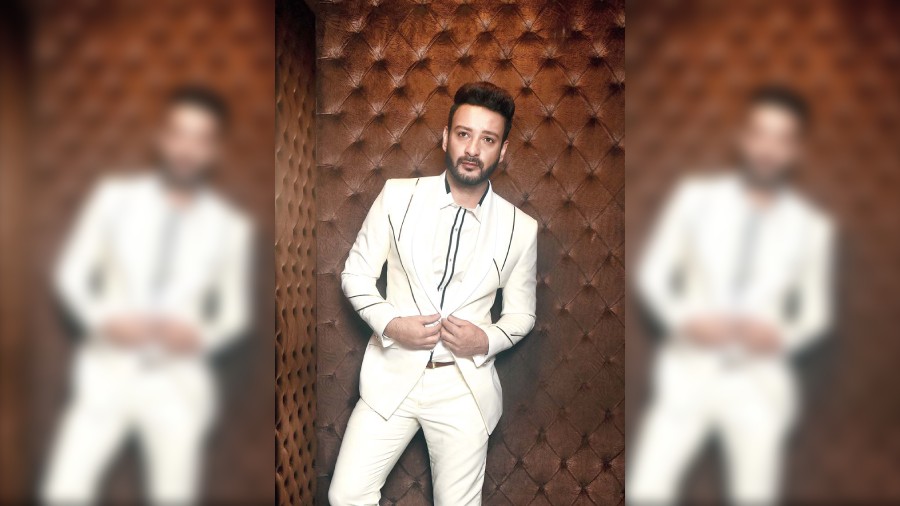 Shaheb posed for a dapper look in KJ by Kushal Jain's satin-crepe jacket highlighted with metallic stripes. It is paired with a matching ivory shirt and trousers.
If you both had to share one pre-marriage advice with each other what would that be?
Shaheb: Don't get married.
Bibriti: Don't get married. That's the best advice anyone can give for marriage.
Shaheb: Yeah! Like run, run for your life! Something like that.
A wedding scene from a movie that you loved:
Bibriti: DDLJ, Kajol and Shah Rukh Khan because we don't get to know if Simran got married to Raj or not, she just eloped.
Any memorable wedding scenes that you have shot for your films or series?
Bibriti: None, none properly!
Shaheb: I am so bad with weddings that I haven't even shot one! (Laughs)
What is keeping you busy professionally?
Bibriti: I am looking forward to promote my film Bhotbhoti. The promotions are going to be a little busy, after that I have a web series shoot, Iam learning to ride a scooty for that. I have a Hindi project lined up in November.
Shaheb: I just finished shooting with Srijitda for Darjeeling Jomjomat. Luckily, I got back to the Feluda series after doing Topshe for three films. That's something interesting. Here I am not playing Topshe though. And in London, I am shooting two films back to back, one for Raja Chanda and the other for Atanu Ghosh. After two long years, the schedule is a little busy now, thankfully!
Pictures: Pabitra Das
Styling: Kiara Sen
Make-up: Bhaskar Biswas
Hair: Somnath Roy
Jewellery: Avama Jewellery